Industry Overview
The global 48 Volt Battery System Market size is expected to grow from USD 3.1 billion in 2022 to USD 25.5 billion by 2030. It will register a CAGR of 27.2% during the forecast period. The Automotive 48-volt battery system is an electrical system that increases engine efficiency by reducing the weight of engine parts and increasing mileage. Manufacturers are unveiling new models with 48V battery systems because of their low cost and high efficiency when compared to 12V systems used in vehicles, which reduces carbon emissions and fuel consumption.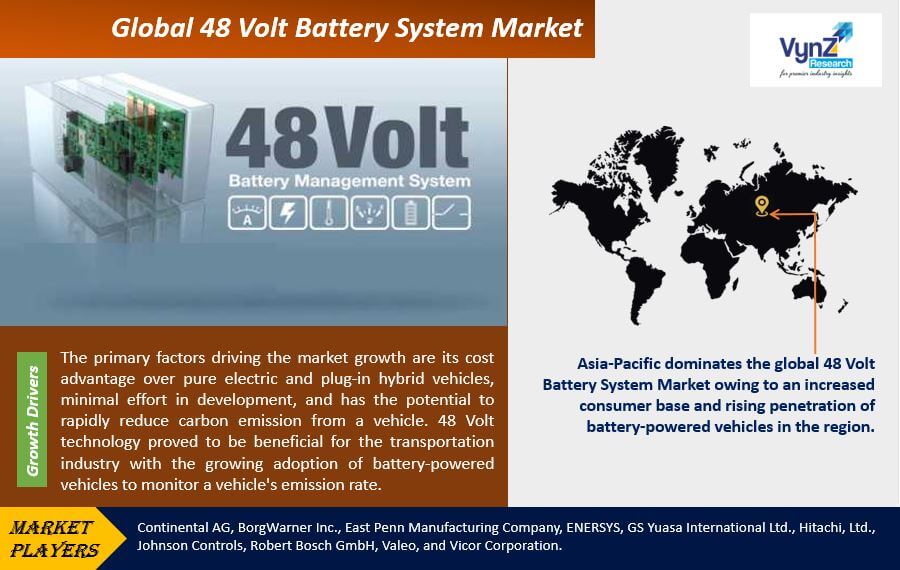 The automobile industry is boosting the electrification of the powertrain for vehicles in order to comply with global fuel economy regulations. 48-volt battery systems enable internal combustion engines to function more effectively, resulting in increased fuel economy and reduce carbon emissions at a minimal cost. During the forecast period, this will augment the global 48-volt battery system market.
Automotive 48-volt battery systems are more cost-effective hybrid solutions for decreasing discharge than conventional battery electric vehicles. This 48-volt automotive battery system provides four times the power of a 12-volt battery. In mild hybrid vehicles, the 48-volt battery system is widely used.
Market Segmentation
Insight by Component
Based on Component, the Global 48 Volt Battery System Market is segmented into AC/DC Inverter, 48-Volt Lithium-Ion Battery, Battery Controller, Power Distribution Box, and Others. AC/DC Inverter contributes the largest share in the market and is important in 48 Volt Battery Systems as batteries provide DC power which is converted into AC for use in most electrical devices. The inverter is also responsible of securing the vehicle's electrical system against surges and spikes, as well as isolating the 48-volt system from the high-voltage battery.
Insight by Architecture
Based on Architecture, the Global 48 Volt Battery System Market is segmented into Crankshaft Mounted, Belt Driven, Transmission Output Shaft, and Dual-Clutch Transmission-Mounted. Belt driven dominates the 48 Volt Battery System Market since belt driven (P0) is the initial configuration of the powertrain being used in mild hybrid vehicles. Thus, contributing significantly to their global adoption. Also, pure hybrid vehicles are very expensive due to their battery system, so mild hybrid vehicles fill the gap between technologies and meet the condition of low carbon emission at an affordable price.
Insight by Vehicle Type
Based on Vehicle Type, the Global 48 Volt Battery System Market is bifurcated into Passenger Vehicle and Commercial Vehicle. The passenger vehicle contributes the largest share in the market owing to a high combination of the 48-volt battery systems in passenger cars like Renault Scenic and Buick LaCrosse.
Insight by Vehicle Class
Based on Vehicle Class, the Global 48 Volt Battery System Market is categorized into Premium, Mid, Entry, and Luxury. The mid-sized vehicle class dominates the market owing to increased prominence for vehicles to enhance fuel efficiency and rising awareness among people about battery-driven vehicles. Furthermore, strict regulations by the government regarding emission norms and safety will propel the market growth of the 48 Volt Battery System Industry.
Global 48 Volt Battery System Market Report Coverage
| | |
| --- | --- |
| Report Metric | Details |
| Historical Period | 2018–2021 |
| Base Year Considered | 2022 |
| Forecast Period | 2022 - 2030 |
| Market Size in 2022 | $3.1 Billion |
| Revenue Forecast in 2030 | $25.5 Billion |
| Growth Rate | CAGR 27.2% |
| Segments Covered in the Report | By Component, By Architecture, By Vehicle Type, and By Vehicle Class |
| Report Scope | Market Trends, Drivers, and Restraints; Revenue Estimation and Forecast; Segmentation Analysis; Impact of COVID-19; Companies' Strategic Developments; Market Share Analysis of Key Players; Company Profiling |
| Regions Covered in the Report | North America, Europe, Asia-Pacific, Middle East, and Rest of the World |
Industry Dynamics
Growth Drivers
The primary factors driving the market growth are its cost advantage over pure electric and plug-in hybrid vehicles, minimal effort in development, and has the potential to rapidly reduce carbon emission from a vehicle. 48 Volt technology proved to be beneficial for the transportation industry with the growing adoption of battery-powered vehicles to monitor a vehicle's emission rate. Also, strict regulations by the government about the CO2 emission norms in the environment and increasing trend towards the implementation of fast-charging batteries will increase the adoption of 48V technology during the forecast period.
Automotive 48-volt battery systems can power a wide range of electrical devices, such as lights, radios, and climate control systems. The main benefit of using an automotive 48-volt battery system is that standard electrical connections and components can be used. This means one can easily tailor the system according to specific requirements.
The increased adoption in several applications like electric vehicles, small power tools, and golf carts will drive 48 Volt Battery System Market Demand. Lead-acid batteries are used in the systems to generate the 48-volt supply required by many electrical devices. Lead-acid batteries are the most commonly used type of battery in automobiles and other vehicles, and they have a long track record of reliability and performance.
Because of advanced battery systems are equipped into the vehicle, electric vehicles are very expensive these days, resulting in a lower rate of adoption among the middle-class public. Aside from that, 48V technology reduces vehicle operating costs while improving vehicle efficiency and speed. As a result, automotive 48V technology is regarded as a bridging technology between a pure electric vehicle and a conventional vehicle.
Challenges
The increased cost of implementation will hamper market expansion. The demand for 48-volt hybrid systems is expected to decline owing to an increased focus by the governments to produce zero-emission vehicles. Furthermore, the integration of a 48-volt battery system raises the cost of a 48-volt system integrated battery electric vehicle, which is a major impediment to the 48-volt battery system market.
Opportunities
The market participants are undertaking research and development initiatives to improve the performance of battery systems. These 48V battery systems have the ability to reduce CO2 emissions in the coming years while remaining affordable to a broader range of customers. Major automakers are incorporating 48-volt battery systems into vehicles to improve performance and efficiency, thereby accelerating market opportunities in the global 48 Volt Battery System Industry. Also, the increased adoption of fuel-efficient technology in the automotive industry and the increased prominence of electric vehicles in the automotive sector will further offer lucrative opportunities in the 48 Volt Battery System Market.
Geographic Overview
North America
Europe
Asia Pacific (APAC)
Rest of the World (RoW)
Asia-Pacific dominates the global 48 Volt Battery System Market owing to an increased consumer base and rising penetration of battery-powered vehicles in the region. China is recognized as the world's largest auto market. At the same time, due to government subsidies, China hopes to achieve unprecedented growth in the sale of electric vehicles, thereby accelerating the market development of the 48 Volt Battery System Industry in the region.
Competitive Insight
The global automotive 48V system market is fiercely competitive.  The key players are massively investing in research and development (R&D) to improve their product lines and offerings. Furthermore, new product development enables them to meet the rapidly changing consumer demand in the automotive industry. In addition, advancements in convenience features and safety systems are pushing manufacturers to design compatible battery systems without increasing vehicle costs.
With the conviction that 48V systems are a crucial requirement for advanced vehicles, Borg Warner, Inc. has developed one of the industry's most comprehensive 48V portfolios. Their extensive knowledge of electric motors, power electronics, and mechanical components, as well as their comprehensive system knowledge of propulsion solutions, place them in a unique position. Borg Warner, Inc. is now the world's leading manufacturer of propulsion technologies for vehicles powered by combustion engines, as well as hybrid and electric vehicles. BorgWarner's portfolio includes a large number of 48-volt technologies, each of which offers significant efficiency gains. Other advantages include easy integration, lower weight, and reduced space requirements, allowing for more flexible use of the installation area. Fuel savings of up to 20% can be achieved with corresponding improvements in exhaust emission values in real-world driving conditions, as highlighted during both the preliminary development and series development phases. Thus, their solutions can also improve passenger comfort by improving response or power transmission.
Bosch's 48 V hybrid solutions make it easier for passenger cars to transform to electrified powertrains. The solutions allow electric driving modes for coasting, traffic jam assistance, and highly automated parking. This significantly reduces fuel consumption and local emissions. Electrical energy obtained through recuperation is used to power the 48 V power net as well as charge the 48 V battery.
Recent Development by Key Players
In December 2022, Mouser Electronics has announced the launch of a new resource site, created in collaboration with Vicor, that will provide a variety of resources for 48 V products and power designs. The website contains a wealth of detailed articles, videos, and infographics that provide designers and manufacturers with a comprehensive resource for developing new power designs with higher voltage 48 V distribution. In contrast to many common 12 V systems, 48 V systems can support the higher power levels required to provide increasing levels of performance and functionality. As power increases, 12 V buses become less efficient and require more space and weight to carry higher currents via cables. By drastically reducing currents and power losses, 48 V systems eliminate these space and weight inefficiencies.
In June 2022, EnerSys, the world's largest manufacturer, marketer, and distributor of industrial batteries, expanded its lithium-based capabilities with the establishment of an EnerSys Advanced Systems (EAS) unit in Budapest, Hungary, to complement an existing EAS unit in Horsham, Pa., near Philadelphia. These improvements are being made in response to the increasing demand for lithium-ion batteries.
Key Players Covered in the Report
Some of the key players operating in the global 48 Volt Battery System Market include Continental AG, BorgWarner Inc., East Penn Manufacturing Company, ENERSYS, GS Yuasa International Ltd., Hitachi, Ltd., Johnson Controls, Robert Bosch GmbH, Valeo, and Vicor Corporation.
The 48 Volt Battery System Market report offers a comprehensive market segmentation analysis along with an estimation for the forecast period 2023–2030.
Segments Covered in the Report
By Component

AC and DC Inverter
48 Volt Lithium-Ion Battery
Battery Controller
Power Distribution Box
Others

By Architecture

Crankshaft Mounted
Belt Driven
Transmission Output Shaft
Dual Clutch Transmission Mounted

By Vehicle Type

Passenger Vehicle
Commercial Vehicle

By Vehicle Class 
Region Covered in the Report
North America
Europe

Germany
U.K.
France
Italy
Spain
Russia
Rest of Europe

Asia-Pacific (APAC)

China
Japan
India
South Korea
Rest of Asia-Pacific

Rest of the World (RoW)

Brazil
Saudi Arabia
South Africa
U.A.E.
Other Countries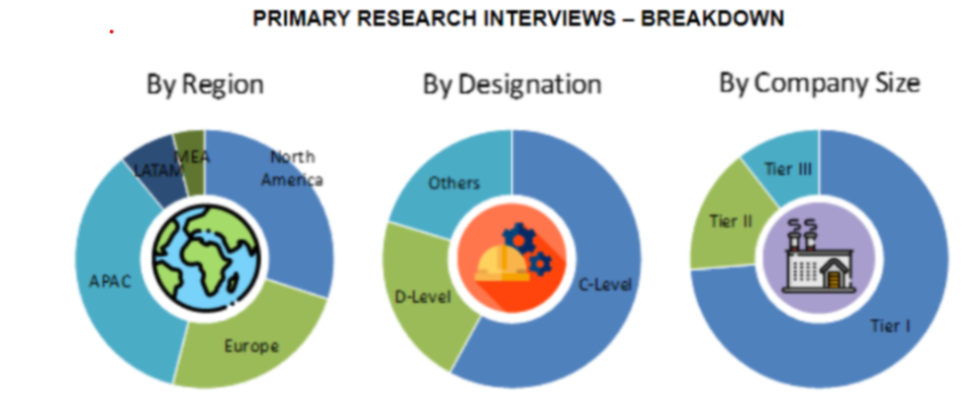 To explore more about this report - Request a free sample copy