Industry Overview
From 2022 to 2030, the automotive ambient lighting market is expected to expand at a CAGR of 10.5%. The rapidly growing selling of ultra-luxury vehicles as a result of rising disposable income among the population is attributed to the growth of the automotive ambient lighting industry. The market's development is also aided by the easy availability of aftermarket solutions.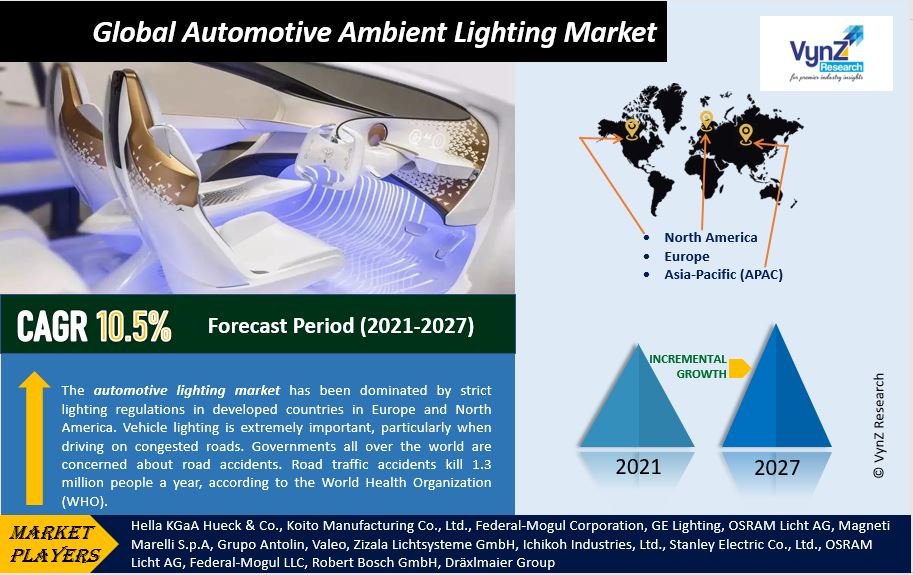 Market Segmentation
By Technology
•    Halogen
•    LED
•    Xenon
By technology, LED is expected to dominate the global market. LED's rise can be attributed to a variety of factors, including a larger number of features such as improved energy efficiency when compared to previous lighting technology and the phase-out of commonly used halogen bulbs.
By Vehicle Type
•    Passenger Car
•    Light Commercial Vehicle (LCV)
•    Bus
•    Truck
In contrast to other vehicles such as LCVs, buses, and trucks, the passenger vehicle category has a higher penetration of advanced lighting. The automotive lighting market in this segment is expected to be driven by increasing passenger vehicle sales and consumers' willingness to pay more for cars. The segment's growth is likely to be fueled by year-over-year production growth.
By Region
•    North America
•    Asia Pacific
•    Europe
•    Rest of the World (RoW)
Due to rapid customer adoption and strong vehicle sales, Asia Pacific is expected to be the largest market in the global automotive lighting market. Because of their high domestic vehicle output and sales, China and Japan have the largest market shares. Furthermore, manufacturers in these countries place a high priority on technical advances, which include lighting, resulting in increased demand for automotive lighting. The demand will be pushed even further by rising customer per capita income and high SUV sales in emerging economies like India.
Trends
During the forecast period, the dashboard ambient lighting market is expected to expand at the fastest CAGR in terms of volume. The market for center console ambient lighting is being driven by rising demand for ambient lighting and luxury vehicles.
The automotive ambient lighting industry has a bright future ahead of it, with prospects in passenger cars, light commercial vehicles, and hybrid vehicles.
Market Drivers
The automotive lighting market has been dominated by strict lighting regulations in developed countries in Europe and North America. Vehicle lighting is extremely important, particularly when driving on congested roads. Governments all over the world are concerned about road accidents. Road traffic accidents kill 1.3 million people a year, according to the World Health Organization (WHO). The majority of countries lose 3% of their GDP due to traffic accidents. As a result, it's critical to improve driving conditions, which can be done in part by upgrading the lighting system. The European Union required daytime running lights (DRLs) on all new models of motor vehicles in 2011, with the aim of increasing road safety. According to the US Department of Transportation's National Highway Traffic Safety Administration (NHTSA), DRL has decreased fatal road accidents by around 14.2 percent. This type of regulatory regulation is expected to have an effect on the automotive lighting industry.
Opportunity
For automotive lighting manufacturers, matrix LED, OLED, and laser lighting are some of the latest and promising technologies. The high-beam assembly in matrix LED headlights is made up of 25 individual segments. The small LEDs operate with lenses, and reflectors linked in series are individually enabled, deactivated, or dimmed depending on the situation. As a result, the device is able to respond precisely to other vehicles. It uses a camera to identify other vehicles and brightly illuminates the lane. Audi's Matrix LED headlights, for example, get their data from a camera, the navigation system, and other sensors.
Challenges
Every day, commercial vehicles such as freight trucks travel thousands of miles. As a result, advanced lighting systems could be impractical. The high cost of advanced lighting systems deters manufacturers from offering them in this vehicle segment. As a result, only a few commercial vehicle manufacturers have equipped their vehicles with sophisticated lighting systems.
COVID-19 Impact on the Automotive Engine Management System
The COVID-19 epidemic has wreaked havoc on the global automotive supply chain. The epidemic has disrupted not only global production plants but also global vehicle sales. Manufacturing plants have been shut down, and new vehicle sales have been halted, affecting the supply of automotive lighting components.
In 2020, demand for both traditional and electric vehicles witnessed a decline, affecting the automotive lighting market even further. Furthermore, the budget for R&D is likely to be drastically reduced, which is expected to stymie the creation of novel automotive lighting solutions. Lighting demand is mainly proportional to vehicle output.
Key Players
•    Hella KGaA Hueck & Co.
•    Koito Manufacturing Co., Ltd. 
•    Federal-Mogul Corporation 
•    GE Lighting
•    OSRAM Licht AG 
•    Magneti Marelli S.p.A 
•    Grupo Antolin 
•    Valeo 
•    Zizala Lichtsysteme GmbH 
•    Ichikoh Industries, Ltd. 
•    Stanley Electric Co., Ltd. 
•    OSRAM Licht AG 
•    Federal-Mogul LLC
•    Robert Bosch GmbH
•    Dräxlmaier Group
Recent News
•    Hella announced an integrated solution for complex lighting systems in June 2019. Lighting and Electronics, the company's two business units, have been collaborating to merge their product technologies into a scalable and modular product framework. The modular concept can be used to mount headlight modules, electric control units, and sensors.
•    Hella signed a strategic cooperation agreement with Wuling Automotive Industry, a subsidiary of the Chinese Guangxi Automobile Group, in April 2019. Both companies planned to collaborate on automotive lighting technologies for the Chinese market, with a particular emphasis on the production of volume headlamps.
•    Hella introduced Shapeline lamps, work lights, auxiliary lamps, indicator lights, and accessories in January 2019. The company outfitted a display truck with lighting designed specifically for trucks and trailers.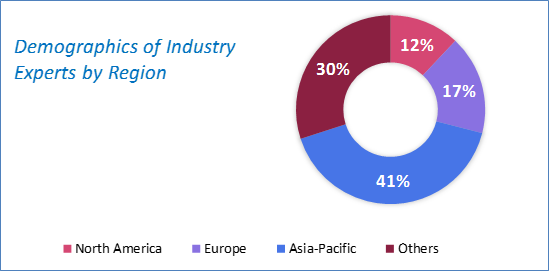 Source: VynZ Research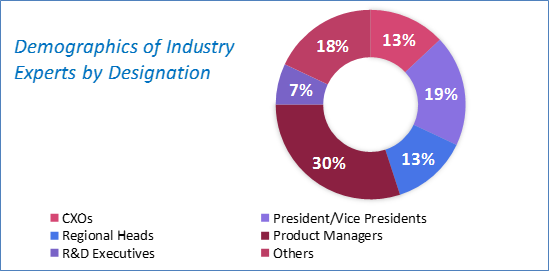 Source: VynZ Research