Industry Overview
The global automotive conformal coatings market is expected to grow at an annual rate of 10.2% from USD 1.7 billion in 2022 to USD 4.2 billion in 2030. The increasing use of automotive electronics in automobiles, as well as numerous technological advancements in conformal coating application methods, are propelling this market forward.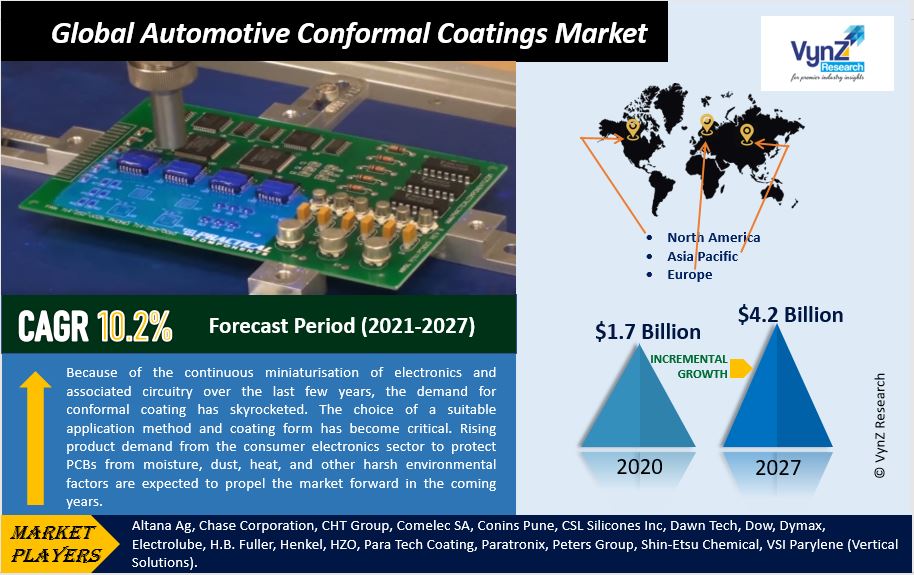 Conformal coating is a protective coating for electronic circuits that protects them from high humidity, fluctuating temperatures, and a harsh environment that may include airborne pollutants. A polymer film of 25-75 microns is used as the coating layer. Conformal coatings are critical in the automotive industry because they provide the requisite combination of high performance and reliability.
Segmentation
By EV Type
•    Battery Electric Vehicles (BEV)
•    Plug-in Hybrid Electric Vehicles (PHEV) / Hybrid Electric Vehicles (HEV)
Governments around the world are putting more emphasis on supporting and investing in BEVs as a result of stricter emission standards. This is expected to boost demand for BEVs by creating a favorable climate for their sales. Electric vehicles have more electronics installed than conventional vehicles, and the growing popularity of BEVs is expected to increase demand for conformal coatings to protect these critical components. These factors are expected to drive the BEV segment's market growth in the near future.
By Material
•    Acrylic
•    Silicone
•    Parylene
•    Epoxy
•    Polyurethane
Acrylic conformal coating is known for having a high dielectric strength as well as being moisture and abrasion-resistant. Compared to other conformal coating materials, this type of coating offers a primary level of protection at a low cost. Since these components are not exposed to high temperatures, it is commonly used for coating components within the vehicle cabin. Acrylic's dominance in the industry can be due to its lower cost than other available coatings and the fact that it does not need any special equipment to apply. Furthermore, it protects critical components against a wide range of contaminants.
By Region
•    North America
•    Asia Pacific
•    Europe
•    Rest of the World (RoW)
Because of massive expenditure in the electronics industry in China, Taiwan, South Korea, and Japan, Asia Pacific is expected to be the strongest growing regional market. Furthermore, India's rapid growth in the consumer electronics and automotive manufacturing industries is expected to fuel regional product demand.
Trends
The market is expected to expand due to increased demand and development of passenger cars, as well as recent legislation requiring the installation of airbags and stricter emission standards in countries such as China and India. Furthermore, standard features like reverse parking assist and airbags are expected to boost the use of PCBs, ECUs, and sensors in passenger vehicles. Furthermore, the increasing rate of LED installation in compact SUVs is expected to propel market growth. As a result, the demand for passenger car conformal coatings is projected to be driven by an increase in electronic components.
Market Drivers
Because of the continuous miniaturization of electronics and associated circuitry over the last few years, the demand for conformal coating has skyrocketed. The choice of a suitable application method and coating form has become critical. Rising product demand from the consumer electronics sector to protect PCBs from moisture, dust, heat, and other harsh environmental factors is expected to propel the market forward in the coming years. Increased demand from end-use sectors such as automotive, electrical and electronics, medical, and semiconductors is a major factor driving the conformal coating market forward. Conformal coatings have made major inroads into the smartphone and domestic electronics sectors as a result of the rapidly intensifying consumer electronics market in most parts of the world.
Opportunity
Given the environments under which these vehicles work, protecting automotive electronics has become increasingly important over time. Conformal coating is needed in modern vehicles not only to protect vital components from harsh operating conditions but also to increase surface insulation resistance due to space constraints between tracks. New types of protective coatings are needed to withstand severe operating conditions. These coatings must be resistant to moisture and contaminants, as well as highly flexible in order to withstand thermal shock and temperature tolerance in order to withstand higher operating temperatures.
Challenges
The high cost of conformal coatings has a negative impact on demand. Conformal coating manufacturers are working hard to reduce production costs by introducing new technologies or lowering the cost of raw materials, given the high prices of these coatings. They're also looking to create coatings that will help them generate revenue from new application areas by increasing adoption. As a result, the automotive conformal coatings market's growth can be hampered by high prices and wide price variations depending on the material used for conformal coatings.
COVID-19 Impact on the Automotive Engine Management System
The outbreak of COVID-19 has affected and damaged the entire automotive ecosystem's supply chain, causing manufacturing facilities all over the world to shut down. This scenario is expected to have an effect on the automotive conformal coatings industry, as market growth is directly related to vehicle production. The drop in vehicle production is expected to have a negative impact on the automotive industry.
Key Players
•    Altana Ag
•    Chase Corporation
•    CHT Group
•    Comelec SA
•    Conins Pune
•    CSL Silicones Inc
•    Dawn Tech
•    Dow
•    Dymax
•    Electrolube
•    H.B. Fuller
•    Henkel
•    HZO
•    Para Tech Coating
•    Paratronix
•    Peters Group
•    Shin-Etsu Chemical
•    VSI Parylene (Vertical Solutions)
Recent News
•    Dow launched DOWSIL CC-820 UV and Moisture Dual-Core Conformal Coating in February 2020 at the IPC APEX EXPO 2020 in San Diego, California. For high throughputs, this is the first solventless silicone conformal coating with a moisture dual-core device.
•    At the IPC APEX EXPO in San Diego, California in January 2020, Electrolube introduced New UV Coatings, Resins, and Gap Fillers for the US market. Electrolube also introduced two new encapsulation resins. The new polyurethane resin, UR5645, is a rugged, two-part encapsulation system designed to protect electrical components in a variety of applications, including automotive.
•    H.B. Fuller founded H.B. Fuller Japan G.K. in March 2019. This move was made to support the company's engineering adhesive (EA) business in Japan. Electronics, transportation, renewable energy, aerospace, and medical industries are served by the company's EA division.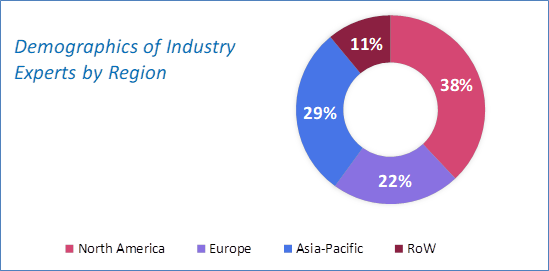 Source: VynZ Research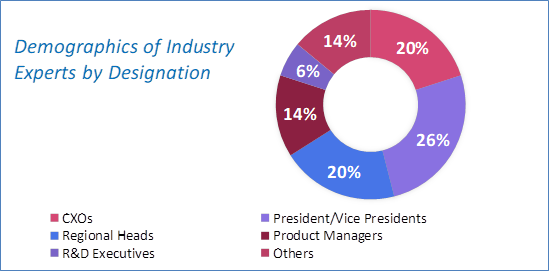 Source: VynZ Research