Industry Overview
The global automotive cyber security market was valued at USD 2.4 billion in 2019 and is expected to reach USD 7.5 billion by 2027, growing at a CAGR of 15.2% during 2021-2027. The global automotive cybersecurity market is growing at a double-digit rate during the forecast period. The major reason behind the high growth is security concerns with rise in connection cars and automation vehicle adoption. Further, it is expected that new cars coming on the road will be connected. These vehicles will be fitted with commanding communications capabilities to enable a lot of driving features and other enhanced features. The internal control systems are expected to exchange data through complex internal networks and from other connected vehicles and outside world through Internet of Things (IoT). This makes the car more vulnerable to cyber risk and hence boost the demand for automotive cybersecurity.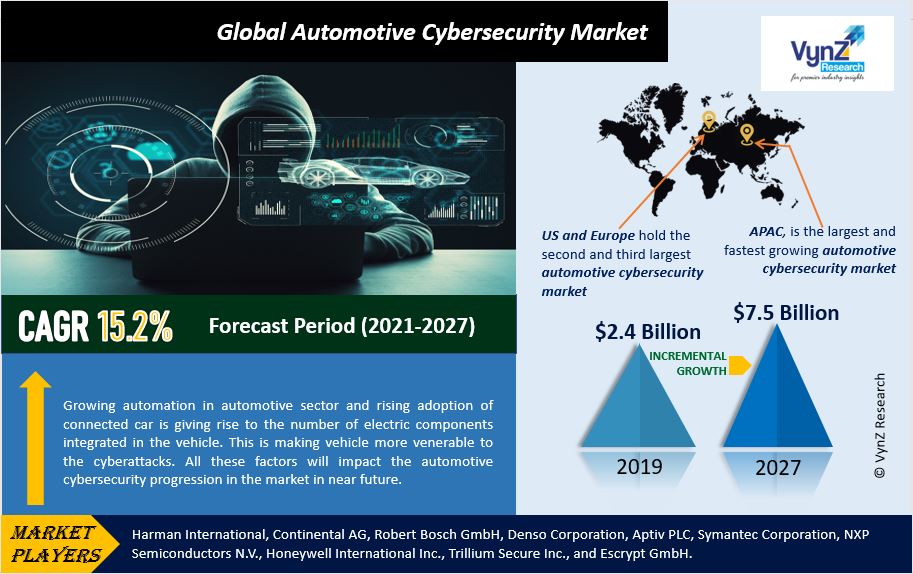 There is a gradual increase in e-mobility in developing nations in APAC, Africa and Latin America, which is another area with high cyber risk. Therefore, the electric vehicle OEMs, fleets and other stakeholders in the ecosystem count on company fitted security to succeed this complex situation, whether in-vehicle security or network security.
Market Segmentation
Insight by Security Type
On the basis of security type, the market is segmented into endpoint security, application security, and wireless network security. Among these security types, endpoint security segment captures highest market share in 2020 and is expected to grow at fastest rate during the forecast period, owing to its numerous endpoint devices such as smart phone, wi-fi connected to the vehicle.
Insight by Fitting Type
On the basis of fitting type, the market is subdivided into in-vehicle and external cloud. Among these, in-vehicle accounted for the foremost share in the automotive cybersecurity market in 2020 with growing investments of OEMs towards security features deployment. However, cloud integration is growing rapidly and is expected to capture decent share of the automotive cybersecurity market in years to come.
Insight by Application
On the basis of application, the market is subdivided into telematics system, infotainment system, powertrain system, body control & comfort system, communication system and ADAS & safety system. Of all these applications, the powertrain application segment accounted for a foremost share in the automotive cybersecurity market in 2020, owing to integration of several electric component electronic control units (ECUs) and in the vehicle which are highly vulnerable to cyberattack.
Insight by Vehicle Type
On the basis of vehicle type, the market is bifurcated into passenger car and commercial vehicle. Passenger car is expected to account the higher market share in 2020 and is expected to grow at fastest rate during the forecast period with large number of tier1 and tier2 OEMs investment in enhancing security features.
Industry Dynamics
Industry Trends
One of the key trends prevailing in market is gradual increase in other industry players attention and investments in the automotive industry. These players are from diverse industries including IT & software, mobility, wireless and wired communication providers and so on.  
Growth Drivers
Growing automation in automotive sector and rising adoption of connected car is giving rise to the number of electric components integrated in the vehicle. This is making vehicle more venerable to the cyberattacks. All these factors will impact the automotive cybersecurity progression in the market in near future.
Challenges
High initial deployment, as well as maintenance cost, may obstruct the growth of the automotive cybersecurity market. Technology within the sector keeps on changing every year which makes the automotive OEMs difficult to switch and therefore, restrict the automotive cybersecurity market growth.
Geographic Overview
Geographically, APAC, is the largest and fastest growing automotive cybersecurity market with largest number of vehicle production on yearly basis, advancing in-vehicle electronic architecture, and growing number of automotive OEMs and electronic component suppliers in the region. This will further up surge the growth of the China automotive cybersecurity market in years to come.
Further, US and Europe hold the second and third largest automotive cybersecurity market share respectively, due to the growing electric vehicle adoption, and the increasing deployment of connected cars.
Competitive Insight
Key players in the in the automotive cybersecurity market include automotive OEMs as well as cybersecurity service providers in general. Further, mergers & acquisitions are key strategies adopted by the OEMs in the market. For instance, in 2016, Harman which is apart of a Samsung company now TowerSec, an automotive cybersecurity service provider to maintain their presence in the market.
Some of the key players operating in the automotive cybersecurity market Harman International, Continental AG, Robert Bosch GmbH, Denso Corporation, Aptiv PLC, Symantec Corporation, NXP Semiconductors N.V., Honeywell International Inc., Trillium Secure Inc., and Escrypt GmbH.
Primary Research
VynZ Research conducts extensive primary research to understand the market dynamics, validate market data and have key opinions from the industry experts. The key profiles approached within the industry includes, CEO, CFO, CTO, President, Vice President, Product Managers, Regional Heads and Others. Also, end user surveys comprising of consumers are also conducted to understand consumer behaviour.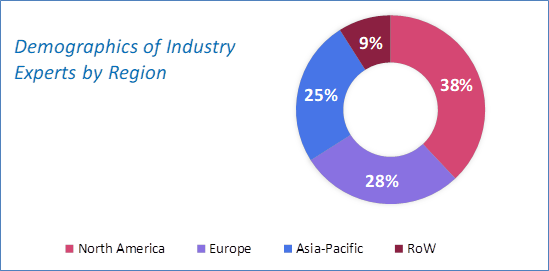 Source: VynZ Research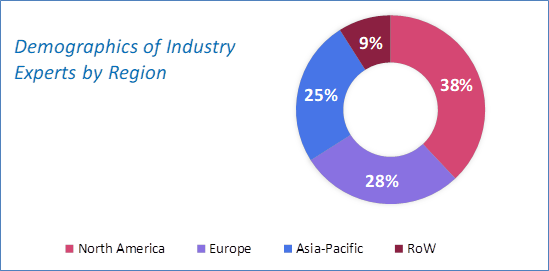 Source: VynZ Research