Industry Overview
The global automotive engine management system market is expected to rise at a CAGR of 2.7 percent to USD 65.2 billion by 2027, up from USD 59.8 billion in 2020. The introduction of stringent emission norms around the world, as well as increased vehicle production, are driving demand for engine management systems. The ignition timing of the amount of fuel pumped into the car is regulated and adjusted by the automotive engine management system. Sensors that monitor engine speed, intake air and coolant temperature, and oxygen sensors that control emissions make up the system.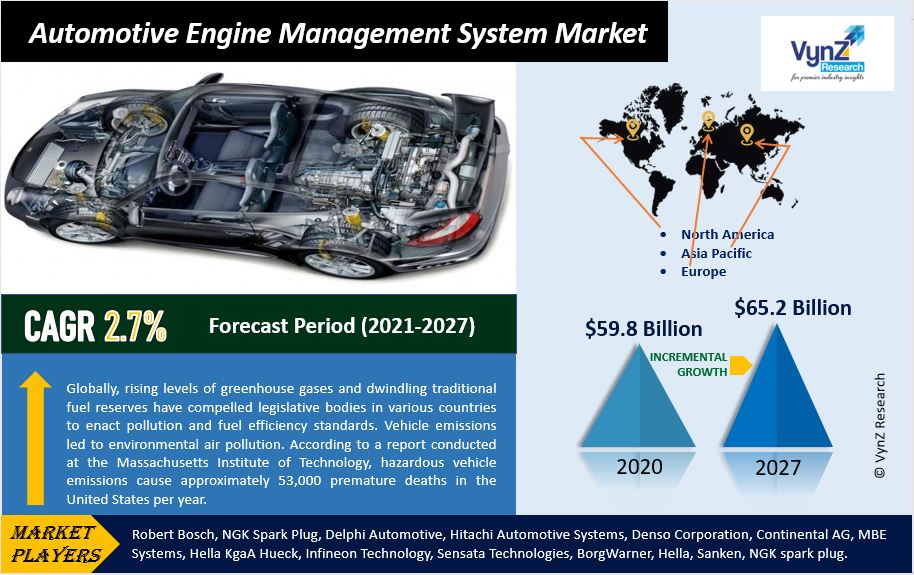 Segmentation
By Vehicle Type
•    Passenger Cars
•    Light Commercial Vehicles (LCV)
•    Heavy Commercial Vehicles (HCV)
During the forecast period, the light commercial vehicle segment is expected to be the fastest-growing segment of the automotive engine management system market by vehicle type. Rapid urbanisation has created opportunities for new retail and eCommerce platforms, both of which require efficient logistics, resulting in the LCV segment's growth. LCVs are used in a variety of applications, including parcel and postal services, eCommerce, white goods, fruits and vegetables, market loads, and fast-moving consumer goods (FMCG).
By Fuel Type
•    Diesel
•    Gasoline
The Gasoline automotive engine management system market segment is estimated to grow at the fastest CAGR during the forecast period. Furthermore, the introduction of Euro 6 and EPA Tier 3 standards has forced Original Equipment Manufacturer(OEM) to reduce diesel passenger car demand. EV adoption, on the other hand, is hampered by issues such as reduced battery range and longer charging times. As a result, the market for gasoline passenger cars is expanding, especially in North America and Europe.
By Region
•    North America
•    Asia Pacific
•    Europe
•    Middle East & Africa
The automotive engine management system market in the Asia Pacific is expected to be the largest geographical segment. The increase in demand for vehicles, especially premium passenger cars, has accentuated the need for better emission technologies and better engine performance. As a result, in the coming years, the demand for engine management systems in the area is expected to expand significantly.
Trends
As customers become more aware of the emissions and pollution levels, automotive engine management system manufacturers are being pushed to boost fuel efficiency and increased emissions by keeping NOx and CO2 levels under control. Engine management systems use sensors mounted on the vehicle to ensure that specific quantities of fuel are combusted from the engine control unit. Advancement and steady demand for automobiles result in the selling of passenger cars and commercial vehicles fitted with engine management systems. Electronic advances that can handle anything from ignition to fuel delivery in every aspect of pollution control are delivering lower emissions and better efficiency in today's car engines.
Market Drivers
Globally, rising levels of greenhouse gases and dwindling traditional fuel reserves have compelled legislative bodies in various countries to enact pollution and fuel efficiency standards. Vehicle emissions led to environmental air pollution. According to a report conducted at the Massachusetts Institute of Technology, hazardous vehicle emissions cause approximately 53,000 premature deaths in the United States per year. Vehicles account for 56 percent of carbon monoxide emissions in the United States, according to the US EPA (up to 95 percent in cities).
Governments all over the world have enacted strict fuel emission and fuel efficiency regulations, and duty-bound OEMs are required to comply. OEMs have been working to build better and more reliable engine management systems in order to reach these standards. The EMS keeps track of the engine's performance by monitoring fuel injection to ensure proper combustion. As a result, the amount of fuel consumed and the number of emissions generated are reduced. Major automakers are working on advanced engine control systems so that cars can run on the least amount of fuel and emit the least number of emissions. Consumers are increasingly interested in buying cars that are environmentally friendly and use less gasoline, which is driving up demand for engine management systems around the world.
Opportunity
With the advent in technology, the lifetime of various vehicles is growing. Any car has a lengthy replacement period. The engine control Electronic Control Unit (ECU) replacement cycle repeats itself. As a result, it is critical for the consumer to replace the item. The engine control module is very expensive in the aftermarket, which could increase market revenue. As a result, the replacement market has a lot of key players, which helps the industry to grow and generates a lot of opportunities.
Challenges
The increase in emission levels is a major factor in the decline in diesel vehicle sales. As a result, the market for alternative vehicles has risen. Electric buses are being developed in countries such as South Korea, India, and China in order to reduce pollution and emissions. There has been an increase in the sales of FCEVs and BEVs as a result of increased pollution issues and increased environmental awareness. Since electric vehicles do not need an engine management system, an increase in their sales would have a significant impact on the engine management system.
COVID-19 Impact on the Automotive Engine Management System
Because of the sudden emergence of the COVID-19 pandemic, most governments in a number of countries implemented tight lockdown regulations for more than three months. This had a significant impact on vehicle demand. Vehicle sales came to a halt as a result of the closing of the production units. Vehicle production has been halted due to the COVID-19 pandemic. Different automakers are still attempting to build various engine management systems using creative techniques. Given the normalcy of the automotive industry following the lockdown, the business outlook for automotive engine management systems could improve in the coming years.
Key Players
•    Robert Bosch 
•    NGK Spark Plug 
•    Delphi Automotive 
•    Hitachi Automotive Systems 
•    Denso Corporation 
•    Continental AG 
•    MBE Systems 
•    Hella KgaA Hueck 
•    Infineon Technology 
•    Sensata Technologies
•    BorgWarner
•    Hella 
•    Sanken
•    NGK spark plug
Recent Developments
•    Bosch announced in December 2020 that its subsidiary Bosch Rexroth (Xi'an) Electric Drives and Controls Co., Ltd. had completed the second phase of the Xi'an plant's building. The second phase of the project has a cumulative investment of approximately CNY 500 million and occupies an area of 74,000 square metres. After the second phase of the project is completed, the Xi'an plant will become a global supplier of Bosch Rexroth Group's integrated intelligent manufacturing and industrial automation solutions.
•    HELLA opened a second electronics plant in India in July 2019. The new production facility in Mehsana, India, just north of Ahmedabad in the Gujarat state, will meet the rising demand for electronic components while also improving proximity to local customers.
•    In April 2020, Hitachi Automotive Systems, Ltd., completed the acquisition of all shares of seneos GmbH ("seneos") on April 15, 2020. Through this transaction, seneos, a German automotive device software developer, became a wholly-owned subsidiary of Hitachi Automotive Systems.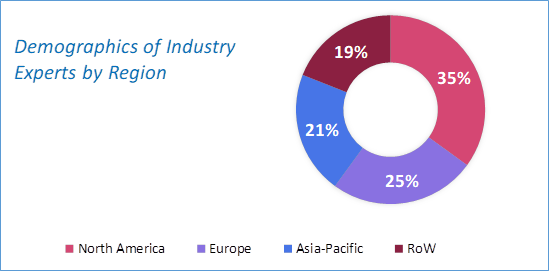 Source: VynZ Research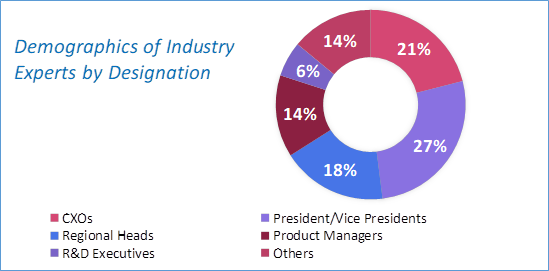 Source: VynZ Research