Industry Overview
The global automotive fastener market was valued at USD 21.5 billion in 2022 and is anticipated to reach USD 28.55 billion by 2030, witnessing a 2.78% CAGR by 2030. A fastener is a mechanical device that connects or holds two or more things together in such a way as to make a non-permanent joint. Automotive fasteners include nuts, rivets, screws, snap rings, studs, and clips that are used in vehicle assembly or fasten any part of the vehicle. Automotive fasteners are used to hold parts together, prevent leaks, and increase vehicle performance. Plastic and stainless steel are commonly used, and while plastic fasteners are not as strong as steel fasteners, they have an increased resistance to shock and vibration. Due to the varied shapes, sizes, designs, and quality, the automotive sector is saturated with diverse fasteners, specifically for components.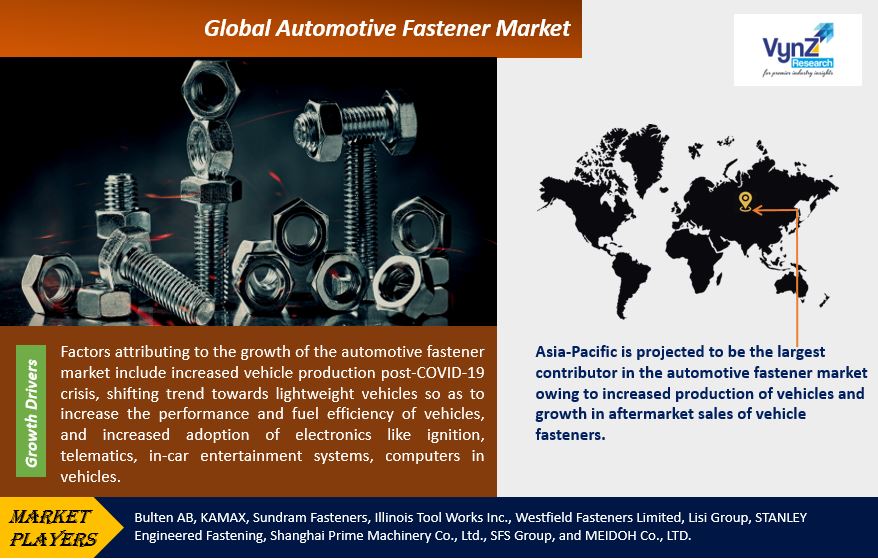 The automotive industry, like other industries, has been hit hard by the outbreak. Demand reductions, supply chain disruptions, and facility closures have all had an impact. As a result, a small number of auto dealerships have permanently closed. With so few people traveling to and from work, there has been a decrease in the demand for automobiles. All of this has had an impact on automotive fastener demand, which is expected to return to normalcy soon.
Market Segmentation
Insight by Product
Based on product, the global automotive fastener market is divided into threaded fasteners and non-threaded fasteners. The threaded fastener is further divided into nut screws, rivets, and studs. The non-threaded fastener is further divided into snap rings and clips. The threaded fastener will dominate the automotive fastener market owing to its adoption in various applications such as disassembly and assembly of several parts and components of any vehicle. Nuts are anticipated to be the fastest-growing type in threaded fasteners as in automotive assemblies, nuts are used in conjunction with bolts and, are sometimes used with washers to fasten several parts together. By grouping their inner linings, these fasteners stay and connect together.
Insight by Characteristics
Based on characteristics, the global automotive fastener market is segregated into removable fasteners, permanent fasteners, and semi-permanent fasteners. Removable fasteners dominate the market and will contribute to the largest share during the forecast period 2023-2030 as they can be easily removed by hand or power tools without damaging a part of the fastener itself. They have a long life and are used multiple times.
Insight by Material Type
The global automotive fastener market is divided into stainless steel, iron, bronze, nickel, aluminum, brass, and plastic segments based on material type. Among the material type, stainless steel contributes to the largest share in the automotive fastener market owing to resistance from rust and high tensile strength. Fasteners like these serve an important role in preventing corrosion in coastal and tropical areas where vehicles are exposed to corrosive environments.
Insight by Application
Based on application, the global automotive fastener market is divided into the engine, chassis, transmission, steering, front/rear axle, interior trim, wire harnessing, and others. Interior trim is projected to have the fastest growth during the forecast period owing to the rising emphasis on fuel-efficient vehicles and increased adoption of lightweight materials like plastic, and aluminum.
Wire harnessing is anticipated to have a high CAGR owing to its increased adoption in fastening wire bundles that will bolster the growth of the automotive fastener market globally.
Insight by Vehicle Type
Based on vehicle type, the global automotive fastener market is divided into two-wheelers, passenger cars, and commercial vehicles. The passenger car is further divided into hatchback, sedan, and luxury. Commercial vehicles are subdivided into light commercial vehicles and heavy commercial vehicles. The passenger car is anticipated to maintain the largest market share during the forecast period owing to increased disposable income, rising demand for lightweight automotive components, government regulations for fuel-efficient and emission reduction economy, changes in lifestyle among consumers, particularly in developing economies like China, India, thus will propel the customers to purchase a passenger car. Hatchbacks and SUVs are driving up demand for fasteners in the passenger car category.
The production of passenger cars has increased dramatically in developing countries. The majority of countries in North America, Europe, and the Asia Pacific area have a high demand for premium automobiles and SUVs, which will drive up passenger car consumption in the near future.
Insight by Electric Vehicle Type
Based on electric vehicle type, the global automotive fasteners market is divided into battery electric vehicles (BEV), hybrid electric vehicles (HEV), and plug-in hybrid electric vehicles (PHEV). Hybrid electric vehicles dominate the automotive fastener market. The battery-electric vehicle is anticipated to grow at a significant pace as the government is offering subsidies and providing charging infrastructure terminals that will propel the demand for the automotive fasteners market.
Insight by Distribution
Based on distribution, the global automotive fastener market is bifurcated into automotive OEM and aftermarket. Automotive OEMs in anticipated to have a high CAGR during the forecast period 2023-2030 owing to increased vehicle production and adoption of EVs as a result of their eco-friendly nature and strong backup by the government will accelerate the growth of the automotive fasteners market.
Automotive Fastener Market Report Coverage
| | |
| --- | --- |
| Report Metric | Details |
| Historical Period | 2018–2021 |
| Base Year Considered | 2022 |
| Forecast Period | 2023-2030 |
| Market Size in 2022 | $21.5 Billion |
| Revenue Forecast in 2030 | $28.55 Billion |
| Growth Rate | CAGR 2.78% |
| Segments Covered in the Report | By Product, By Characteristics, By Material Type, By Application, By Electric Vehicle Type, and By Distribution |
| Report Scope | Market Trends, Drivers, and Restraints; Revenue Estimation and Forecast; Segmentation Analysis; Impact of COVID-19; Companies' Strategic Developments; Market Share Analysis of Key Players; Company Profiling |
| Regions Covered in the Report | North America, Europe, Asia-Pacific, Middle East, and Rest of the World |
Industry Dynamics
Industry Trends
The advent of innovative technology and the adoption of superior materials for the production of automotive fasteners are the trends prevalent in the automotive fastener market.
Growth Drivers
Factors attributing to the growth of the automotive fastener market include increased vehicle production post-COVID-19 crisis, shifting trend towards lightweight vehicles so as to increase the performance and fuel efficiency of vehicles, and increased adoption of electronics like ignition, telematics, in-car entertainment systems, computers in vehicles. The increased demand for technical advancement and design improvement in automobile fasteners drives the automotive fasteners industry. The shift in consumer preference for smart vehicles, increased technological development in automobiles, enhancement in durability and quality along with replacement nature will make it convenient to end-users which will propel the growth of the market.
Challenges
The welding and clenching process in vehicle manufacturing and the emergence of substitutes for automotive fasteners will restrain the growth of the market. Moreover, in a competitive market, there is no fastener product differentiation, which limits demand for automobile fasteners. The COVID-19 outbreak has led the automakers plans to suspend the production of vehicles so as to slow down the spread of coronavirus globally.
Opportunities
During the coronavirus pandemic, tax rates on passenger and commercial vehicles were reduced, which provided manufacturers with significant revenue opportunities. The rising demand for lightweight fasteners and cost-efficient vehicles will provide promising opportunities for growth in the market. Moreover, the rising need for vehicle stability and reduced vehicle weight will create growth opportunities for automotive fastener automakers globally.  Manufacturers use a new friction-based riveting method, such as rotating hammer riveting (RHR), which saves time and money in vehicle building because the metals do not need to be pre-heated. As a result, the automotive fasteners market is propelled by the adoption of lightweight materials and innovative technology.
Geographic Overview
Asia-Pacific is projected to be the largest contributor in the automotive fastener market owing to increased production of vehicles and growth in aftermarket sales of vehicle fasteners. Countries like Japan, China, and India are growing significantly owing to the presence of major industry players such as Toyota, Suzuki, Mahindra & Mahindra, Isuzu, Dongfeng, and TATA Motors. Furthermore, the advancement of government standards for the use of lighter vehicles has resulted in developments in the region's technologies for making durable and lightweight components. Furthermore, automakers are shifting their focus from standard to customized components, which is projected to boost demand for customized fasteners in the APAC region.
Competitive Insight
The global automotive fastener market is extremely fragmented, with severe competition between its participants. Due to a large number of small players in the market, the industry is price sensitive. Moreover, the cheap cost of transitioning from metal to plastic fasteners, competition is projected to be fierce during the projection period. The industry players are emphasizing the development of advanced and lightweight material fasteners which will propel the demand in the market. The industry players are focused on developing quality products owing to the rising demand post-COVID-19 crisis. There are stimulus packages, subsidies, and various policies provided by the different governments so as to increase the sale of vehicles. These all factors will propel the development of the automotive fasteners market during the forecast period. These players are making development in material composition and product development to sustain themselves in the market.
Bulten is one of the prominent fastener suppliers for the European automotive sector. The company has an extensive range of product lines from customer-specific standard goods to specialized, bespoke fasteners. Technical development, line-feeding, logistics, material, and product knowledge are also provided by the organization. Bulten offers the concept of a Full-Service Provider or elements of it.
LISI AUTOMOTIVE is a multi-specialist supplier of safety-critical fasteners and components, as well as engineered fastening solutions for automotive assembly. They are the appropriate partner for their customers because of their vast range of threaded fasteners and knowledge in every demanding area of the automotive assembly industry. LISI helps customize customers to design, develop, and select automotive assembly systems that will meet the needs of the future automobiles industry.
In January 2021, Bulten's subsidiary PSM Fasteners Taiwan Ltd has opened a new production plant in Taipei, Taiwan. Bulten has enhanced its position as an international supplier of fastener solutions and set excellent circumstances for managing future expansion with the opening of the new facility.
In January 2021, following the completion of Amphenol's acquisition of MTS Systems Corporation, Illinois Tool Works Inc., a global multi-industrial manufacturing leader, and Amphenol Corporation, a leading global provider of high-technology interconnect, antenna, and sensor solutions, have entered into an agreement under which ITW will acquire MTS Systems Corporation's Test & Simulation business.
Some of the key players in the automotive fastener market include Bulten AB, KAMAX, Sundram Fasteners, Illinois Tool Works Inc., Westfield Fasteners Limited, Lisi Group, STANLEY Engineered Fastening, Shanghai Prime Machinery Co., Ltd., SFS Group, and MEIDOH Co., LTD.
The Automotive Fastener Market report offers a comprehensive market segmentation analysis along with an estimation for the forecast period 2023–2030.
Segments Covered in the Report
By Product 

Threaded Fasteners
Non-Threaded Fasteners

By Characteristics 

Removable Fasteners
Permanent Fasteners
Semi-Permanent Fasteners

By Material Type 

Stainless Steel
Iron
Bronze
Nickel
Aluminum
Brass
Plastic

By Application

Engine, Chassis
Transmission
Steering
Front/Rear Axle
Interior Trim
Wire Harnessing
Others

By Vehicle Type 

Two-Wheelers
Passenger Cars
Commercial Vehicles

Light Commercial Vehicles
Heavy Commercial Vehicles

By Electric Vehicle Type 

Battery Electric Vehicles
Hybrid Electric Vehicles
Plug-In Hybrid Electric Vehicles

By Distribution
Region Covered in the Report
North America
Europe

Germany
U.K.
France
Italy
Spain
Russia
Rest of Europe

Asia-Pacific (APAC)

China
Japan
India
South Korea
Rest of Asia-Pacific

Rest of the World (RoW)

Brazil
Saudi Arabia
South Africa
U.A.E.
Other Countries