Industry Overview
The global automotive relay market was valued at USD 15.0 billion in 2022 and is expected to reach USD 22.3 billion by 2030, growing at a CAGR of 6.0% during 2023-2030. The extensive adoption of electric content in passenger & commercial vehicles is supporting the upliftment in the growth of various applications that are further contributing towards the growth of the global automotive relay market. Additionally, the extensive importance of security and safety features in a vehicle along with the excessive adoption of sophisticated electronic devices are other factors pertaining to the growth of the global automotive relay market.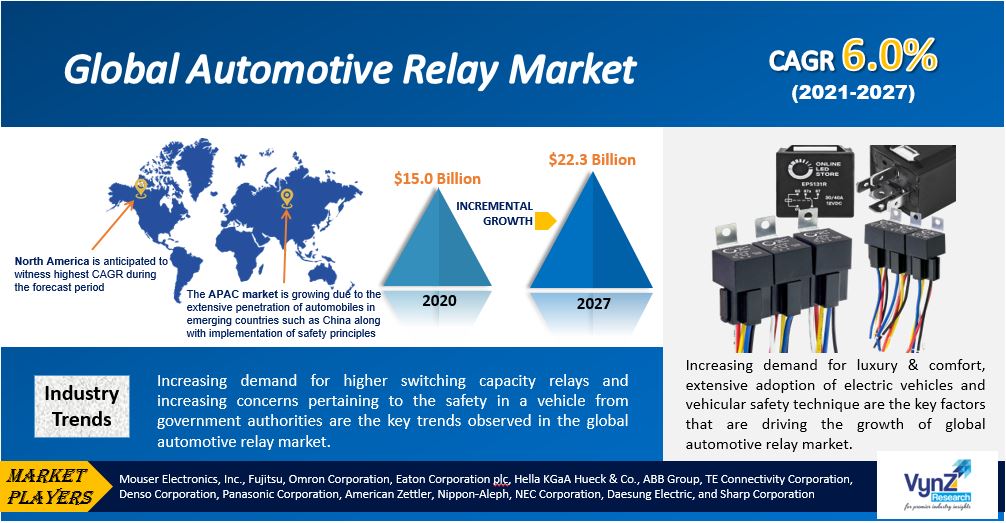 A relay is an electric switch that mechanically operates the switch with the help of an electromagnet. It is extensively used in the scenario where the need for separating a low-power signal from a circuit is not required. Automotive relays of different shapes and sizes are used in both sea and land vehicles. The automotive relays have greater applicability in car alarm systems, flashlights, antennas, horns, anti-locking brake systems, and intermittent wipers due to extensive demand automotive relay market is witnessing significant growth globally.
Market Segmentation
Insight by Product
On the basis of product, the global automotive relay market is categorized into plug-in relays, PCB relays, high-voltage relays, and others. Amongst these segments, PCB relays are expected to generate the largest revenue by 2025 as this product is used rampantly in various electronic applications such as cruise control, power steering, ABS, power windows, doors, and sunroofs.
Insight by Vehicle Type
Based on vehicle type, the global automotive relay market is segmented into commercial vehicles, passenger vehicles, and electric vehicles. Of all, passenger vehicles are anticipated to generate the largest revenue by 2030 as government authorities globally are providing lucrative offers in order to promote the use of electric vehicles and thereby promote the selling of these electric vehicles.
Industry Dynamics
Industry Trends
Increasing demand for higher switching capacity relays and increasing concerns pertaining to the safety of a vehicle from government authorities are the key trends observed in the global automotive relay market. Switching of supplementary devices that are required for security, infotainment, safety, and communications requires additional relays as compared to the basic relays that are used in powertrain systems.
Growth Drivers
Increasing demand for luxury & comfort, extensive adoption of electric vehicles, and vehicular safety techniques are the key factors that are driving the growth of the global automotive relay market. Several systems that require enhancing the safety feature of their vehicle along with providing comfort to the passengers can avail it by installing automotive relay systems. Moreover, increasing demand for comfort and safety system is another factor accentuating the demand of the global automotive relay market.
Challenges
Lack of standardized design of relay, availability of smart fuse box and connected smart junction box for autonomous cars are the factors that are anticipated to hamper the growth of the global automotive relay market.
Geographic Overview
Geographically, Asia-Pacific is expected to generate the largest revenue by 2030. The APAC market is growing due to the extensive penetration of automobiles in emerging countries such as China along with the implementation of safety principles. Moreover, increasing vehicle demand in countries such as China and Japan are other factors bolstering the growth of the automotive relay market in Asia-Pacific.
North America is anticipated to witness the highest CAGR during the forecast period. The growth of the automotive relay market in this region is attributed to increasing investments attributed toward OEMs in order to create electric vehicles. In addition, the extensive acceptance of automotive relays in the vehicle system is another factor that is driving the growth of the automotive relay market in North America.
Competitive Insight
Key players in the global automotive relay market are catering to the demand for these devices by investing in technologically advanced products in their product portfolio across the globe. The key players operating in the automotive relay market are entering into strategic partnerships and alliances in order to gain competitive efficiencies. For instance, in March 2018, Littelfuse acquired TE Connectivity by acquiring its circuit protection business. Additionally, the acquisition further strengthened the product portfolio of the business by massively escalating its operation in automotive electronics.
Some of the major players operating in the global automotive relay market are Mouser Electronics, Inc., Fujitsu, Omron Corporation, Eaton Corporation plc, Hella KGaA Hueck & Co., ABB Group, TE Connectivity Corporation, Denso Corporation, Panasonic Corporation, American Zettler, Nippon-Aleph, NEC Corporation, Daesung Electric, and Sharp Corporation.
Forecast Parameters
- Identifying variables and establishing market impact.
- Establishing market trends regionally.
- Analyzing opportunities and market penetration rates by understanding product commercialization, and regional expansion.
- Analyzing demand and supply trends and changes in industry dynamics to establish future growth.
- Analyzing sustainability strategies adhered to by market participants in an attempt to determine the future course of the market.
- Analyzing historical market trends and super-imposing them on the current and future variables to determine year-on-year trends.
- Understanding adoption, production, export, import, and regulatory framework.
Data Validation
- Estimated and forecasted data was validated through industry experts.
- Apart from industry experts, data triangulation methods were used for validation.
- Bottom-up and top-down approach has been used for the estimation and forecast of market data, whereas top-down approach was used for validation.
- Demand as well as supply side surveys were conducted in order to understand the industry dynamics and data validation.
Primary Research
VynZ Research conducts extensive primary research to understand the market dynamics, validate market data and have key opinions from industry experts. The key profiles approached within the industry include, CEO, CFO, CTO, President, Vice President, Product Managers, Regional Heads, and Others. Also, end user surveys comprising consumers are also conducted to understand consumer behaviour.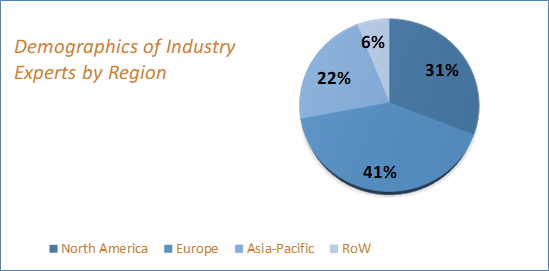 Source: VynZ Research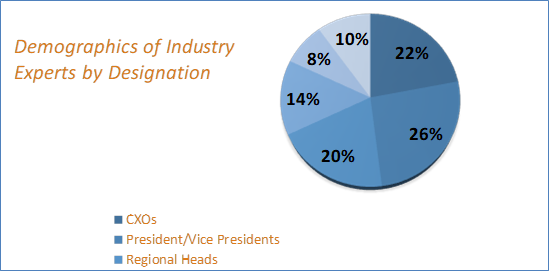 Source: VynZ Research