Industry Overview
The global size of the automotive seat market is expected to rise from USD 52 billion in 2022 to USD 62 billion by 2030, at a CAGR of 3.3%. The automotive demand and the growing trend of high-value seating with embedded smart technology for advanced vehicle comfort and safety are the key drivers of growth for this sector.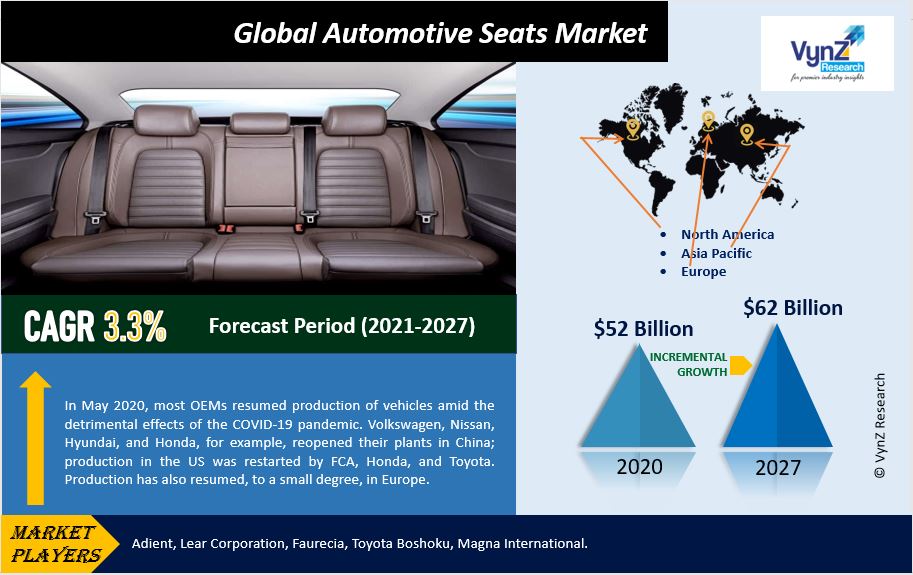 The development of the market for automobile seats is motivated by an increase in luxury car purchases in developed countries, an increase in the demand for climate-controlled seat technologies, and an increase in the need for lightweight seat frames. In addition, factors such as the rise in sales of passenger vehicles due to the improved lifestyle of middle-class families coupled with an increase in disposable income and an increase in demand for features allowed advanced seats to boost the growth of the market for automotive seat market.
Market Segmentation
By Seat Type
•  Bucket
•  Bench/Split Bench
The bucket seat is estimated to hold the largest share of the automotive seat market. This market is expected to achieve a market share of 75% in terms of volume in 2020 with a rise in vehicle demand. Compared to bench seats, bucket seats are often known to be more spacious and aesthetically pleasing. In contrast to bench seats, the driver's seat has a stronger grip in the bucket shape. In comparison, they are thinner than bench seats as well. Hence, in terms of seat type, this is the larger section.
By Technology
• Standard
•  Powered
•  Heated
• Heated & Memory
• Heated & Ventilated
• Heated, Ventilated, and Memory
During the forecast period for the global automotive seats industry, the regular seat sector is projected to have the largest market share. One of the key factors driving this segment's growth during the projected timeframe is affordability.
By Trim Material
• Fabric
• Synthetic Leather
• Genuine Leather
Over the projected period, the synthetic leather industry is projected to have the highest demand and expand at the quickest CAGR. With the trend of the world's population going vegan and the understanding among them of the animal cruelties carried out in the leather industry, instead of natural ones, the automobile parts manufacturers have started using different synthetic leathers that allow the segment to expand at a significant pace in the coming years.
By Component
• Armrest
• Pneumatic system
• Seat belt
• Seat frame & structure
• Seat headrest
• Seat height adjuster
• Seat recliner
• Seat track
During the forecast era, the global automotive seats market for Seat Frame & Structure segment is projected to be the largest market. The demand for automotive seat frames is expected to show significant growth due to multiple government policies and high automotive output in the global market. The frame and the mechanism play a vital role in the construction of the automobile benches, in addition to the other seat elements.
By Vehicle
•  Passenger Car
• Light Commercial Vehicle
• Truck
• Bus
During the projected era, due to factors such as growing demand for vehicles such as mid-range sedans, sedans, and luxury sedans, among others, the passenger car segment is expected to have a substantial market share. In addition, rising disposable income provides profitable prospects for passenger vehicle cloth fabrics, which in turn has raised the demand for automobile seats used in passenger cars over the projected timeframe.
By Off-Highway Vehicle
• Construction /Mining Trucks
• Agriculture Tractors
By Region
• Asia Pacific
• Americas
• Europe
• Middle East & Africa
The global automotive seats market was led by the Asia Pacific in 2018, with China accounting for the bulk of the market, which is projected to continue over the forecast period. During the forecast period, Asia Pacific is also projected to rise at the highest CAGR level.
The Asia Pacific market for automotive seats is driven by the rising demand for automobiles in countries such as China, India, and Japan in the Asia Pacific region.
Market Trends:
Increase in Production of Automobiles
Passenger car purchases have been rising across the globe. The production of global passenger cars accounted for 95,634,593 units in 2018. In the passenger car market, China has the biggest share, led by the United States, Japan, Germany, South Korea, and India. The demand for passenger cars in developed countries is powered by improving road networks and a rise in disposable income for middle-class customers. In developed countries, aggressive pricing of automobiles by automobile manufacturers has also generated a massive market for passenger cars. It is also expected that the electric vehicle industry will experience a substantial growth rate during the study period.
This increase in demand for passenger cars has contributed to a rise in the production of vehicles and a resulting increase in demand for related parts, such as upholstery, seats, etc. In addition, in contrast to hatchbacks and sedans, the industry is seeing a market demand for SUVs and MPVs that typically have more seats. Overall, the rising demand for passenger cars serves as a big catalyst for the market for automobile seats.
Market Drivers:
Increasing vehicle production
In May 2020, most OEMs resumed production of vehicles amid the detrimental effects of the COVID-19 pandemic. Volkswagen, Nissan, Hyundai, and Honda, for example, reopened their plants in China; production in the US was restarted by FCA, Honda, and Toyota. Production has also resumed, to a small degree, in Europe. Global vehicle demand is projected to rise at a CAGR of 3.3 percent from 2023 to 2030, given these factors. This rise in the production of automobiles would lead to a directly proportional increase in seat demand.
Opportunities 
Growing focus on autonomous cars and increasing preference for ride sharing
With the aim of designing and introducing a truly autonomous driving experience, the automobile industry is increasing its focus on the advancement of innovative driver assistance technologies. Consumer expectations for mobility-on-demand technologies, such as vehicle sharing and ride sharing, have also risen.
Challenges:
In order to satisfy the burgeoning market desire for personalization in cars, OEMs are gradually changing their manufacturing processes. The prevalent trend is expected to emerge as a major obstacle for manufacturers of automotive seats who are searching for ways to fulfill demands while preserving cost-effectiveness.
Demand for both lightweight and technologically sophisticated car seats is growing, with customers expecting increased automotive comfort and fuel efficiency. However, for manufacturers operating in the automotive seat segment, the design of lightweight automotive seats combined with electric components presents a formidable challenge.
The high cost, relative to traditional seats, of specialized modular seats. Their penetration is restricted to high-end vehicles due to their high cost. Driven, heated, and ventilated applications are now being promoted and are found in most mid-end SUVs, while OEMs mostly offer massage seats in high-end models.
Key Market Players
• Adient
• Lear Corporation
• Faurecia
• Toyota Boshoku
• Magna International
Recent News
Recent Development
In March 2020, Adient entered into an agreement to sell USD 175 million to Sage Automotive Interiors, an Asahi Kasei group, for its automotive fabric manufacturing operation, including its laminating business.
In January 2020, Adient sold Recaro Automobile Seating to Raven Acquisitions LLC, a privately held investment company headquartered in Detroit. Recaro Automotive Seating is expected to be able to focus on its core business under the current organisational structure, being performance chairs, ergonomic seats, and special applications, with quicker and quicker decision-making cycles that allow more flexibility to help satisfy consumer requirements.
In June 2019, Lear Company invested USD 30 million in a new 240,000 square-foot assembly and subassembly facility in Hammond, Indiana, where Ford's Chicago Assembly Plant is planned to continue as a supplier.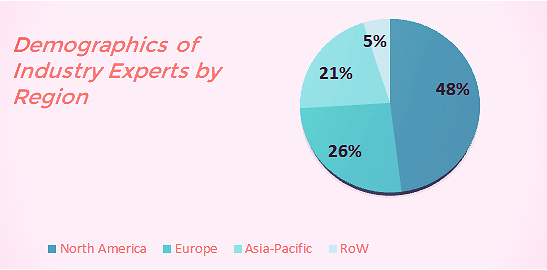 Source:VynZ Research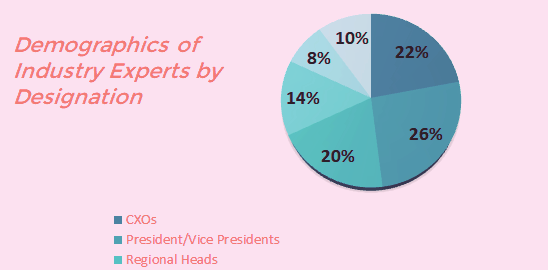 Source:VynZ Research