Industry Overview
The global car rental market was valued at USD 86.3 billion in 2021 and is expected to reach USD 133.0 billion by 2027, growing at a CAGR of 7.1% during 2021-2027. The growth of this market is attributed towards increasing disposable income of the citizens globally, extensive number of service providers offering car rental services along with evolving lifestyle of the people.  Furthermore, improved road infrastructure has led to enhancement of business and leisure trips across the globe thereby strengthening the growth of global car rental market.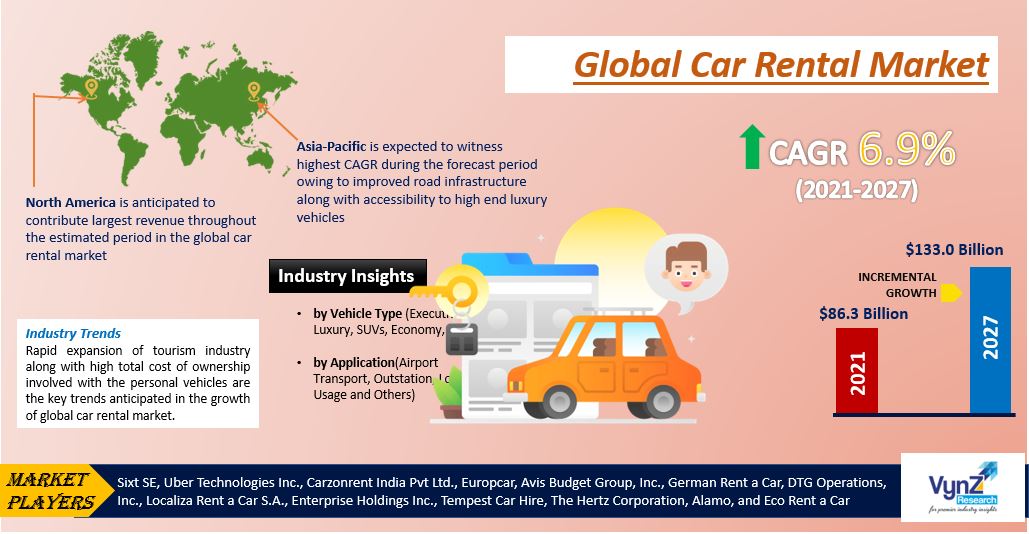 Car rental service enables the consumers to rent car and automobiles for a specified time period may be limited or for small time. The time period for renting a car may vary for upto few hours to weeks as per the need of the customers. These services are gaining immense traction near airports and tourists places. Moreover, evolving trends of making travel convenient and pleasurable is further escalating the growth of global car rental market.
Market Segmentation
Insight by Vehicle Type
On the basis of vehicle type, the global car rental market is categorized into executive, luxury, SUVs, economy, and MUVs. Amongst these segments, executive segment is expected to witness highest CAGR during the forecast period owing to increasing number of business travellers globally specifically in emerging economies. Additionally, it has been observed that cost-effectiveness along with sophisticated features of executive segment thereby make this segment more attractive medium of transport amongst business consumers.
Insight by Application
On the basis of application, the global car rental market is categorized into airport transport, outstation, local usage, and others. Amongst these segments, airport transport is expected to generate largest revenue by 2025. The growth of this segment is attributed towards extensive growth of air travellers globally also various service providers are seeking airport as most appropriate location for  setting up their offices. Moreover, making offices nearby airport helps in making the car available to the customers on an immediate basis as per their requirement.
Industry Dynamics
Industry Trends
Rapid expansion of tourism industry along with high total cost of ownership involved with the personal vehicles are the key trends anticipated in the growth of global car rental market. 
Growth Drivers
Rapid expansion of internet and mobile users globally, increase in global air travel, rapid globalization and extensive number of corporate travellers along with increasing global leisure travellers are the key factors that are pertaining towards the growth of global car rental market. Rapid expansion of mobile and internet users across the globe and increasing dependence of users on technology making payments, booking hotels, flights along with paying for the rental services is the key factor that is pertaining towards the growth of global car rental market. 
Furthermore, there are several service providers of rental services that are launching applications in order to make customers accessible with discount coupons, real-time tracking, promotional offers, fare and availability of service. The service providers are rampantly emphasizing their efforts towards streamlining business processes and extending the availability of service convenience as the customers usually book slots for car in minimum time span. In order to attain this objective the service providers are excessively using IoT management fleet management solutions, as a result to which car rental market is gaining momentum at rapid pace globally.
Challenges
Volatility in crude oil prices, compliance with stringent emission standard along with extensive growth of low price public transport are the key factors that are expected to hinder the growth of global car rental market in the near future.
Geographic Overview
Geographically, North America is anticipated to contribute largest revenue throughout the estimated period in the global car rental market. The growth of the car rental market in this region is attributed towards increasing number of business and leisure trips both domestic and international. Additionally, shifting trends of consumers towards rental services along with existence of prominent key players in this region such as Enterprise Rent-a-Car are other factors pertaining towards the growth of global car rental market.
Asia-Pacific is expected to witness highest CAGR during the forecast period owing to improved road infrastructure along with accessibility to high end luxury vehicles. Furthermore, self-driving renting trends of cars that provide convenience and flexibility to the tourists are other factors that are driving the growth of car rental market in Asia-Pacific.
Competitive Insight
Key players in the car rental market are catering to the demand of these devices by investing in technologically advanced products in their product portfolio across the globe. Key players such as Avis and Uber have launched mobile applications through which customers get ease of booking cars and choosing their desired vehicle. Moreover, several players are introducing their rental services at affordable prices in order to enhance their consumer base.
Some of the major players operating in the global car rental market are Sixt SE, Uber Technologies Inc., Carzonrent India Pvt Ltd., Europcar, Avis Budget Group, Inc., German Rent a Car, DTG Operations, Inc., Localiza Rent a Car S.A., Enterprise Holdings Inc., Tempest Car Hire, The Hertz Corporation, Alamo, and Eco Rent a Car.
Forecast Parameters
- Identifying variables and establishing market impact.
- Establishing market trends regionally.
- Analyzing opportunities and market penetration rates by understanding product commercialization, regional expansion.
- Analyzing demand and supply trends and changes in industry dynamics to establish future growth.
- Analyzing sustainability strategies adhered by market participants in an attempt to determine future course of the market.
- Analyzing historical market trends and super-imposing them on the current and future variables to determine year-on-year trend.
- Understanding adoption, production, export, import and regulatory framework.
Data Validation
- Estimated and forecasted data was validated through industry experts.
- Apart from industry experts, data triangulation methods were used for validation.
- Bottom up and top-down approach has been used for estimation and forecast of market data, whereas top-down approach was used for validation.
- Demand, as well as supply-side surveys, were conducted in order to understand the industry dynamics and data validation.
Primary Research
VynZ Research conducts extensive primary research to understand the market dynamics, validate market data and have key opinions from the industry experts. The key profiles approached within the industry includes, CEO, CFO, CTO, President, Vice President, Product Managers, Regional Heads and Others. Also, end user surveys comprising of consumers are also conducted to understand consumer behaviour.
Source: VynZ Research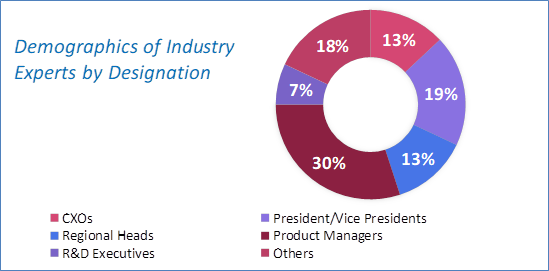 Source: VynZ Research