Industry Overview
The global drive by wire market is gaining significant traction globally and is anticipated to grow from USD 24.2 billion in 2020 to USD 64.5 billion in 2027, registering a CAGR of 6.1% during the forecast period 2021-2027. Drive by wire technology is a developed vehicle control method that incorporates mechanical linkages within the vehicle. It replaces traditional mechanical control systems with innovative electrical control systems by using electromechanical actuators, sensors, batteries that provide accurate and precise results. The increasing awareness among people as it is fuel-efficient increases the performance of vehicles owing to advanced technologies and innovations in the automotive sector resulting in the growth of drive by wire market. Moreover, the developed features and engine ergonomics, rising development of autonomous vehicles, mounting growth in connected infrastructure drives the global drive by wire market.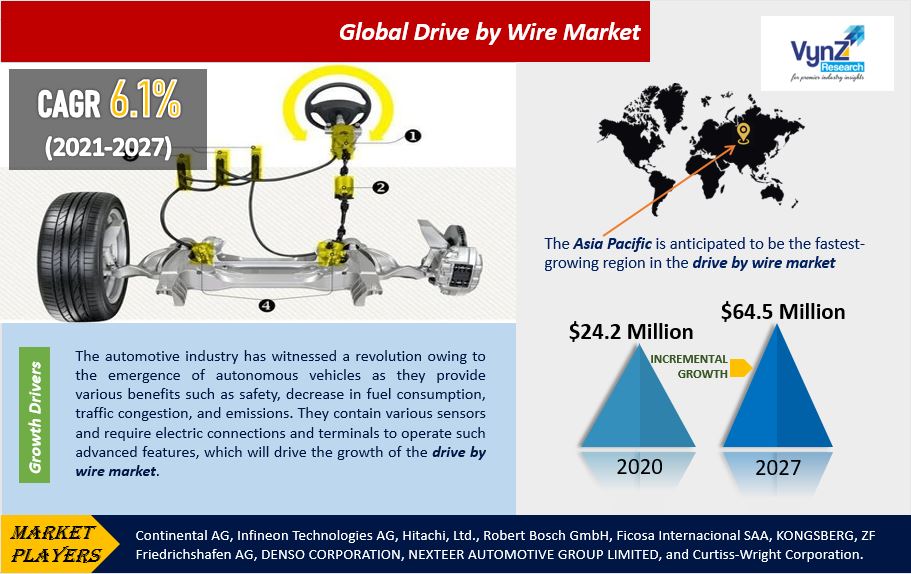 The COVID-19 pandemic has resulted in lockdown, the shutdown of manufacturing units, the closing of international borders for export of automotive components resulted in an adverse impact on a global drive by wire market. Post pandemic, the increasing supply contracts, collaborations, and innovative product developments are anticipated to drive the automotive market.
Market Segmentation
Insight by Component
Based on components, the global drive by wire market is categorized into electronic control unit, engine control module, actuator, feedback motor, parking pawl, electronic throttle control module, electronic transmission control unit, and others. Actuator dominates the market as electrically actuated brakes are compatible with anti-lock braking system (ABS) and stability control. Different types of actuators, such as steering actuator, feedback actuator, pinion actuator, motor controlling throttle valve position actuator, and Servomotor/pump actuator, are used in drive-by-wire applications.
Insight by Application
Based on application, the market is divided into throttle-by-wire, shift-by-wire, steer-by-wire, park-by-wire, and brake-by-wire. Shift-by-wire is anticipated to be the fastest-growing segment during the forecast period as it is an extensively adopted technology amid developed automotive shifters and is highly installed in light-duty vehicles. This application improves the operation of the start-stop and regenerative braking systems, saves energy, and makes vehicles highly efficient. Furthermore, the shift-by-wire application reduces the intensity of noise produced by the engine and offers high operational accuracy. Steer-by-wire is anticipated to have a high CAGR during the forecast period as it is an embedded software system that requires less maintenance and constitutes an integrated electronic control unit with and control area network bus interface.
Insight by Sensor Type
Based on sensor type, the global drive by wire market is divided into throttle pedal sensor, throttle position sensor, pinion angle sensor, hand wheel angle sensor, gear shift position sensor, park sensor, and brake pedal sensor. The gear shift position sensor is anticipated to witness the largest market share during the forecast period as it has no contacting parts. This has improved the lifespan of the component, increases credibility, provides operational accuracy. In addition, the shift-by-wire system uses a gear shift position sensor as a standard component, resulting in the growth of the segment.
Insight by Vehicle Type
Based on vehicle type, the global drive by wire market is divided into on-highway vehicle type, electric vehicles, and off-highway vehicle type. The on-highway vehicle type is sub-divided into passenger cars, light commercial vehicles, trucks, and buses. Electric vehicles are further sub-divided into BEV, PHEV, and FCEV. Off-highway vehicle type is further sub-divided into agricultural tractors, construction & mining equipment, and forklifts. BEV is projected to be the fastest-growing segment as it uses high voltage batteries which can easily accommodate the high voltage from drive by wire systems. Moreover, drive by wire system improves the driving performance of BEVs and consumes less electrical energy from the battery which will enhance the BEV driving range.
Industry Dynamics
Industry Trends
The electrification of vehicles is the trend observed in the market owing to the technological revolution by the introduction of hybrid electric vehicles and autonomous vehicles. Moreover, technologies like throttle-by-wire, brake-by-wire, and steer-by-wire will show significant growth as it enhances vehicle performance and weight reduction.  
Growth Drivers
The automotive industry has witnessed a revolution owing to the emergence of autonomous vehicles as they provide various benefits such as safety, decrease in fuel consumption, traffic congestion, and emissions. They contain various sensors and require electric connections and terminals to operate such advanced features, which will drive the growth of the drive by wire market. Moreover, the stringent vehicular emission norms, growth of connected infrastructure, growing demand for passenger comfort will fuel the growth of drive by wire market.
Challenges
The high cost of drive by wire systems i.e., the cost of designing, manufacturing, and installing drive by wire systems in high, limited public acceptance or slow adoption, and the threat of data hacking and malfunctioning will impact the growth of drive by wire market.
Opportunities
The development of smart cities, adoption of deep learning, and AI in home security systems will provide promising opportunities for the players operating in the drive by wire market.
Geographic Overview
The Asia Pacific is anticipated to be the fastest-growing region in the drive by wire market as it is a hub for automotive production owing to shift in consumer preference, rising disposable income among the middle-class population, and cost advantage for OEMs. China is the foremost market for automobiles in the APAC region resulting in the growth of premium and luxury vehicles, thereby increasing the demand for drive by wire market in the region. Moreover, the implementation of strict emission norms will drive the growth of dive by wire market in the region.
Competitive Insight
The drive by wire market is a competitive market where the industry players are focusing on strategic collaborations, partnerships, agreements with end-user industry and regional distributors along with focusing on product launch and product expansion to expand their customer base. Thus, industry players are sustaining their position in a competitive market and are providing a competitive edge.
Ford Motor Company, Bedrock, and Bosch has launched a demonstration project by using connected Ford Escape test vehicles that can drive and park themselves inside Bedrock's Assembly Garage in Detroit using Bosch smart infrastructure. This is the first US infrastructure-based solution for automated valet parking where the vehicle will park itself inside a parking garage.
Nexteer opened a state-of-the-art Technical Center in Suzhou Industrial Park, China. This global footprint will provide the company to globalize its engineering expertise, enhance local technical support, and capitalize on emerging market growth opportunities in the Asia Pacific.
Some of the key players operating in the drive by wire market: Continental AG, Infineon Technologies AG, Hitachi, Ltd., Robert Bosch GmbH, Ficosa Internacional SAA, KONGSBERG, ZF Friedrichshafen AG, DENSO CORPORATION, NEXTEER AUTOMOTIVE GROUP LIMITED, and Curtiss-Wright Corporation.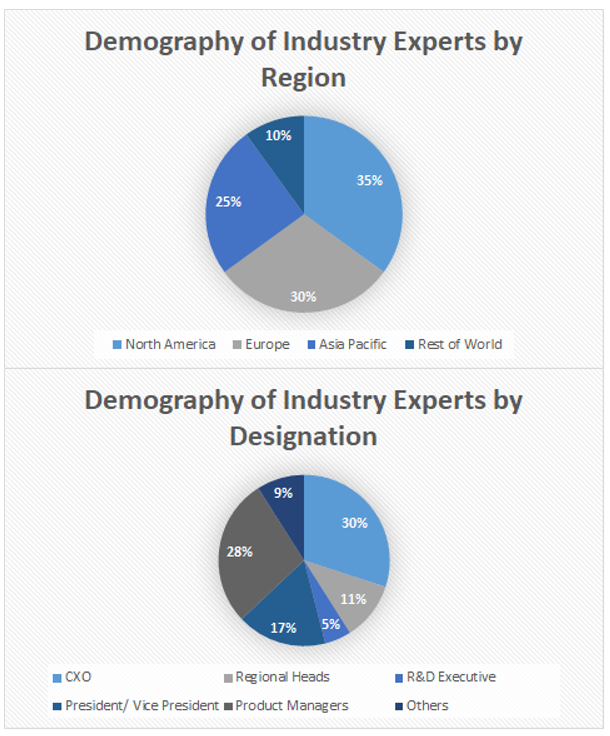 Source: VynZ Research