Industry Overview
The global electric bike (e-bike) market size is USD 41 billion in 2022 and is projected to grow to USD 70 billion by 2030 exhibiting a CAGR of around 8% during the forecast period.
Government funding and stringent regulations for electric bikes are significant factors that are anticipated to accelerate the growth of the market size of electric bikes. In addition, the growth of the global electric bicycle industry is motivated by the rising willingness of consumers to use e-bikes as an eco-friendly and reliable alternative to commuting and fuel costs.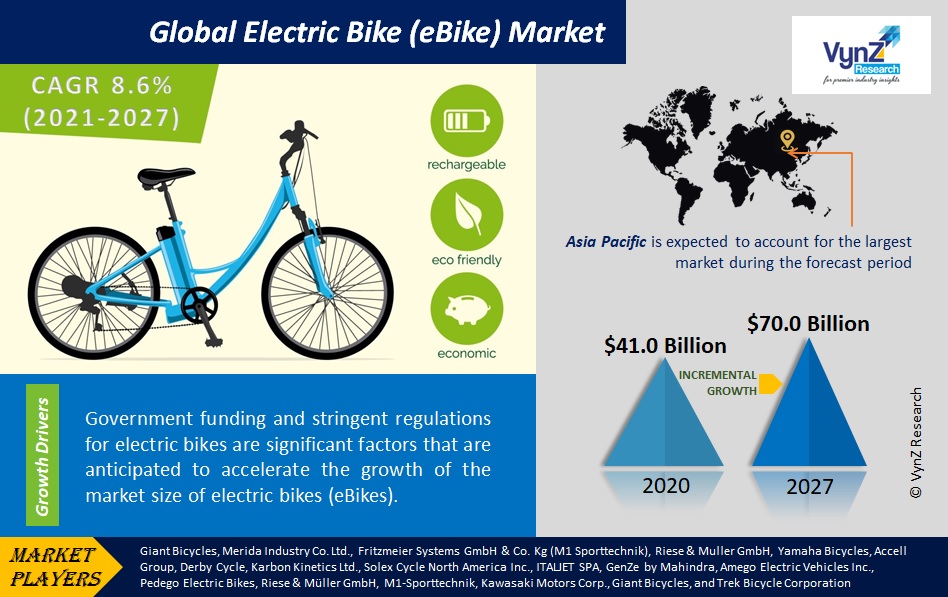 In addition to growing user demand for outdoor and adventure sports, during the projected timeframe, the adoption of e-bike applications in many industries, such as logistics and e-bike rental services, is expected to boost the studied market.
Owing to growing urbanization and the increasing amount of vehicular traffic on the road, the use of electric bikes is increasing. Thanks to their power capability, long-distance range, and moderate speed, electric bikes are now considered a viable transportation alternative.
Market Segmentation
Insights by Battery Type
•  Lithium-Ion
•  Lithium-Ion Polymer
•  Nickel Metal Hydride
•  Lead Acid
•  Sealed Lead Acid
In 2020, lithium-ion segment leads the battery type segment due to its low maintenance and longer durability. However, since it is an improved variant of lithium-ion batteries with greater longevity, the lithium-ion polymer market is increasing at higher rates. Eco-friendly, lithium-ion batteries have a longer life span and provide more power to weight ratios than other types of batteries. In recent years, these batteries have also seen a sharp decrease in price. E-bike manufacturers' attempts to produce lightweight e-bikes have also led to higher use of lithium-ion batteries.
Insights by Hub Motor
•  Mid Drive Hub Motor
•  Rear Hub Motor
•  Front Hub Motor
The mid-drive hub motor segment dominates the hub motor position segment in 2020 as it is the most suitable design for pedelec e-bikes and pedal-assisted e-bikes that are commonly consumed worldwide. Also, mid-drive hub motor-based e-bikes are favored due to their greater weight distribution. Due to the benefits of mid-engines, such as smaller size, lighter weight, less noise, and smooth incorporation with bike frames, the majority of European and North American e-bike manufacturers are switching from hub to mid-engine. Therefore, during the forecast period, the mid-motor segment is expected to report a higher CAGR.
Insights on the Basis of Mode
•  Pedal Assist
•  Throttle
On the basis of mode, the e-bike market is segmented into pedal assist and throttle. In 2020, the section of pedal assistance is primarily used by customers as it offers cycling functionality as well as electrical assistance for longer cruises, so pedal assistance dominates the segment of mode.
Insights by Battery Power
•  Under 750 W
•  Over 750 W
The 750 W segment has the largest market share in the battery power segment in 2020 and is projected to rise at a faster pace because batteries under 750 W are lightweight relative to batteries over 750 W. Often, laws from different governments help dominate the segment under 750 W batteries.
Insights by Class
•  Class I (pedal assist/pedelec)
•  Class II (throttle)
•  Class III (speed pedelec)
In 2020, the class I (pedal assist/pedelec) category dominates the class segment in line with pedal assist mode, provided that these types of e-bikes are commonly preferred over full-throttle e-bikes by health-conscious individuals.
Insights by Usage
•  City/Urban
•  Cruise
•  Mountain/Trekking
•  Bikes
•  Racing
•  Cargo
In 2020, when most of the e-bikes bought are used in metropolitan areas for cost-effective and eco-friendly commuting for short distances, such as commuting to work or office, the city/urban segment retains a large portion of the use segment.
Insights by Demographic Region
•  Asia Pacific
•  North Americas
•  Europe
Asia Pacific is expected to account for the largest market during the forecast period
During the projected period, Asia Pacific is anticipated to be the largest e-bike region. In this area, due to growing e-bike purchases in these countries, China, Japan, India, and Taiwan are potential markets.
Market Trends 
The Government's Stringent Emission Standards are projected to fuel growth in the size of the electric bike industry. Strict restrictions have been imposed on manufacturers to manufacture zero-emission cars by the governments of various countries. Key OEMs have invested heavily in R&D in order to develop environmental-friendly vehicles. Governments in developing countries have proposed different subsidies, such as tax-free electric bicycle purchases.
It is anticipated that the increasing interest in cycling as exercise would further fuel the scale of the electric bike industry. The interest in cycling as a health and recreational pursuit has been motivated by a paradigm change in fitness-conscious buyers because riding an electric bike provides longer distances for the same amount of peddling.
It is predicted that increasing worries about road congestion and government efforts to alleviate traffic congestion would expand the size of the demand for electric bikes. As they occupy the least space on the lane, the use of e-bikes would reduce the number of vehicles on the road and result in fewer traffic jams.
Market Drivers
Positive impact of COVID-19 on e-bike sales globally
One of the factors projected to boost the market for e-bikes over the forecast period is rapid urbanization and traffic congestion in cities. Shared versatility for transportation is unlikely to be favored because of the COVID-19 pandemic. E-bikes are considered an alternative to mass transit that is clean, comfortable, and inexpensive. In order to minimize the burden on public transit networks, several nations are moving towards improving e-bikes using both discounts and regulatory improvements. E-bikes are also smaller, easier to charge, and do not need massive improvements in supporting facilities relative to other mobility networks. Therefore, an increase in demand is being observed for e-bikes.
Market Opportunities
Technological Advancements
With the adoption of e-bikes, technical developments in the area of e-bikes are taking place, and linked e-bikes are one such development. Automatic calls, seamless routing, social media connection, an anti-theft system, and remote diagnostics are some of the essential features provided by the linked e-bike. Bosch, which provides a wired e-bike solution, is one of the main players in the e-bike industry.
Rise in Demand of Greener and Cleaner Mode of Transportation
High traffic congestion in metropolitan areas is rising the worldwide need for e-bikes. Demand for greener and safer modes of transport is growing, driving the global e-bike industry.
Challenges
International trade policies and regulations
Because of Europe's anti-dumping regulation, the region was initially affected as it was unable to satisfy the demand for parts.
E-bike sales were impacted in the US between 2018 and 2019 because of the trade war between the US and China.
Technological challenges
The engine and battery are the two most important components of the e-bike. One of the problems for e-bike manufacturers is regulating the motor's speed and torque over a wide variety of speed and load conditions. Given the limited amount of energy contained in a battery available, the power of the battery must be used as effectively as possible. Hence, it would be necessary for battery manufacturers to decide the correct battery capacity in terms of operation and range.
High Maintenance cost of Battery
Numerous research and development works on electric bikes and their batteries have been carried out in recent years. One of the big issues is charging and servicing of the battery. The development of the market could be hindered by numerous technological problems, such as the fast discharge of the battery after a short trip and the slowdown of the battery of the bike at freezing temperatures.
Key Market Players
•  Giant Bicycles
•  Merida Industry Co. Ltd
•  Fritzmeier Systems GmbH & Co. Kg (M1 Sporttechnik)
•  Riese & Muller GmbH
•  Yamaha Bicycles
•  Accell Group
•  Derby Cycle 
•  Karbon Kinetics Ltd
•  Solex Cycle North America Inc.
•  ITALJET SPA
•  GenZe by Mahindra 
•  Amego Electric Vehicles Inc.
•  Pedego Electric Bikes
•  Riese & Müller GmbH
•  M1-Sporttechnik
•  Kawasaki Motors Corp.
•  Giant Bicycles
•  Trek Bicycle Corporation
Latest News 
Recent Developments
In October 2020, In Boca Raton, Florida, Pedego Electric Bikes opened a Pedego Electric Bikes shop that provides a wide range of sales, rentals, facilities, and accessories for e-bikes.
June 2020 – Inauguration of the current APAC headquarters in Taiwan by the Bosch e-bikes system. This move by the organization is to leverage the APAC region's fastest-rising e-bike industry.
In November 2019, For an undisclosed sum, Pon. Bike bought the Dutch e-cargo bike brand Urban Arrow.
August 2019- Giant also launched its latest E+ Pro bike with upgraded suspension. This bike is specially designed for long-distance and competitive trail riding. This bike consists of the technologically advanced SyncDrive Pro Motor technology from Giant, which increases the bike's strength in steep climbing and decreases the rider's effort input.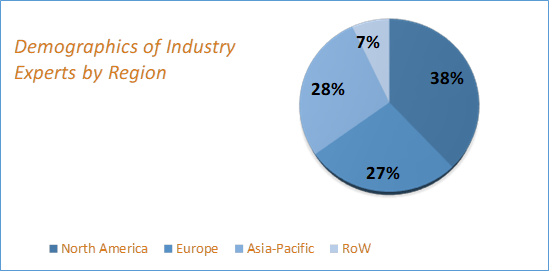 Source: VynZ Research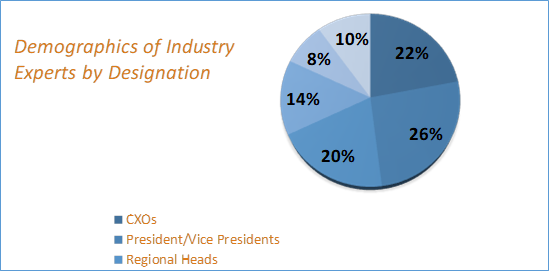 Source: VynZ Research