Industry Overview
The global Electric Off-highway Vehicle Market is anticipated to reach 20.1 million USD by 2027, up from an expected 6.1 million USD in 2022 at 22.5% CAGR for the said period. The key factors responsible for this growth would be the development of advanced and new products, the post-2022 recovery of end-use sectors, and upcoming norms of emission for the off-highway vehicles.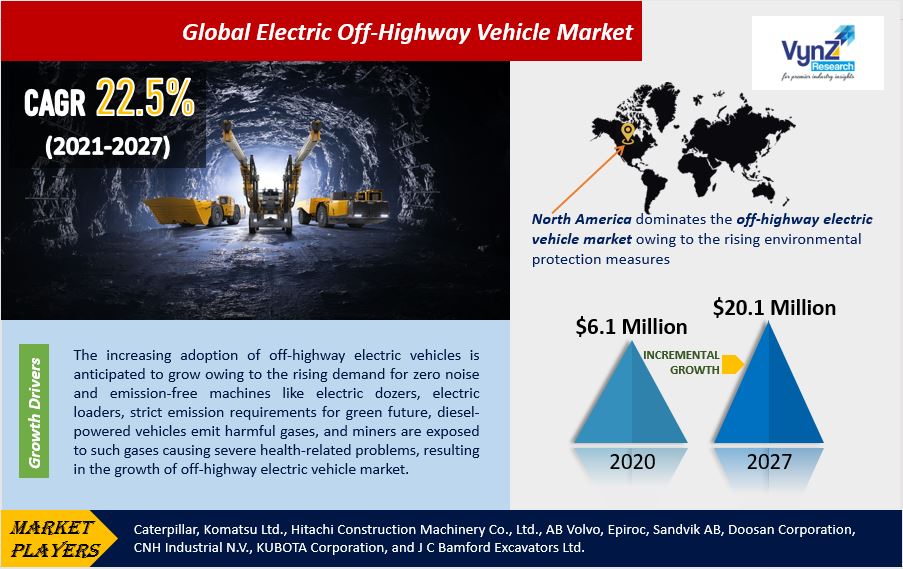 Then OEMs have lately delayed their new vehicle developments and their launches. Taking into account the global financial slowdown, the manufacturers of electric off-highway vehicle will abstain from adding up extra cost to these vehicles by installing hybrid powertrain systems and batteries.
The OEMs might also reduce some financial investments in the R&D activities that are related to the electric off-highway vehicle if the impact of COVID-19 is prolonged. The decrease in demand for Electric Off-Highway Vehicles across the globe might also delay the shift to standard and large electric off-highway vehicles from mini electric off-highway vehicles. As the growth of the EOHV market is directly proportional to the production of vehicles, the electric off-highway vehicle market is expected to be affected by this.
But, many off-highway vehicles OEM's like manufacturers of electric loaders, electric excavators, electric tractors, electric dump trucks, and electric lawnmowers have their production resumed since the May of 2020. Although, China started their production in early February, with XCMG Group and BYD Auto Co., Ltd. reopening their plants at full capacity. While in the US, large OEMs, just like John Deere, who had temporarily halted their production in May, are expected to be resuming their operations by 2020's third quarter.
Impact of COVID-19 on the Electric Off-Highway Vehicle Market:
Due to the COVID-19 pandemic, the global off-highway vehicles industry is estimated to see a decent of –3.3% in 2020. This pandemic has significantly affected the heavy equipment industry because some manufacturers are having to shut down their plant operations while others are still considering using their efforts to cater to the demand for medical supplies. As lockdowns have been put up around the world to contain the spread of this disease, mining, and construction projects are being greatly affected. Almost all scheduled projects are expected to be held up, which might also affect the sales of equipment, along with the demand for regularly replaced products, such as lubricants from existing fleets. The key players in this market are well aware that when this market reopens, in order to adhere to safety measures, the production levels will be reduced. And also, the customer spending, whose business has been affected due to the pandemic will be less.
Although, with the production facilities resumption across the world, the off-highway equipment market is expected to be boosted by the opening of mines globally, the season of planting & harvesting, and the utilization of digital services in order to help customers. A few China-based players showed a positive stance in March 2020, therefore representing a revival of the off-highway industries in the country. Also, the lockdown restrictions' relaxation in Japan and the facilities in India gradually opening may highly boost the demand for the electric off-highway vehicle market by 2021.
MARKET SEGMENTATION
The Electric off-highway vehicles market includes both hybrid-electric and battery-electric off-highway vehicles. Hybrid-electric vehicles consist of an ICE along with one or more electric motors which use energy stored in the batteries to provide additional supplementary power for power tools, the vehicle, and electronic devices. In Battery-electric vehicles, the combustion engine is replaced with an electric motor, and the batteries that power the machine and all its attachments, hence are fully electric.
1. Based on Propulsion: The segment estimated to lead the market during the forecasted period is the battery-electric segment.
Based on the Crop Type, the Electric Off-Highway Vehicle market is segmented into:
• Hybrid-Electric
• Battery-Electric
The noise control and emission regulations for the off-highway equipment have been constantly upgraded at the regional levels. As per the EU's emission regulations, particulate matter (PM) and NOx levels for electric off-highway vehicles have been considerably reduced by nearly 97.2% and 95.7%, respectively, i.e., from Stage I to Stage V. In the same way, according to the US EPA norms, these levels have seen a down growth of nearly 96.2% and 95.6% respectively, i.e., from Tier I to Tier IV. Also, countries like Japan, China, India, and South Korea are expected to follow these norms along with the US and EU standards.
The leading equipment manufacturers like Volvo CE, Caterpillar, JCB, and Hitachi Construction have a proper mix of products for electric off-highway vehicles. They are also taking up R&D activities in order to introduce battery-electric off-highway vehicles that come with high battery power output and capacity in the coming years. Thus, the demand for battery-electric off-highway vehicles is estimated to grow with the growing stringency of desired operational efficiency and emission regulation.
2. Based on Battery Capacity: the largest market share is expected to be held by <50hp power output.
Based on components, the Electric Off-Highway Vehicle market is segmented into-
• <50 kWh • 50–200 kWh
• 200–500 kWh
•  >500 kWh
Small electric off-highway vehicles generally use motors that generate an output of <50 hp. Komatsu, CAT, Hitachi Construction, Volvo CE, Solectrac, John Deere, and Sandvik are leading the OEMs market for <50 hp EOHVs. Equipment such as small and compact loaders, compact-sized excavators, small dozers, and farm tractors are usually equipped with <50 hp motors. Construction vehicles with <50 hp power output are usually used for light construction activities.
The current demand for electric off-highway vehicles is likely to be limited to mini-construction vehicles because of the availability of the product and electrification technology limitations. Therefore, globally, the market for <50 hp is estimated to be the largest market segment based on power output.
Also, the 50-200 kWh segment is expected to be the second-largest market for electric off-highway electric vehicles, based on battery capacity.
3. Based on Application: The largest market share in the year 2020 is to be held by the hospital end-user segment.
 Based on application, the Electric Off-Highway Vehicle market is segmented into-
• Construction
• Mining
• Agriculture
• Gardening
As per application, 'mining and construction are the largest segments in the EOHV market due to the high demand for vehicle emissions and operational cost minimization. Electric trucks are also being highly preferred in underground and deep mines because they do not generate noise and emissions. The rising demand for products such as iron, gold, and copper is driving the mining industry encouraging mining companies to timely update their equipment and also invest in even more productive electric vehicles.
4. Based on Battery Type: The largest market share in the year 2020 is to be held by the hospitals end-user\ segment.
 Based on Emitter Type, the Electric Off-Highway Vehicle market is segmented into-
• Lithium-Ion
• Lead-Acid
• Other Batteries
5. Based on Equipment Type:
Based on components, the Electric Off-Highway Vehicle market is segmented into-
• Excavator
• Motor Grader
• Dozer
• Loader
• Dump Truck
• LHD
• Lawnmower
• Sprayer
• Tractor
DRIVERS
Aggressive step toward ventilation costs and minimizing emissions in underground mining
LHD loaders and Diesel-powered vehicles emit large amounts of harmful gasses, that includes nitrogen dioxide, carbon dioxide, carbon monoxide, and others. Miners experience several lethal health effects, that include adverse effects on sensory perceptions, chronic bronchitis, severe respiratory irritation, and emphysema, as they are exposed to such harmful emissions for a long time because of long shifts. Also, these emissions increase the heat generated in the underground mines. As per the International Council on Mining and Metals (ICMM), to remove heat and pollutants from the mining tunnels, nearly 40% of an underground mine's energy outlay is spent on operating ventilation systems. These factors decrease the efficiency of their production while increasing the mine's overall operational costs.
The disposition of electric-mining vehicles like electric LHD loaders and electric dump trucks, provides significantly improved energy efficiency, lower maintenance time, decreased heat dissipation and harmful emissions, decreased ventilation requirements, improved working environment (air quality), reduced operating costs, improved mining profit and mitigated the environmental impact. As per Mobile Equipment Design and Automation Technology, the substitution of diesel-powered vehicles with electric-mining vehicles can greatly reduce nearly 7,500 tons of carbon dioxide and also save diesel fuel of approximately 3 million liters and propane of nearly 1 million liters every year.
• The rising demand for emission-free and low-noise construction machines in residential areas
• Rapid development of infrastructure in developing countries and initiation of re-development projects in developed countries.
• As compared to the IC engine counterparts, electric off-highway vehicles are more productive. Due to fewer mechanical parts, they contribute to lower operational costs and therefore, are increasingly being preferred by the construction contractors./p>
• Due to active government measures and an increase in fuel prices, electric Off-highway vehicles are preferred in agricultural applications.
• Rising strictness in environmental awareness and emission norms is expected to drive the electric off-highway vehicle market
OPPORTUNITIES
Development of fast charging and long-ranged battery technology
Most of the electric off-highway vehicles are presently working on using lithium-ion batteries because of their various advantages over nickel-metal and lead-acid hydride batteries. Lithium-ion batteries have numerous drawbacks that greatly affect their battery performance. These limitations of lithium-ion batteries are - issues related to their robustness, shorter lifespan, performance fluctuations due to changing temperatures, limited power density, high cost, and rigidness.
The solid-state batteries that are manufactured in lithium metal with stabilized solid electrolytes offer nearly 10 times the charging capacity as compared to the graphite-based Li-ion batteries. And, solid-state batteries also offer higher energy density, like double the energy for the same volume, and also up to 10 years of increased lifespan. Therefore, many of the companies that manufacture electric off-highway vehicles are now investing in solid-state battery development. For example, Caterpillar has joined hands with Fisker for solid-state battery development that is designed to outperform the currently used Li-ion batteries.
CONSTRAINTS
High charging time decreasing productivity
One of the major factors restricting the growth of electric off-highway vehicles in both construction and mining applications is the loss of productivity because of its high charging time. As mining and construction companies work nearly 8–16 hours per day, it reduces the chance for the required charging time of electric off-highway vehicles fully. Most of the electric off-highway vehicles take up to 4–8 hours to completely charge, thus decreasing productivity because of the time that is lost in recharging the vehicles. For example, the JCB's 19C-1E, a mini excavator, requires around 8 hours to charge fully from empty by using a supply of 230V 16A, or 12 hours by using a supply of 110V 16A. While, a Volvo CE 2.5-tonne ECR25, a compact excavator, requires nearly 6 hours of charging time for only 8 hours of runtime.
CHALLENGES
Issues related to interchangeability, standardization, and compatibility
Electric off-highway vehicles have very limited affinity for long-run applications. Dump trucks, for example, carry dumping materials to the dumping area from the mining site. Here, distance plays a crucial role, as it is difficult for vehicles to cover such long distances because of its limited battery capacity. But mining companies that manufacture equipment are working on developing equipment that is cable connected. Nevertheless, such cable-connected equipment also lacks in terms of versatility.
This lack of standardization and interchangeability in terms of charging electric off-highway vehicles is restricting the growth of the electric off-highway vehicle market. The charging of electric off-highway vehicles, at any given station with a only single identification or payment method, is referred to as Interchangeability, which is not the case right now.
GEOGRAPHICAL ANALYSIS
Based on Geography, the Electric Off-Highway Vehicle Market is segmented into-
• North America – US, Canada
• Europe – Germany, UK, France, Italy, Spain, Rest of Europe
• Asia Pacific (APAC) – India, Japan, China, Rest of APAC
• Rest of the World
The growth of the US market is majorly due to the environmental protection measures, with the help of upcoming stringent emission norms that looks after the for-fuel economy in the country, and also the efforts taken by local companies to manufacture hybrid and electric equipment for the domestic market. The North American market is estimated to cover the highest market share for the forecast period. The Caterpillar newly launched the world's biggest electric excavator equipped which had a300-kWh battery pack with it. With the major electric off-highway vehicle providers having increasing investments in battery developments, electric off-highway vehicles, and subsystems, the US is estimated to increase the market growth during the forecast period. Also, one of the key factors leading the growth of the electric off-highway vehicles market in the US is, players like Caterpillar who are developing advanced solid-state battery technology that aims to considerably reduce the drawbacks of the conventional battery types in electric loaders and excavators.
COMPETATIVE ANALYSIS
The electric off-highway vehicle market is largely dominated by a few globally established companies like:
Caterpillar (US)
In 1925, Caterpillar was founded and headquartered in Illinois, US. It works on designing, manufacturing, and marketing a wide range of engines and machinery. It is a manufacturer of mining and construction equipment, natural gas and diesel engines, industrial gas turbines, and also diesel-electric locomotives. The company also provides financial services through its subsidiaries. It is the only manufacturer of hybrid and electric dozers, in line with electric LHD loaders, electric excavators, and electric dump trucks, and also markets them globally. In FY2019, the Construction segment declared revenue of USD 22.6 billion, which is estimated for 40.8% of the company's total revenue, that too excluding corporate items and eliminations.
Komatsu Ltd. (Japan)
In 1921, Komatsu was founded and headquartered in Tokyo, Japan. Komastu has 3 major business segments, they are, utility equipment, construction, and mining, industrial machinery, and also retail finance. Its construction, mining, and utility equipment segment includes the heavy construction equipment business.
Hitachi Construction Machinery (Japan)
In 1970, Hitachi Construction Machinery was established and headquartered in Tokyo, Japan. It is a leading manufacturer of construction machinery, under its construction machinery business, also offers total lifecycle solutions that are related to construction machinery like sales and manufacturing of hydraulic excavators, ultra-large hydraulic excavators, wheeled loader, and other parts. Hitachi uses innovations in the electric construction equipment by switching power to electricity from the motive inevitable reducing CO2 emissions and exhaust to a '0' on construction sites, thus helping to create a greener environment for work. It is currently producing electric construction and also hybrid machinery with the aim of pollution prevention and global environmental improvement and protection.
Volvo Construction Equipment (Volvo CE) (Sweden)
In 1832, Volvo Construction Equipment (Volvo CE) was incorporated and is headquartered in Gothenburg, Sweden. The company works on developing, manufacturing, and marketing equipment for mining-related industries under the brands like Volvo and SDLG.
• Epiroc (Sweden), and Sandvik (Sweden).
• Deere & Company
• BYD Company LTD
• Sandvik
• Liebherr
• Epiroc
These players have made contracts and entered into partnerships with other such players to considerably strengthen their hold on the position in the highly growing electric off-highway vehicle market. These companies also develop new products, obtain supply contracts, adopt expansion strategies, and establish partnerships, mergers & acquisitions, and collaborations to gain a grip in the electric off-highway vehicle market.
Some of the other players are:
• Soletrac INC
• Dana Limited
• Deutz AG
• Fendt
• Kobelco Construction Machinery Europe
• Husqvama
• Exel Industries
• Sky-well New Energy AutomobileGroup
• XCMG, CRRC
• Doosan. BEML
• Sany Heavy Industries
• Kubota
LATEST NEWS
In July 2020, Epiroc had an agreement with Vale for providing it with 10 battery-electric vehicles which will be used for 2 Canadian mine sites, including the two Boomer M2C drill rigs, four Scooptram ST14 loaders, two Minetruck MT42 trucks, and two Boltec MC bolting rigs.
In March 2020, Komatsu in Japan, launched its Electric Mini Excavator PC30E-5. It is equipped with an 18.2 kW electric motor, a 36-kWh battery and also offers zero-emission, simple and quiet operation without much vibrations.
In December 2019, Hitachi Construction Machinery developed a mini excavator prototype (5-ton class) that was battery-powered, aiming to establish electric construction machinery for a market taking off rapidly in the future.
In June 2019, 19C-1E, JCB's first full-electric mini excavator entered into production. They declared that it was the first electric excavator that was sent into production by an OEM.
In May 2019, Caterpillar launched the first battery-electric load-haul-dump (LHD) platform, the R1700 XE loader concept. It was loaded with MEC 500, a fast-charging system that, with little or no impact on the mine's existing electrical infrastructure, allows rapid, onboard charging.
Primary Research
VynZ Research conducts extensive primary research to understand the market dynamics, validate market data and have key opinions from industry experts. The key profiles approached within the industry include, CEO, CFO, CTO, President, Vice President, Product Managers, Regional Heads, and Others. Also, end user surveys comprising consumers are also conducted to understand consumer behavior.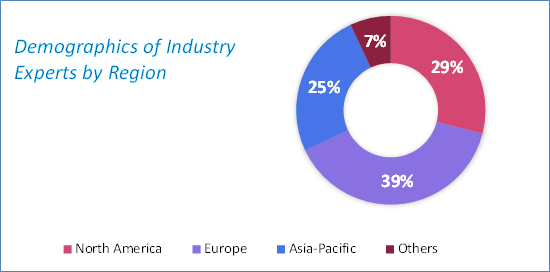 Source: VynZ Research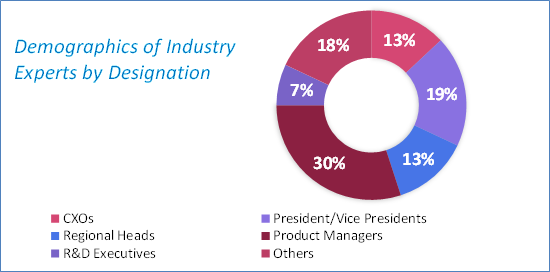 Source: VynZ Research