Industry Overview
The global electric tractors market is anticipated to grow at a significant rate in the coming years, owing to the consistent rising demand for food grains and agricultural products, government support and favourable policies. The increasing number of farmers are constrained to integrate mechanised farming for better production within the same limited land, therefore companies are developing autonomous e-tractors.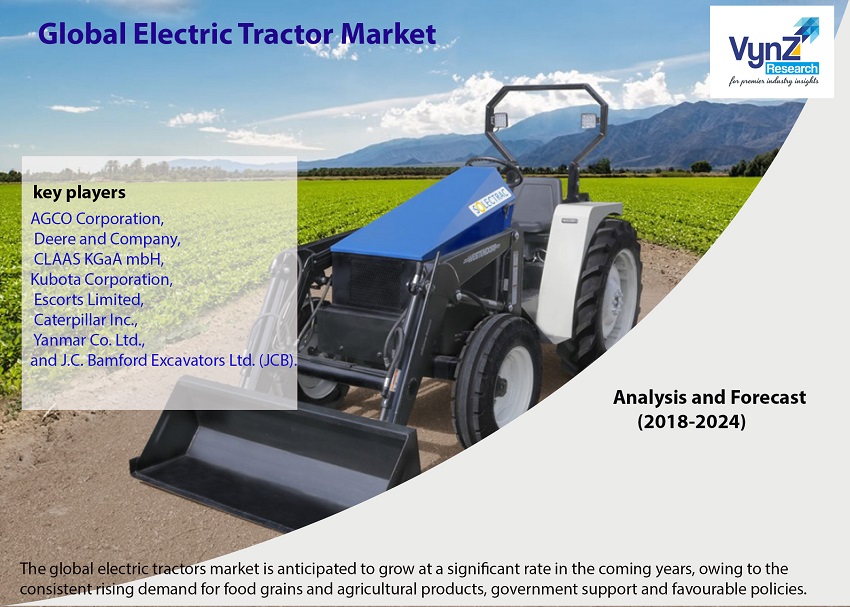 Market Segmentation
1)     Insight by Component
Based on components, the market is segmented into the following are the major dominant ones:
Sensor
GPS
Vision system
Others
GPS enabled tractors are anticipated to be in demand owing to their ability to navigate well. This sub-division dominates the markets in this segment and are forecasted to grow with the highest CAGR.
2)     Insight by Application
There are several specific applications of e-tractors available in the industry. Some tractors even facilitate multiple applications or combo applications at the same time. Following are the major applications that electric tractors facilitate, of which tillage facilitating tractors are expected to show the highest growth in demand during the forecast period:
Tillage
Harvesting
Irrigation
Seed Sowing
Spraying
Fertilizing
Industry Dynamics
1)     Growth Drivers
Factors that have been acting as the driving factors for the growth of this industry are:
Increased demand for no emission vehicles in farming sectors
Higher production desired on smaller lands
Government support and policies
2)     Challenges
The major challenges faced by the key players in this industry are:
Lower Efficiencies of electric tractors as compared to gasoline driven
Smaller cultivated plots
High cost of equipment
High investment capital required for new entrants
3)     Industry Ecosystem
The electric tractor market is niche and the industry has resulted in the development of electric tractors with better efficiencies, and introduction of telematics in electric tractors. Key players have been collaborating with international partners in order to extend their market reach on a global basis. This poses a threat to the new entrants in the industry.
4)     Benefits of using electric Tractors:
Farmers consider the following to be the major benefits of using electric tractors in the farms:
Improved productivity
Higher return on investment
Reliability on autonomous tractors
Government support and favourable policies
Geographic Overview
Asia Pacific
North America
Europe
RoW
Asia Pacific has proven to be the region with the highest growth rate in electric tractor market owing to factors such as: large farmlands, agriculture-dependent economies, and government regulations. Countries such as China and India are reigning on this altar. These countries have been forecasted to showcase huge demand for electric tractors during the forecast period.
Competitive Insight
The companies in this industry are being insisted to focus on the development of new autonomous driving techniques in order to make the driving safer and more dependable. Different countries are investing to develop autonomous electric tractors to cater to this demand. Technological advancements are anticipated in the coming years, and thus the market growth of the industry in the near future is forecasted very high.
The key players in the global electric tractor market are: AGCO Corporation, Deere and Company, CLAAS KGaA mbH, Kubota Corporation, Escorts Limited, Caterpillar Inc., Yanmar Co. Ltd., and J.C. Bamford Excavators Ltd. (JCB).