Industry Overview
An electric vehicle (EV) powertrain combines an internal combustion engine (ICE) with an electric motor and a battery pack, and the ICE and electric motor work in tandem to propel the vehicle. During low-demand situations, like city driving, the electric motor takes the lead, drawing power from the battery and when extra power is needed, such as during acceleration or high-speed cruising, the ICE kicks in, sometimes recharging the battery in the process. This synergy enhances fuel efficiency and reduces emissions compared to conventional vehicles. Regenerative braking further charges the battery, making EVs a more sustainable and economical option in the automotive landscape. 
Global electric vehicle powertrain market was worth USD 34.50 billion in 2022 and is expected reach USD 48.60 billion by 2030 with a CAGR of 4.63% during the forecast period, i.e., 2023-2030. Electric vehicle (EV) powertrain demand is rising due to rising environmental awareness, government incentives for green technology adoption, stringent emission regulations, advances in battery technology, and consumer demand for fuel-efficient vehicles.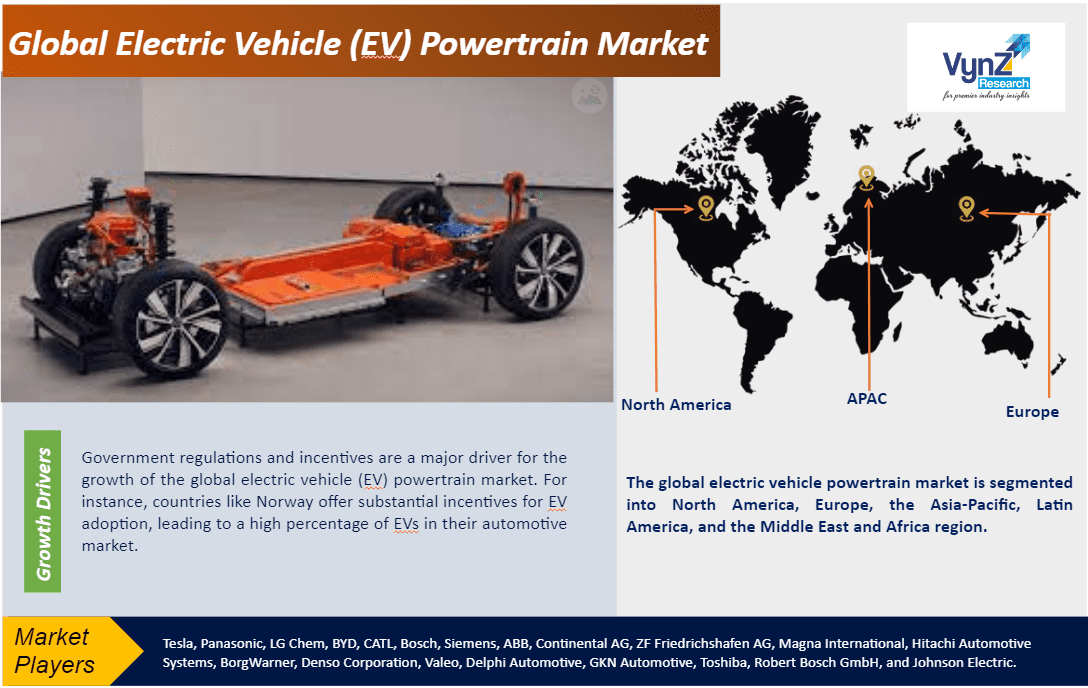 Geographically, the electric vehicle powertrain market is expanding rapidly in North America, Europe and the Asia Pacific, as a result of the stringent emissions standards, government incentives, rising environmental consciousness, robust infrastructure development, and increasing consumer preference for eco-friendly transportation solutions; however, the market confronts constraints such as high initial costs, limited charging infrastructure, range anxiety, and the need for sustainable battery disposal solutions. Overall, the global electric vehicle powertrain market offers potential prospects for market participants to develop and fulfill the growing needs of wide range of industries including transportation, energy storage, consumer electronics, and other industries.
Market Segmentation
Insight by Vehicle Type
Based on the vehicle type, the global electric vehicle powertrain market is segmented into BEV, FCEV, PHEV, and MHEV. In 2022, BEV dominated the global electric vehicle powertrain market due to their zero-emission nature and advancing battery technology. Companies like Tesla have been instrumental in this dominance and its gigafactories worldwide, particularly in Nevada and Shanghai, are pioneering large-scale battery production, reducing costs, and increasing accessibility. Additionally, legacy automakers such as Ford and Volkswagen are committing significant investments to transition to BEVs. Ford's Mustang Mach-E and Volkswagen's ID.3 and ID.4 series exemplify this shift towards BEVs. Moreover, governments globally are incentivizing BEVs through subsidies and stricter emissions standards, further propelling their dominance in the electric vehicle powertrain market.
Insight by Component
Based on the component, the global electric vehicle powertrain market is segmented into battery, power electronic controller, motor/generator, converter, transmission, on-board charger, and other components. In 2022, motor/generator segment dominated the global electric vehicle powertrain market as it is heart of the electric vehicles. Companies like Siemens and ABB are leaders in providing advanced electric motors for EVs and Siemens' motor plant in North Carolina is a prime example, producing high-efficiency motors for various electric vehicle types. Partnerships between leading players and EV makers such as ABB's partnership with Volvo to supply electric drivetrains, underline the significance of this segment. Investments from major automakers like General Motors, dedicating over $2 billion to transition to electric drivetrains, highlight the focus on motor technology, and supports the dominant share of the segment in the global electric vehicle powertrain market.
Electric Vehicle (EV) Powertrain Market Report Coverage
| | |
| --- | --- |
| Report Metric | Details |
| Historical Period | 2018–2022 |
| Base Year Considered | 2023 |
| Forecast Period | 2023 - 2030 |
| Market Size in 2022 | $34.50 Billion |
| Revenue Forecast in 2030 | $48.60 Billion |
| Growth Rate | CAGR 4.63% |
| Segments Covered in the Report | By Vehicle Type and By Component |
| Report Scope | Market Trends, Drivers, and Restraints; Revenue Estimation and Forecast; Segmentation Analysis; Impact of COVID-19; Companies' Strategic Developments; Market Share Analysis of Key Players; Company Profiling |
| Regions Covered in the Report | North America, Europe, Asia-Pacific, Middle East, and Rest of the World |
Industry Dynamics
Growth Drivers
Favorable government regulations and incentives
Government regulations and incentives are a major driver for the growth of the global electric vehicle (EV) powertrain market. For instance, countries like Norway offer substantial incentives for EV adoption, leading to a high percentage of EVs in their automotive market. Similarly, the European Union has set ambitious emissions targets, compelling automakers to accelerate their EV production plans. Partnerships among automakers such as Ford's collaboration with Volkswagen to develop electric vehicles and charging infrastructure demonstrate the industry's commitment to meet regulatory demands. These regulations and incentives create a conducive environment for investments in EV technology, manufacturing plants, and product launches, propelling the growth of the global EV powertrain market.
Advancements in the battery technology
Advancements in battery technology is a pivotal driver for the global electric vehicle (EV) powertrain market. Breakthroughs in battery chemistry and energy density, led by companies such as Panasonic and LG Chem, are enabling EVs to achieve longer ranges and faster charging times. Tesla's Gigafactory in Berlin, for instance, is set to produce high-performance battery cells, enhancing the capabilities of their EV lineup. Additionally, partnerships such as Rivian's with Amazon to develop an electric delivery van showcase the transformative potential of cutting-edge battery tech. These innovations are key in overcoming range anxiety and accelerating the adoption of EVs around the world.
Challenge
Lack of charging infrastructure
One major challenge for the growth of the global electric vehicle (EV) powertrain market is the limited charging infrastructure. While EV adoption is increasing, the availability of convenient and widespread charging stations lags behind. This can lead to "range anxiety" among potential buyers, worrying about running out of power during long journeys. Governments and private entities are working to address this issue, investing in charging networks, but the pace of development varies by region. A robust and easily accessible charging infrastructure is crucial for mass adoption of EVs and to alleviate concerns about range limitations for consumers.
Geographic Overview
The global electric vehicle powertrain market is segmented into North America, Europe, the Asia-Pacific, Latin America, and the Middle East and Africa region. The global electric vehicle powertrain market was dominated by the Asia-Pacific in 2022 due to several key factors. Firstly, it hosts major EV manufacturers like Nissan, Toyota, and BYD, leveraging their established infrastructure and expertise. Additionally, government initiatives in countries like China, Japan, and South Korea offer substantial incentives for EV adoption, driving demand. For instance, China's New Energy Vehicle (NEV) credit system encourages automakers to produce and sell more electric vehicles. Moreover, investments in advanced battery technology by companies like CATL and Panasonic further bolster the region's leadership. The convergence of manufacturing prowess, favorable policies, and technological innovation solidifies Asia-Pacific's dominance in the EV powertrain market.
Competitive Insight
Robert Bosch GmbH holds a prominent position in the global electric vehicle (EV) powertrain market as the company, a renowned automotive technology provider, has strategically invested in EV-related initiatives. They've established partnerships with industry leaders like Volkswagen, providing powertrain components for VW's ID.3 and ID.4 electric models. Bosch also operates production plants for EV components, showcasing its commitment to the electrification sector. Notably, they've developed advanced power electronics and electric motors, crucial elements in EV powertrains. Bosch's extensive experience and innovations in EV technology reaffirm its influential role in shaping the future of automotive electrification.
Siemens plays a crucial role in the global electric vehicle (EV) powertrain market with its advanced electric motor technology. The company has established itself as a leading provider of high-efficiency motors for various vehicle types and Siemens' North Carolina plant exemplifies their commitment, producing motors that are instrumental in driving the electrification of transportation. Their partnership with Volkswagen, supplying electric drivetrains for VW's e-Golf model, showcases their significance in powering EVs. Siemens' investments in R&D and manufacturing facilities demonstrate their pivotal position in advancing powertrain technology, contributing significantly to the growth of the global electric vehicle powertrain market.
Recent Development by Key Players
In October 2023, Porsche announced that it will launch a new electric boat – Frauscher x Porsche 850 Fantom Air, in early 2024 after partnering with Austrian luxury boat maker Frauscher to build the boat. Porsche said that the electric boat uses components from its all-new Premium Electric EV platform, which it will share with the Macan EV and will use the same powertrain used on the all-new Macan EV.
In April 2023, Nissan launched its new 3-in-1 powertrain prototype, which modularizes the motor, inverter, and reducer as part of the 'new approach' to electrified powertrain development. Dubbed as "X-in-1" approach, this has a new core EV and e-POWER powertrain component that will be shared and modularized primarily resulting in a 30% reduction in development and manufacturing costs by 2026.
Key Players Covered in the Report
Tesla, Panasonic, LG Chem, BYD, CATL, Bosch, Siemens, ABB, Continental AG, ZF Friedrichshafen AG, Magna International, Hitachi Automotive Systems, BorgWarner, Denso Corporation, Valeo, Delphi Automotive, GKN Automotive, Toshiba, Robert Bosch GmbH, and Johnson Electric.
The Electric vehicle (EV) powertrain market report offers a comprehensive market segmentation analysis along with an estimation for the forecast period 2023–2030.
Segments Covered in the Report
By Vehicle Type
By Component

Battery
Power Electronic Controller
Motor/Generator
Converter
Transmission
On-board charger
Other Components
Region Covered in the Report
Germany

U.K.

France

Italy

Spain

Russia

Rest of Europe
China

Japan

Vietnam

India

South Korea

Rest of Asia-Pacific
UAE

Saudi Arabia

South Africa

Rest of MEA
Argentina

Brazil

Chile

Rest of LATAM
Primary Research Interviews Breakdown