Industry Overview
The global electric vehicle fluid market is anticipated to grow from USD 1 billion in 2022 to USD 7.9 billion by 2030, witnessing a CAGR of 30.5% during the forecast period 2023-2030. Electric vehicle fluids are manufactured using base oils and additives and are used according to the applications. They perform many functions in electric vehicles, such as adjusting batteries and other electronic components, damping temperature, noise, and vibration. The highly used electric vehicle fluids include coolants, engine oil, greases, fluids, and brake fluids. The rapid increase in the sale of electric vehicles globally owing to resolving environmental issues and decreasing vehicle emissions will lead to the adoption of electric vehicles globally, thereby augmenting the growth of the global electric vehicle fluid market. Moreover, the increased attention of users to have timely service of electric vehicles to have proper mobility and have a long lifespan of electric vehicles will bolster the growth of the electric vehicle fluid market.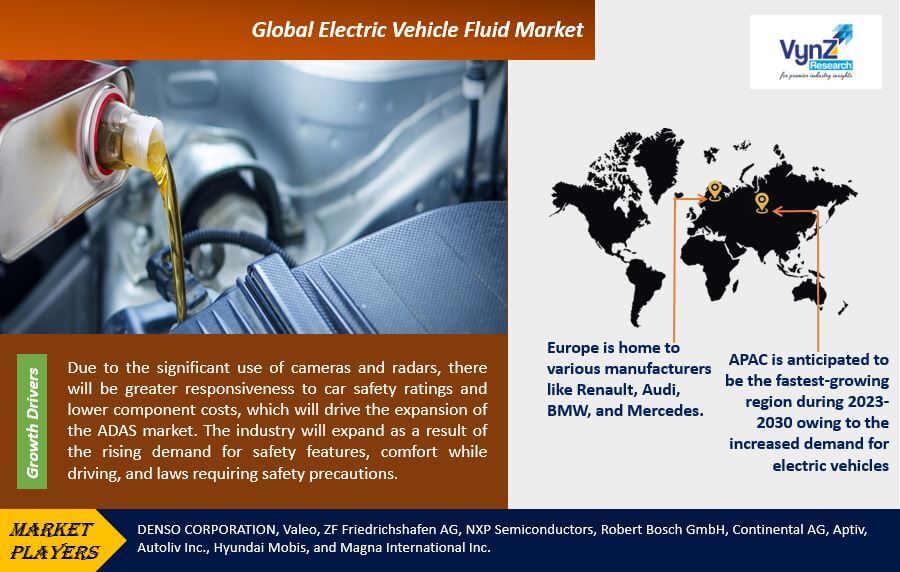 The COVID-19 outbreak has had a negative impact on the automotive industry owing to the disruption in supply chain and lockdown measures globally. However, post-COVID-19 crisis the industry will gain momentum and there will be an increase in the demand for electric vehicles resulting in the demand for the global electric fluids market.
Market Segmentation
Insight by Product Type
Based on product type, the global electric vehicle fluid market is divided into engine oil, coolants, transmission fluids, and greases. Among these product types, coolant is projected to witness the largest share in the electric vehicle fluid market as it is used in electric vehicles to regulate the temperature of battery packs and other electronic components.
The engine oil segment is anticipated to have a high CAGR during the forecast period owing to the rising demand for engine oil in hybrid electric vehicles. As compared to other electric vehicle fluids, engine oil has fewer replacement intervals, resulting in large-scale consumption.
Insight by Distribution Channel
Based on the distribution channel, the global electric vehicle fluid market is divided into OEMs and aftermarkets. The OEMs segment is anticipated to have a high CAGR over the projected period as automotive OEMs are collaborating with key fluid suppliers to supply fluids in electric vehicles to enhance the driving experience and increase the sale of electric vehicles, thereby propelling market growth.
Insight by Propulsion Type
Based on propulsion type, the global electric vehicle fluid market is categorized into battery electric vehicles and hybrid electric vehicles. The battery-electric vehicle segment is anticipated to have the largest share during the forecast period 2023-2030 as it does not need a gasoline engine that requires fuel and routine maintenance. Even though battery EVs need fewer EV fluids than hybrid EVs but the large-scale production of battery electric vehicles will increase the demand for EV fluids during the projected period. Moreover, the reduced price of batteries required in electric vehicles owing to technological development will reduce the price of BEV, resulting in increased sales and increased demand for the electric vehicle fluid market.
Hybrid electric vehicles are anticipated to have substantial growth over the projected period owing to the mounting adoption of hybrid electric vehicles in developed and emerging economies to decrease emissions owing to technological development in HEVs. Moreover, HEVs are highly fuel-efficient resulting in the growth of the segment.
Global Electric Vehicle Fluid Market Report Coverage
| | |
| --- | --- |
| Report Metric | Details |
| Historical Period | 2018–2021 |
| Base Year Considered | 2023 |
| Forecast Period | 2023 - 2030 |
| Market Size in 2022 | $1 Billion |
| Revenue Forecast in 2030 | $7.9 Billion |
| Growth Rate | CAGR 30.5% |
| Segments Covered in the Report | By Component, By Application, and By End User |
| Report Scope | Market Trends, Drivers, and Restraints; Revenue Estimation and Forecast; Segmentation Analysis; Impact of COVID-19; Companies' Strategic Developments; Market Share Analysis of Key Players; Company Profiling |
| Regions Covered in the Report | North America, Europe, Asia-Pacific, Middle East, and Rest of the World |
Industry Dynamics
Industry Trends
The increasing trend towards the development of autonomous vehicles, increased demand for convenience and safety in vehicles, and mounting demand for ADAS standards in modern vehicles are the key trends prevalent in the electric vehicle fluid market.  
Growth Drivers
The increasing need for anti-corrosion properties in BEVs, the growing need to increase the driving range of vehicles, immersive cooling for electric vehicle batteries, the need for thermal management in electric vehicles, application in formula e-motor sports, and integrated powertrain units will fuel the growth of electric vehicle fluid market. ICE vehicles emit carbon which is a threat to the environment, thereby tightening fuel economy and tailpipe CO2 standards will bolster the growth of EVs to meet the standards regulated by the government. Moreover, the EV fluids have added additives and dielectric properties that suit them for use in electric vehicle components.
Challenges
The increased cost of EV fluids, the need to develop environment-friendly fluids, the lack of demand for generic fluids, technical challenges like the viability of developing immersion cooling battery systems, and the need to make changes in the construction of EV batteries may hamper the growth of the electric vehicle fluid market.
Opportunities
There is a rising opportunity for putting coolants in EV electronics and charging port cables and initiatives by the government regarding electric vehicles like infrastructure investment, tax rebates, etc., will provide opportunities for growth in the electric vehicle fluid market globally. Currently, more than 200,000 types of charging stations have been built. With the proliferation of electric vehicles, convenient and affordable publicly accessible chargers are becoming more and more important. The government has supported the charging infrastructure of electric vehicles through measures such as direct investment in the installation of publicly accessible chargers and incentives for electric vehicle owners to install charging points at home. In some places, building codes, such as apartment buildings and retail stores, may require new construction or substantial remodels to include charging points.
Geographic Overview
Europe dominates the electric vehicle fluid market with a share of 44.2% in terms of value in 2020 owing to the increased prices and increased production of hybrid vehicles resulting in increased sales, thus the need for more electric vehicle fluids. Moreover, there is a significant demand for electric vehicles in Europe owing to initiatives by the government such as subsidies, and tax rebates that will accelerate the growth of the electric vehicle fluid market in the region. Moreover, Europe is home to various manufacturers like Renault, Audi, BMW, and Mercedes. By 2050, Europe has the vision to reduce 80% of CO2 emissions, resulting in the growth of the electric vehicle fluid market.
 APAC is anticipated to be the fastest-growing region during 2023-2030 owing to the increased demand for electric vehicles and the rising number of electric vehicles requiring service fill in the region.
Competitive Insight
The global electric vehicle fluid market is highly fragmented and the industry players are adopting organic and inorganic strategies like product launches, partnerships & agreements, acquisitions, and expansions to develop their businesses globally.
CASTROL LIMITED serves drivers, motorcyclists, and each and every industry on earth via Liquid Engineering. Thus, it creates increased-performance oils, lubricants, fluids, and greases for each and every application. Castrol ON is a range of developed EV fluids and includes EV Transmission Fluids, EV Thermal Fluids, and EV Greases. Castrol ON EV Fluids play an important role and help EVs to go further, charge faster, and last longer.
Valvoline is a global supplier of premium branded lubricants and automotive services. Valvoline has been manufacturing EV fluids for many years and has solved electric vehicle problems such as battery temperature fluctuations, powertrain performance, brake system corrosion, and sealed bearing failures. The product line includes Valvoline EV heat transfer fluid, Valvoline EV drive system fluid, Valvoline EV grease, and Valvoline EV brake fluid. Thus, the EV fluids of Valvoline will extend battery life and protects other components of vehicles.
Castrol announces the launch of Castrol ON ™, its new range of e-Fluids for electric mobility.
Royal Dutch Shell plc added fluids for light-, medium- and heavy-duty electrified commercial vehicles to its existing range of passenger car e-fluids. The new fluids are for battery and fuel-cell EVs and include transmission fluids, greases, and battery coolants.
Some of the key players operating in the electric vehicle fluid market: Royal Dutch Shell plc, Exxon Mobil Corporation, BP plc, TotalEnergies, Valvoline LLC, CASTROL LIMITED, The Lubrizol Corporation, Motul, FUCHS, and Petroliam Nasional Berhad (PETRONAS).
The Electric Vehicle Fluid Market report offers a comprehensive market segmentation analysis along with an estimation for the forecast period 2023–2030.
Segments Covered in the Report
By Product Type

Engine Oil
Coolants
Transmission Fluids
Greases

By Distribution Channel
By Propulsion Type 

Battery Electric Vehicles
Hybrid Electric Vehicles
Region Covered in the Report
North America
Europe

Germany
U.K.
France
Italy
Spain
Russia
Rest of Europe

Asia-Pacific (APAC)

China
Japan
India
South Korea
Rest of Asia-Pacific

Rest of the World (RoW)

Brazil
Saudi Arabia
South Africa
U.A.E.
Other Countries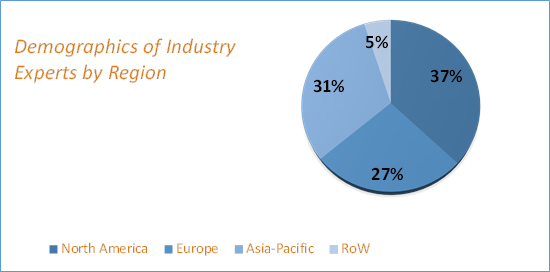 Source: VynZ Research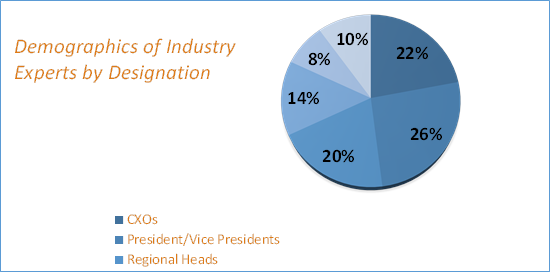 Source: VynZ Research