Industry Overview
From USD 1.5 billion in 2022 to USD 3.6 billion in 2030, the global driving simulator market is expected to expand at a CAGR of 7.6 percent. The demand for driving simulators is mainly driven by an increase in the demand for professional drivers as a result of the high rate of road accidents, increasing air traffic, upcoming high-speed rail projects, and substantial R&D investments in autonomous vehicles. The demand for driving simulators has grown in both developing and developed countries.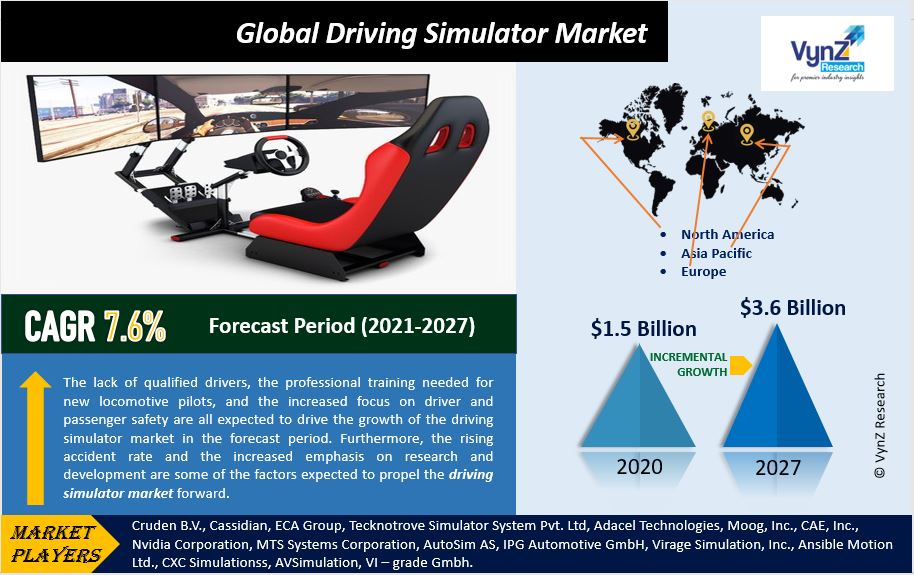 Today's industries, such as railways, aviation, automobile, marine, and security, are experiencing a driver shortage. Since human error causes more than 90% of all injuries, a driving simulator is a much-needed advancement. The driving simulator is a technology that uses a simulated world to teach the driver how to prevent collisions from all directions.
Segmentation
Based on the Simulator Type
•    Compact Simulator
• Full-Scale Simulator
•    Advanced Driving Simulators
In terms of sales, the compact simulator segment dominated the market in 2019 and is projected to continue to do so over the forecast period. Due to their small size, compact driving simulators are used for a variety of applications, including cars, bikes, trucks, and buses. Furthermore, as opposed to other system types, such as full-scale and advanced simulators, compact simulators are more cost-effective. As a result, they are commonly used for training purposes by driving schools and local driving instructors.
Based on the Application
•    Research & Testing
•    Training
•    Motorsports & Gaming
In 2019, the research and testing segment dominated the industry, and it is expected to rise at the fastest rate during the forecast period. This is due to the introduction of self-driving cars. Automobile manufacturers around the world are pouring money into research and development in order to bring fully autonomous vehicles to market.
Based on the End User
•    Advanced Driving Simulator
•    Training Driving Simulator
•    Professional Training Simulator
During the forecast era, the advanced driving simulator segment is projected to hold the largest market share. This is due to its technological features, such as the 360-degree viewing angle and motion platform, which provide a realistic experience. Advanced driving simulators aid in the development of intelligent highway designs and human behavior studies because testing of technologically modified vehicle dynamics necessitates an augmented environment for study and research.
By Region
•    North America
•    Asia Pacific
•    Europe
•    Rest of the World (RoW)
Improving lifestyles, a growing number of metro cities, and a rapidly growing population have all contributed to an increase in passenger car production and sales in Asia Pacific. A few Asia Pacific countries, such as Japan and South Korea, have safety regulations in place, and demand in these countries is expected to increase over the next five years. Due to their rising populations and vehicle demand, China, South Korea, India, and Japan are required to implement strict vehicle and road safety regulations. Factors such as a lack of infrastructure and an increase in the number of injuries are likely to increase the demand for qualified drivers, resulting in a demand for training simulators.
Trends
Today's industries, such as railways, aviation, automobile, marine, and security, are experiencing a driver shortage. Since human error causes more than 90% of all injuries, a driving simulator is a much-needed advancement. The driving simulator is a technology that uses a simulated world to teach the driver how to prevent collisions from all directions. A 360-degree view and a motion platform with up to 9 degrees of freedom allow the device to perform this purpose. This device aids the driver in maintaining control of the situation. As a result, a driving simulator is more effective and significantly improves safety.
Market Drivers
The lack of qualified drivers, the professional training needed for new locomotive pilots, and the increased focus on driver and passenger safety are all expected to drive the growth of the driving simulator market in the forecast period. Furthermore, the rising accident rate and the increased emphasis on research and development are some of the factors expected to propel the driving simulator market forward. In addition, the rising number of air traffic and airport projects around the world, police and emergency vehicle simulators, and advances in autonomous and semi-autonomous vehicles will all contribute to the growth of the driving simulator market in the coming years.
Opportunity
Simulators for police and emergency vehicles prove to be an opportunity in this market. Driving simulators are customized with advanced technology such as 3D visualization and 360-degree view for categories needing particular needs in terms of driving training simulation. Police, military forces, firefighters, and ambulance drivers all benefit from professional simulators for security, police, and ambulance training. These simulators provide training for crew and vehicle safety, mission tension, speed, obstacles, traffic hazards, and road users, allowing drivers and riders to improve their emergency response proficiency. The popularity of these simulators is increasingly growing around the world.
Challenges
The lack of requirements and benchmarks for developing and implementing a simulation-based virtual environment is a major challenge for the driving simulator industry. Driving simulators are designed to solve issues that have been found during implementation. Simulation allows users to design, create, and validate the basic R&D processes in the majority of cases. In addition, the criteria for verifying and validating established prototypes vary from one vendor to the next. Driving simulator vendors lack the assumptions, specifications, and metrics necessary to comprehend how simulation can be combined with an application to address device and process issues. The need to establish specifications for driving simulators is becoming more pressing.
COVID-19 Impact on the Automotive Engine Management System
COVID-19 has caused production to stop, profits to plummet, and key players in a variety of industries to buckle down and reconsider their strategies. The production and sales of trucks, trains, wagons, and other vehicles have been impacted by rescheduling model and project launches, stabilizing dealer networks, closely controlling cash flow, and evaluating investment portfolios around the world, resulting in a drop in the driving simulator market for professional training in 2020 as opposed to 2019. Because of the pandemic, the development and installation of various technical training simulators in industries such as automotive and transportation, logistics, and aerospace and defense are expected to slow. The pandemic has had a negative effect on major countries with a significant market share, resulting in fewer driving simulators being built.
Key Players:
Some of the key players are:
•    Cruden B.V.
•    Cassidian
•    ECA Group
•    Tecknotrove Simulator System Pvt. Ltd
•    Adacel Technologies
•    Moog, Inc.
•    CAE, Inc.
•    Nvidia Corporation
•    MTS Systems Corporation
•    AutoSim AS
•    IPG Automotive GmbH
•    Virage Simulation, Inc.
•    Ansible Motion Ltd.
•    CXC Simulationss
•    AVSimulation
•    VI – grade Gmbh
Recent News
•    Corys unveiled a new feature in April 2020 that allows workers to train and maintain their skills remotely. The company has completed the creation of a new web portal that provides remote access to operator training simulators through a cloud-based simulation environment.
•    The TecknoSIM Airside VR, the new virtual reality solution for training ground operations staff, was released in July 2019. Without disturbing active ramp operations, TecknoSIM VR allows for successful practical training in a very realistic environment.
•    Lockheed Martin Corporation Rotary Mission Systems awarded Adacel Systems Inc. a subcontract to support the Army Training Aids, Devices, Simulators, and Simulations (TADSS) Maintenance Program in February 2019. (ATMP).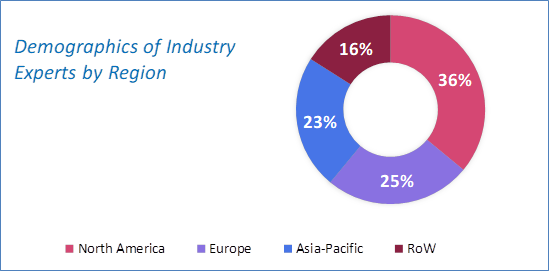 Source: VynZ Research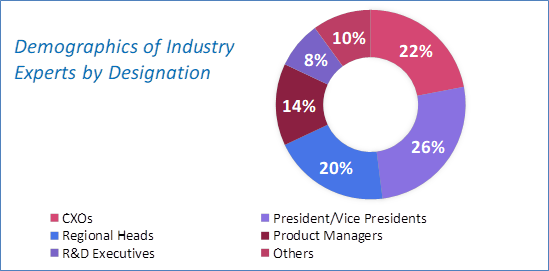 Source: VynZ Research