Industry Overview
During the projected period of 2023-30, the global light electric vehicle market is expected to reach USD 6.83 billion by 2030 with a CAGR of 9.3%, and currently, in 2022 the market is USD 2.3 Billion. However, the reasons behind propelling the Global electric market are emerging environmental concerns, financial support from the governments, depletion in oil reserves, and frequent price variation in the fuel market. Moreover, a number of new chagrining stations, rapid latest trends, and technology used in the manufacturing of e-bikes are also expected to contribute to the growth plan of the Global light E-vehicle market.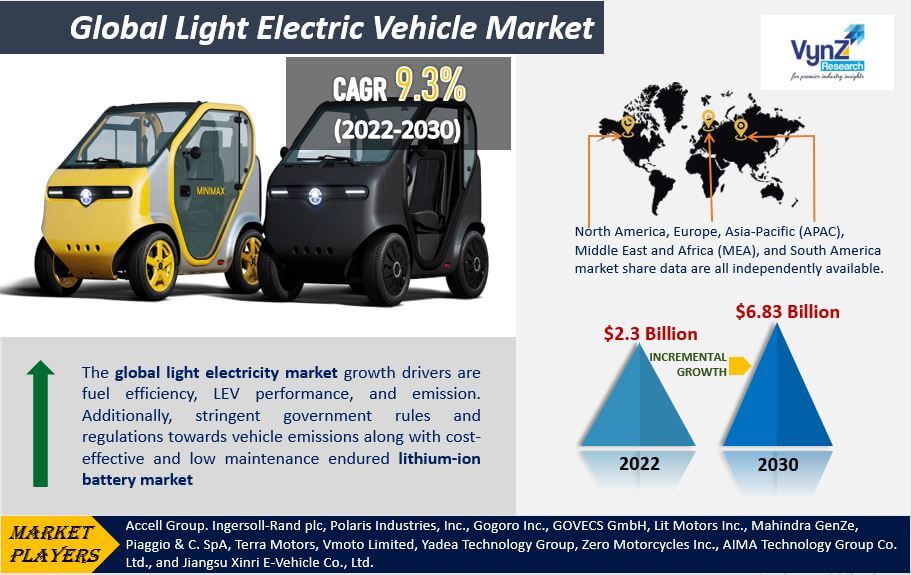 This study sheds insight into the global light electric vehicle market sizes in various nations and segments. However, the light e-vehicle trend, technology, government policies, and previously predicted and actually realized growth plans of the same tenure serve as the research basis for this study. Additionally, this research discusses the qualitative and quantitative characteristics, prospects, and problems of the sector in each of the regions and countries that participated in the study.
Impact of Covid-19
The pandemic of Covid-19 impacted the overall automotive industry & transport industries and undoubtedly impacted the e-bike market, electric vehicle parts market, and e-vehicle battery market. Due to the global supply chain being disrupted during the epidemic; some light EV manufacturers noticed a straight decline in sales of their e-vehicles. However, the outcome of this was manufacturers had to compromise with their showrooms due to the rapid extension of lockdown and shutdown.
After the covid-19 outbreak, Global Light Vehicle Market is getting exponential growth through receiving financial as well as promotional support from governments and the emergence of an eco-friendly-environment.
Market Segment
Insight by Product
On the basis of product type global market of light electric vehicles is bifurcated into Hybrid Electric Vehicle (HEV), Plug-in Hybrid Electric Vehicle (PHEV), and Battery Electric Vehicle (BEV) for two-wheelers, and three-wheelers vehicles. The light electric market of vehicles is dominated by the Plug-in Hybrid Electric Vehicle (PHEV) which is anticipated to play the crucial role of the highest contributor to the projected CAGR.  Moreover, the impact of the e-charging station market growth is also estimated to contribute to the growth plan of the global light electric vehicle market.
Insight by voltage
Based on voltage range, the market for light electric vehicles is divided into 24V, 36V, 48V, 60V, and 72V segments. In 2021, 48V light electric vehicles, primarily utilized in electric bikes and scooters, generated the most income. However, throughout the projected period, the quick growth of 72V battery pack light electric vehicles is anticipated to be driven by the rise in demand for the use of 72V electric vehicles as an alternative to cars and public transportation among city inhabitants.
Insight by application
 On the basis of application global electric vehicle market is divided into e-vehicles for personal use, commercial, sports, and shared. E-scooters for personal and commercial purposes and E-rickshaw in support of governments' financial policies and subsidies have dominated the market. Moreover, the reduced oil reserve and rapid hike in fuel prices are also contributing to the global electric vehicle market to grow.
Insight by Battery
The global light electric vehicle market is on the basis of batteries bifurcated into Lithium cobalt batteries (LCA), Lithium-ion polymer batteries (LiPo), Lithium-ion batteries, nickel-metal hydride batteries (NIMH), and more. Due to its long endurance and low maintenance requirements, the lithium-ion segment dominates the LEV market and is anticipated to contribute to the growth plan of e-vehicles with lithium-ion batteries.
Light Electric Vehicle Market Report Coverage
| | |
| --- | --- |
| Report Metric | Details |
| Historical Period | 2018–2022 |
| Base Year Considered | 2022 |
| Forecast Period | 2023 - 2030 |
| Market Size in 2022 | $2.3 Billion |
| Revenue Forecast in 2030 | $6.83 Billion |
| Growth Rate | CAGR 9.3% |
| Segments Covered in the Report | By Product, By Voltage, By Application, By Battery |
| Report Scope | Market Trends, Drivers, and Restraints; Revenue Estimation and Forecast; Segmentation Analysis; Impact of COVID-19; Companies' Strategic Developments; Market Share Analysis of Key Players; Company Profiling |
| Regions Covered in the Report | North America, Europe, Asia-Pacific, Middle East, and the Rest of the World |
Industry dynamic
Growth Drivers
The global light electricity market growth drivers are fuel efficiency, LEV performance, and emission. Additionally, stringent government rules and regulations towards vehicle emissions along with cost-effective and low maintenance endured lithium-ion battery market is also playing a crucial role in the LEV market's growth and is anticipated to support the market during the journey of the projected period.
Challenges
During the projected period of 2022-2030, the Global light electric market growth has challenges as well. The speed of the LEVs plays a major role in that. Moreover, fewer charging stations are also considerable challenging factors in the growth of the LEV market. But as different governments are initiating and providing financial as well as promotional support to eco-friendly vehicles these challenges are also expected to be overcome during the forecast period. The global charging station market is expected to grow at a CAGR of 44.1% during the forecast period which will directly impact LEV market growth.  Additionally global Electric vehicle market with the latest trend and technologies are growing and expected to value USD 134.6 billion dollars during the same projected period.  
Industry ecosystem
Industry companies are expanding their regional reach and introducing new goods to take advantage of market growth on a global scale. A variety of players are investing in the creation of new battery technologies to reduce the price of light electric cars so they can compete with gasoline cars in terms of performance and price. Industry leaders expect to price reduction of light electric vehicles drastically and improve their performance in the upcoming years, resulting in widespread acceptance.
The Global Light Vehicle market key players give the overview through an in-depth study of competition which includes an overview of the business, financials, revenue, market potential, investments in R&D, new market initiatives, regional presence, corporate strengths and weaknesses, product launches, product breadth and depth, and application domination.
Geographical Overview
Since the region is seeing significant urbanization and hence has a need for sustainable and reasonably priced transportation options, APAC is recognized as having the largest light electric car market. Government programs and subsidies are also promoting regional market expansion as a means of reducing the industrial economies' rising pollution levels, notably those of China and India. Electric bikes are also in high demand in Europe, which is helping the market for light electric cars expand there.
 Global, North America, Europe, Asia-Pacific (APAC), Middle East and Africa (MEA), and South America market share data are all independently available. DBMR analysts are aware of competitive advantages and offer competitive analyses for each rival individually.
Recent Development by Key Players
The first electric motorcycle from German startup Novus has just been launched. It stands out for its futuristic design and its price, which is expected to be close to 50,000 euros. The Novus Bike is a single-seater that stands out for being remarkably light, in large part because of a carbon-fiber frame that weighs only 7 kilograms. The motor and batteries of the device weigh only 75 kg, while other parts like the fork and the wheels also contain carbon-fiber materials. The machine can support a load of up to 125 kg for the rider.
Online retail market player Amazon's CEO Jeff Bezos has planned to launch an electric rickshaw in India.
Competitive Insight
Toyota Motor Corporation, Volkswagen AG, Hyundai Motor Group, Fiat Chrysler Automobiles, Honda Motor Co., Ltd., Groupe Renault, Nissan, Groupe PSA, Zhejiang Geely Holding Group, Ashok Leyland, Suzuki Motor Corporation, Tata Motors, and MITSUBISHI MOTORS CORPORATION are the major player of the domestic as well as global light vehicles market.
The electric freight bike solutions company Velosophy BV has been acquired by Accell Group. Ingersoll-Rand plc, Polaris Industries, Inc., Gogoro Inc., GOVECS GmbH, Lit Motors Inc., Mahindra GenZe, Piaggio & C. SpA, Terra Motors, Vmoto Limited, Yadea Technology Group, Zero Motorcycles Inc., AIMA Technology Group Co. Ltd., and Jiangsu Xinri E-Vehicle Co., Ltd. are a few of the other
Segments Covered in the Report
By Product

Hybrid Electric Vehicle (HEV)
Plug-in Hybrid Electric Vehicle (PHEV)
Battery Electric Vehicle (BEV)

By Voltage
By Application

E-Vehicles
Commercial Vehicles
Sports and Shared
Others

By Battery

Lithium Cobalt Batteries (LCo)
Lithium-Ion Polymer Batteries (LiPo)
Lithium-Ion Batteries
Nickel-Metal Hybride Batteries (NIMH)
Region Covered in the Report
North America
Europe

Germany
U.K.
France
Italy
Spain
Russia
Rest of Europe

Asia-Pacific (APAC)

China
Japan
India
South Korea
Rest of Asia-Pacific

Rest of the World (RoW)

Brazil
Saudi Arabia
South Africa
U.A.E.
Other Countries