Industry Overview
The global micro-mobility market was valued at USD 4.1 billion in 2020, growing at a CAGR of 18.0% during the forecast period. The global micro-mobility market is an emerging mode of transport for making short distance trips and has drastically grown in cities in last few years. These days, electric scooters, shared bikes, and other vehicle types are frequently use to travel over comparatively short distances.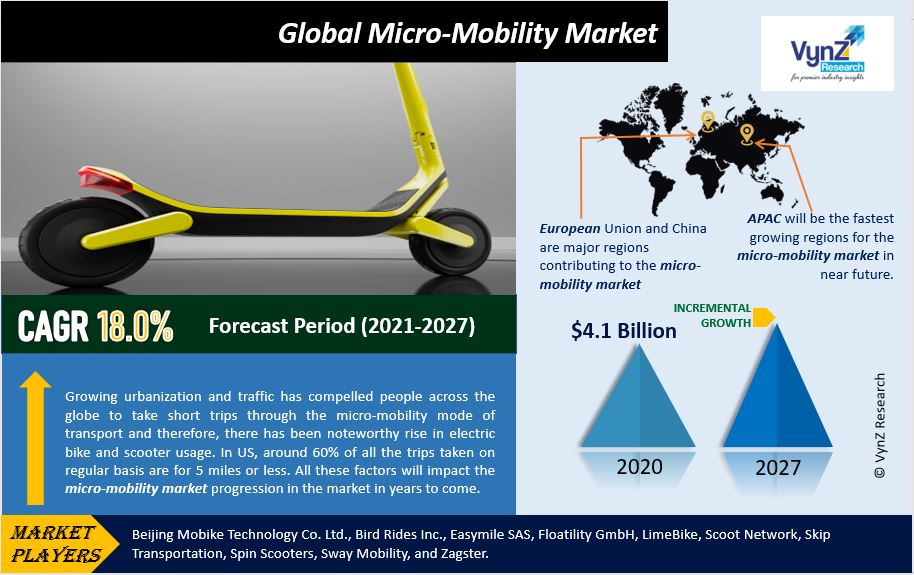 Overall, micro-mobility service is any small distance transportation modes driven by either individuals or vehicles with speed in the range below 50 km/hour.
Market Segmentation
Insight by Requirement
On the basis of requirement, the market is bifurcated into first and last mile and short distance. Among these requirement type segment, first and last-mile segment together captures largest market share in 2020 and is expected to grow at fastest pace during the forecast period, owing to more induvial opting for micro-mobility mode of transport to avoid traffic and pollution.
Insight by Location
On the basis of location, the market is subdivided into tracks, road, and footpath. Among these, road attributed for the foremost share in the micro-mobility market with major vehicle service running on the road. Further, some of the developing nation do not developed infrastructure such as defined track or path for the bicycle or skate-board. Therefore, road based micro-mobility is expected to dominate the market in years to come. 
Insight by Application 
On the basis of application, the market is subdivided into private and commercial. Of both these applications, commercial application has major market share in 2020 and is growing rapidly in developed nations such as US, UK, China and so on. This, as a result, will attribute to the micro-mobility market during the forecast period.
Industry Dynamics
Industry Trends
In past few years, there is remarkable rise in the number of shared and dock-less electric scooter, mainly initiated by companies such as Lime and Bird. The trend is expected to lead the market in future with these e-scooter companies scaling into large size global establishments.
Growth Drivers
Growing urbanization and traffic has compelled people across the globe to take short trips through the micro-mobility mode of transport and therefore, there has been noteworthy rise in electric bike and scooter usage. In US, around 60% of all the trips taken on regular basis are for 5 miles or less. All these factors will impact the micro-mobility market progression in the market in years to come. 
Challenges
Safety and security concerns and lack of strong policy framework is retraining the growth of micro-mobility in several regions. Further, required infrastructure development for smooth operation within a region is another major challenge to the industry.
Geographic Overview
Geographically, US, European Union and China are major regions contributing to the micro-mobility market in terms of revenue as well as company's penetration. Besides, micro-mobility pricing in china is around five-times less than in US. And therefore, the revenue generated from the region is comparatively less and is still in growing phase. Further, around 50 million people in US travel using bicycle on regular basis and similar trend is rising in other two regions as well. These trends are expected to drive the micro-mobility market in the region.
Further, APAC will be the fastest growing regions for the micro-mobility market in near future. China municipality has launched the docked bike-sharing model in major cities back in 2008 to ease mobility issues. Furthermore, the most successful public micro-mobility program in China was launched by the Hangzhou Public Transport Corporation in mid-2008 called Hangzhou Public Bicycle.
Competitive Insight
The micro-mobility market is highly fragmented with large number of regional players and start-ups focusing on limited area or region. The average age of the start-ups operating in the market is around three to four years. 
During the last few years, there has been sweeping rise in the number of micro-mobility service providers across the globe., some of the prominent name in the list are Ofo and Mobike in China and Citi Bike and Jump Bikes in the US. All these companies are offering customers with appropriate choices for first and last-mile transportation. Key strategy adopted by these players to grow and expand their presence in the market is raise venture capital or get acquired by established market players.
Some of the key players operating in the micro-mobility market are Beijing Mobike Technology Co. Ltd., Bird Rides Inc., Easymile SAS, Floatility GmbH, LimeBike, Scoot Network, Skip Transportation, Spin Scooters, Sway Mobility, and Zagster.
Primary Research
VynZ Research conducts extensive primary research to understand the market dynamics, validate market data and have key opinions from the industry experts. The key profiles approached within the industry includes, CEO, CFO, CTO, President, Vice President, Product Managers, Regional Heads and Others. Also, end user surveys comprising of consumers are also conducted to understand consumer behaviour.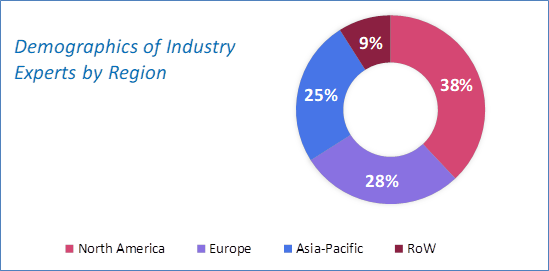 Source: VynZ Research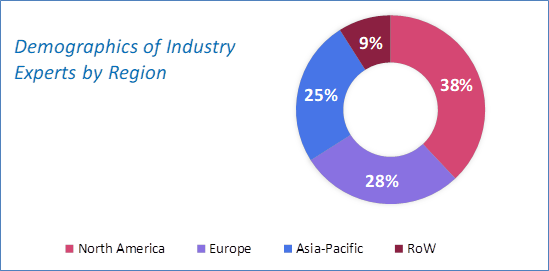 Source: VynZ Research