Industry Overview
The global on-board charger market was valued at USD 1.4 billion in 2019 and is expected to reach USD 4.4 billion by 2027, growing at a CAGR of 17.2% during 2021-2027. The global on-board charger market is growing at a remarkable rate with rise in electric vehicle on road. Further, with the growing adoption of electric vehicle globally, the number of on-board chargers is also growing at large scale. The concern related to running out of charge and getting stuck are some of the factors driving the on-board charger penetration.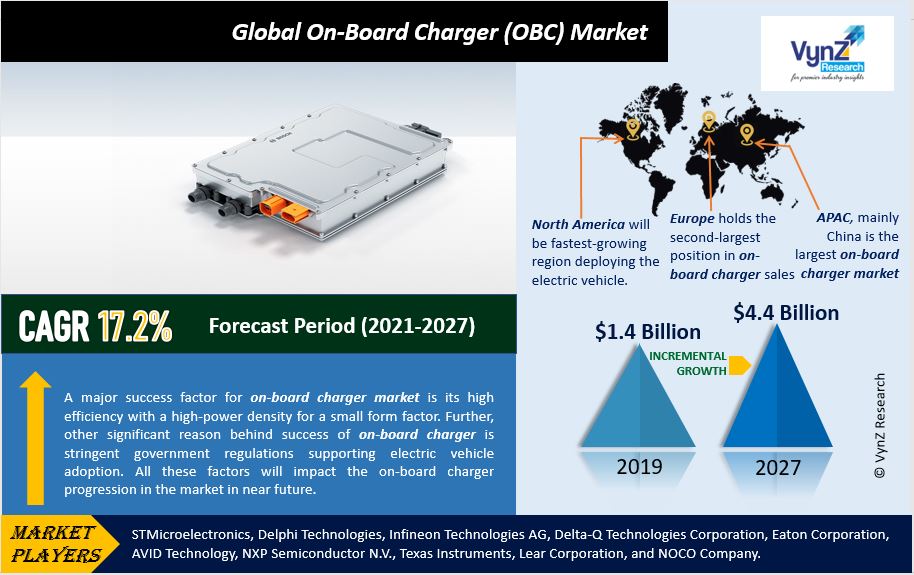 The on-board chargers are used by different electric vehicles (including BEV and PHEV) to charge the traction battery. Such chargers convert the AC input from the grid to a DC input which charges the vehicle battery.
Market Segmentation
Insight by Propulsion Type
On the basis of propulsion type, the market is bifurcated into battery electric vehicle (BEV) and plug-in hybrid electric vehicle (PHEV). Among these propulsion types, battery electric vehicle segment captures larger market share in 2020. However, plug-in hybrid electric vehicle is rapidly expanding its market in developed countries and is expected to grow at faster rate during the forecast period.
Insight by Power Output
On the basis of power output, the market is subdivided into less than 10 KW, 10 KW–20 KW, and more than 20 KW Market. Among these, less than 10 KW charger type accounted for the foremost share in 2020 with most preferred charging output in China and Europe where density of electric vehicle is largest in current phase.
Industry Dynamics
Industry Trends
One of the key trends in on-board charger market is a gradual shift towards bi-directional charging or vehicle to grid (V2G) charging model. This technology enables the electric energy to be pushed back to the grid from the battery of an electric vehicle and will as a result help in energy saving.
Growth Drivers
A major success factor for on-board charger market is its high efficiency with a high-power density for a small form factor. Further, other significant reason behind success of on-board charger is stringent government regulations supporting electric vehicle adoption. All these factors will impact the on-board charger progression in the market in near future.
Challenges
Availability of other charging types in market supporting electric vehicle charging at low price is a challenge for this market. Whereas, increasing deployment of fast chargers at different public places such as highways, malls, logistics plants, etc. are factors obstructing the on-board charger market.
Geographic Overview
Geographically, APAC, mainly China is the largest on-board charger market with the largest number of electric vehicle production. It is expected that China will lead in the number of electric vehicle production and sales, as a result, there will be growth in demand for on-board chargers as well.
Further, Europe holds the second-largest position in on-board charger sales, due to the growing electric vehicle adoption, and the increasing deployment of connected cars. In addition, North America will be fastest-growing region deploying the electric vehicle during the forecast period, this as result is also creating a positive impact on the on-board charger market growth.
Competitive Insight
The on-board charger market is very much fragmented with large number of small and large size players operating in the market. The regional players have main focus in the domestic region only, however, the global players are expanding their footprint globally. Further, new product development and global expansion are the key strategies adopted by the market players. For instance, in March 2019, Tesla Inc., one of the largest players in the market launched Supercharger called V3 at its California plant.
Some of the key players operating in the on-board charger market are STMicroelectronics, Delphi Technologies, Infineon Technologies AG, Delta-Q Technologies Corporation, Eaton Corporation, AVID Technology, NXP Semiconductor N.V., Texas Instruments, Lear Corporation, and NOCO Company.
Primary Research
VynZ Research conducts extensive primary research to understand the market dynamics, validate market data and have key opinions from the industry experts. The key profiles approached within the industry include CEO, CFO, CTO, President, Vice President, Product Managers, Regional Heads and Others. Also, end-user surveys comprising of consumers are also conducted to understand consumer behaviour.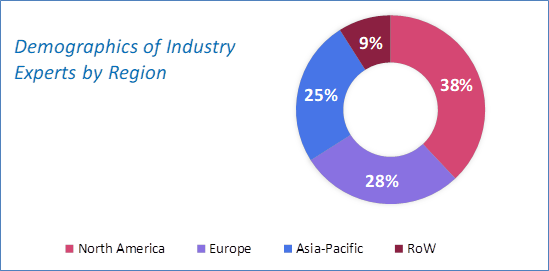 Source: VynZ Research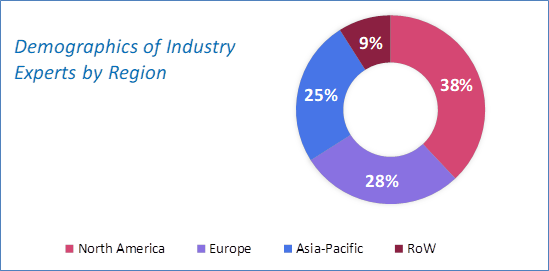 Source: VynZ Research