Industry Overview
The Global Farm Equipment Rental Market is anticipated to reach 71.8 billion USD by 2030, up from an expected 48.2 billion USD in 2022 at a 7.2% CAGR for the forecasted period. This growth of the Farm Equipment Rental Market can be said, would be a result of factors such as shortage of skilled labor, increasing demand for food-grain products, increasing global population, and increasing mechanization trends which are fuelling technological advancement across the globe.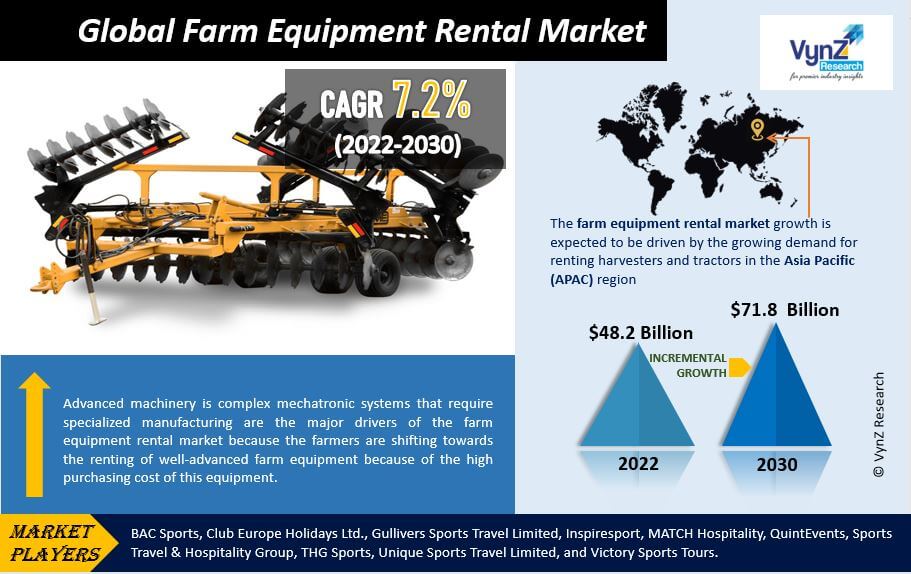 Impact of COVID-19 pandemic:
Agriculture is the backbone of any economy, and with the pandemic going on, the livelihoods of all farmers and those involved in this sector are at a higher risk. This period of the pandemic will have an eternal effect on the farming and agriculture sector. There wasn't a food shortage but it had completely disrupted the supply chain.
MARKET SEGMENTATION
Farm equipment rental is a service industry that, on a rental basis, provides end-users with different equipment. Generally, a rental agreement that specifies an amount, date of delivery, deposit, and other terms & conditions is signed by both parties before the transaction.
Based on Equipment type: For the forecasted period the Harvesters segment is expected to be the fastest-growing market segment with the highest CAGR in the global Farm Equipment Rental Market.
Based on Equipment type, the Global Farm Equipment Rental Market is segmented into-
1.    Tractors                                           2.    Harvesters
3.    Balers                                              4.    Sprayers
5.    Other equipment types         
The harvesters are self-propelled, versatile machines that are designed in order to efficiently harvest a variety of grain crops. The processes like Reaping, threshing, and winnowing, are the 3 separate harvesting procedures that are combined into one single process with the help of a harvester. Hence, high labour costs and an inefficient workforce are the key driving factors for growth in demand for the harvesters in the global market for farm equipment rental.
Based on Power Output: For the forecasted period the 71-130 HP segment is expected to be the fastest-growing market segment/s 
Based on the Power Output:
a.    <30 HP
b.    31-70 HP
c.    71-130 HP
d.    131-250 HP
e.    >250 HP
The 71–130 HP segment mostly includes 4WD tractors and a few 2WD tractor models. The countries in the APAC region that are aiming to significantly increase mechanization of the farm rates are seeing a growth in the demand for such tractors. This demand is higher due to key factors like high food production necessity, higher consumption rates, higher power requirements in the farms, and the large land size of the farm.
Based on Drive: For the forecasted period the four-wheel-drive segment is expected to be the fastest-growing market segment in the global Farm Equipment Rental Market.
Based on Drive the market is segmented into the following -
a.    Two-wheel drive
b.    Four-wheel drive
Farm Equipment Rental Market Report Coverage
| | |
| --- | --- |
| Report Metric | Details |
| Historical Period | 2018–2021 |
| Base Year Considered | 2021 |
| Forecast Period | 2022 - 2030 |
| Market Size in 2022 | $48.2 Billion |
| Revenue Forecast in 2030 | $71.8 Billion |
| Growth Rate | CAGR 7.2% |
| Segments Covered in the Report | By Equipment Type, By Power Output, By Drive |
| Report Scope | Market Trends, Drivers, and Restraints; Revenue Estimation and Forecast; Segmentation Analysis; Impact of COVID-19; Companies' Strategic Developments; Market Share Analysis of Key Players; Company Profiling |
| Regions Covered in the Report | North America, Europe, Asia-Pacific, Middle East, and Rest of the World |
The four-wheel-drive tractors, robust machines, are used usually for large scale 100 – 2,000 HP commercial farming practices. They are known to have a high pulling capacity and also have high wheel-power and wheel-slip capacities. The body of a tractor is highly resistant to maximum levels of wear and tear, and also, it reduces the required overall cultivation time. The 4WD tractors' demand is seen to be maximum from the developed nations like the US and in line with those in Europe, which hold the majority of the commercial and large-scale farmers. Also, they witnessed 95%–99% of mechanization adoption rates in farming.
DRIVERS
The rising demand for operational efficiency and increasing mechanization of farm processes in developing countries increases the demand for farm equipment rental.
1.    Shortage of skilled labour and an increase in mechanization in developing countries
2.    Rising demand for productivity and operational efficiency
3.    Need to decrease farmer's financial burden
4.    High cost of agriculture equipment
5.    Limited availability of arable land
6.    Growing government subsidies for farming equipment
7.    Growing number of companies offering farm equipment rental
Advanced machinery is complex mechatronic systems that require specialized manufacturing are the major drivers of the farm equipment rental market because the farmers are shifting towards the renting of well-advanced farm equipment because of the high purchasing cost of this equipment.
OPPORTUNITIES
1. Strong growth in emerging economies
2. Increasing adoption of latest technological advancements in farm machinery applications
CHALLENGES
The lower level of awareness among farmers - The growth curve of the farm equipment rental market is largely driven by the rising call to reducing the financial burden on the farmers. Farm equipment like huge farm tractors, mowers, harvesters, balers, threshing equipment, tillage equipment and conditioners are very expensive for the farmers. But this financial burden is eased by the farm equipment rental companies by offering them equipment at an affordable leasing price. Farm equipment rental services also offer cost benefits to the farmers and also help them in transforming agriculture via mechanization.
GEOGRAPHICAL ANALYSIS
a.    North America – U.S.A, Canada
b.    Europe – Germany, the U.K, France, Italy, Spain, Rest of Europe
c.    Asia Pacific (APAC) – India, Japan, China, Rest of APAC
d.    Rest of the World
The farm equipment rental market growth is expected to be driven by the growing demand for renting harvesters and tractors in the Asia Pacific (APAC) region 
According to the FAO, in 2016, approximately 40% of the global arable land is accounted for by the Asia Pacific. The farmers in this region are rapidly producing rice and crops like cotton and palm. Also, a shift to the advanced technological equipment in the agricultural sector from the adoption of labour-intensive farming techniques all over the Asia Pacific countries has driven to increasing demand for various farming equipment like sprayers, harvester, tractor and other threshing equipment for the purpose of renting. Also, investments in many agricultural types of machinery have resulted in increased crop production, especially in developing countries like China, India, Thailand and Vietnam.
COMPETITIVE ANALYSIS - The key players 
•    John Deere (U.S.A)
•    CNH Industrial (U.K)
•    Kubota Corporation (Japan)
•    AGCO Corporation (U.S.A)
•    Mahindra & Mahindra (India) 
•    JCB (U.K)
•    Escorts Ltd (India)
•    Tractors and farm equipment's ltd. (India)
These major competitors in this market are focusing mainly on increasing their stance through investments & expansions, partnerships, mergers & acquisitions, agreements and joint ventures. These players have a strong stance in Europe, North America and the Asia Pacific. Also, they have strong distribution networks and manufacturing facilities across these regions. 
In NEWS... 
1.    In January 2020, Kubota had launched a tractor namely "X Tractor- cross tractor," which is very versatile and fully unmanned equipment that is operated via AI.
2.    In January 2020, AGCO Corporation has launched its new planter which is a Fendt momentum planter in North America in order to deliver proper positioning of seeds and better accuracy while performing sowing activities. It has highly taken up standards for seed placement technology.
3.    In January 2020, the company Mahindra and Mahindra, with INR 250 crore investment, launched its new manufacturing facility in Telangana (India). This initiative was taken in order to boost the overall production output of the business by on an average 92,000 units per annum.
4.    In November 2019, John Deere had newly launched the very first four-track tractors and a series of 8R wheel tractors i.e., the 8RT two-track tractors. These tractors have drastically boosted the ride quality and can also be driven as easily as any other wheel tractor.
5.    In December 2019, an Australian farm management equipment manufacturer and agricultural tillage, K-Line Ag was acquired by the CNH Industrial N.V.
The Farm Equipment Rental Market report offers a comprehensive market segmentation analysis along with an estimation for the forecast period 2022–2030.
By Equipment type

Tractors 
Harvesters                                             
Balers  
Sprayers                                               
Other equipment types

By Power Output

<30 HP
31-70 HP
71-130 HP
131-250 HP
>250 HP

By Drive 

Two-wheel drive
Four-wheel drive
Region Covered in the Report
North America
Europe

Germany
U.K.
France
Italy
Spain
Russia
Rest of Europe

Asia-Pacific (APAC)

China
Japan
India
South Korea
Rest of Asia-Pacific

Rest of the World (RoW)

Brazil
Saudi Arabia
South Africa
U.A.E.
Other Countries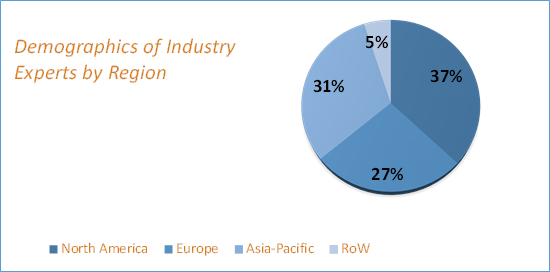 Source: VynZ Research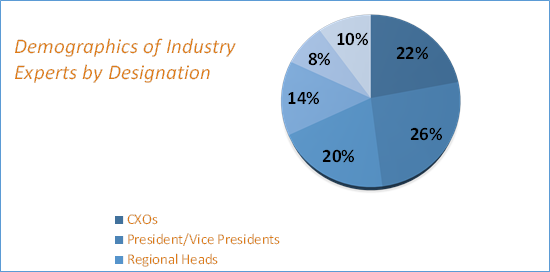 Source: VynZ Research