Industry Overview
The global power rental market currently is valued USD 10.2 billion in 2022 and is projected to reach USD 13.9 billion by 2030 at a CAGR of 5.6% during the forecast period i.e 2022 -2030. The market is further expected to witness significant growth during the forecast period owing to the increasing utilization of power across the globe. Increasing emphasis on construction and development, progression of power infrastructure and enhanced power consumption is projected to uplift the demand for power rental in the near future.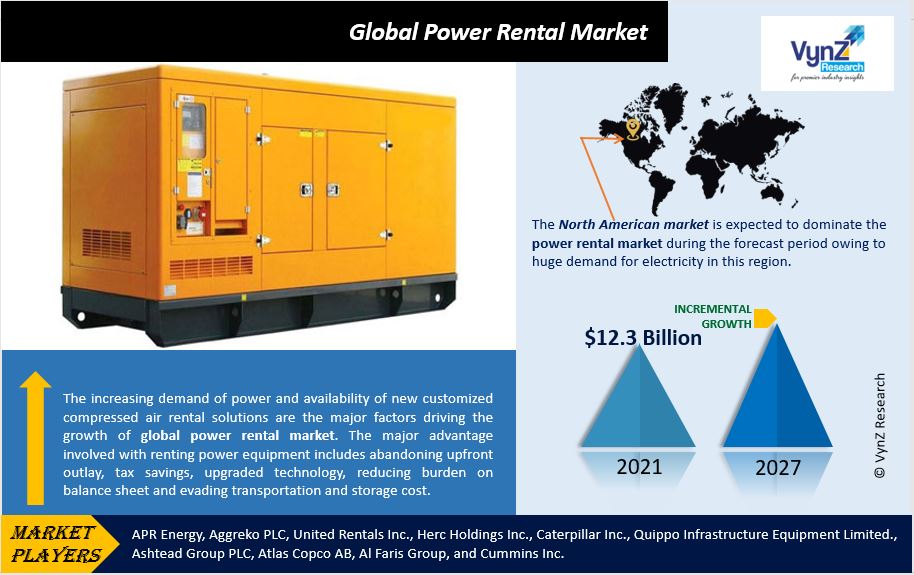 Market Segmentation
Insight by End-User
The power rental market on the basis of end-user is segmented on the basis of utilities, construction, oil & gas, manufacturing, mining, shipping, events and others. The utility segment has been generating largest revenue throughout the historical and forecast period. Utilities segment includes power plants that are operated and maintained numerous utility enterprises and government organization. With the help of established distribution line the utility suppliers ensures efficient delivery of energy from power plants to commercial and residential buildings across the globe. The initial investment for establishing enduring power plants necessitates huge capital investment. Moreover, increasing demand for establishing consistent economic power has accentuated the need for operating power rental systems in full capability and at affordable costs across the globe.
Insight by Application
On the basis of application, the global power rental market can be segmented into standby power, baseload/continuous power and prime power. In 2017, prime power contributed more than 45.0% share of the total revenue and is further expected to witness a significant increase in revenue over the forecast period. The growth of this segment is mainly attributed towards the swelling demand from construction, mining and oil & gas industry.
Insight by Fuel Type
On the basis of fuel type power rental market is segmented into diesel generators, gas generators and others. In 2017, gas generators segment is anticipated to be the fastest growing power rental market, by fuel type. Gas generators can be found in a variety of sizes that range from portable to industrial and works preciously well on natural gas. These generators are considered to be more tidy and efficient as compared to that of diesel generators, which ultimately helps in reducing greenhouse gas radiations. Moreover, there applicability is concentrated upon light obligated applications, for instance providing electricity for domestic use.
Industry Dynamics
Growth Drivers
The increasing demand of power and availability of new customized compressed air rental solutions are the major factors driving the growth of global power rental market. The major advantage involved with renting power equipment includes abandoning upfront outlay, tax savings, upgraded technology, reducing burden on balance sheet and evading transportation and storage cost. The increment in power demand is observed due to various macroeconomic factors and extensive industrial movement. These factors are contributing towards the rapid growth of the power rental market across the globe.
Challenges
The stringent emission regulations by the government agencies and influence of oil price fluctuations on oil dependents sectors are expected to hinder the growth of global power rental market. Moreover, increasing focus on renewable energy are further expected to hamper the growth of this market in the near future.
Industry Ecosystem
The key players in this market are persuading their processes in order to meet the target of making energy accessible and cater the demand of huge population. To fulfill this mission the players are expanding their distribution network and transmission. The companies are laying emphasis on restructuring and implementing effective packages and more investments in T&D are observed in the near future. Implementation of several efficiency developments reforms along with use of eco-friendly technology is further expected to create opportunities for various stakeholders in this market.
Geographic Overview
The North American market is expected to dominate the power rental market during the forecast period owing to huge demand for electricity in this region. Moreover, the region is following federal policies of carbon and is try to face challenges such as attaining energy efficiency targets. Furthermore, extensive infrastructure development, increasing demand for power from several industries such as oil & gas, construction, industrial, mining sectors and utilities are strengthening growth of this market in this region. The region comprises of headquarters certain key players in the industry as well such as Cummins, Inc., United Rentals, Inc., and Caterpillar, Inc.
Competitive Insight
Key players in the global power rental market includes APR Energy, Aggreko PLC, United Rentals Inc., Herc Holdings Inc., Caterpillar Inc., Quippo Infrastructure Equipment Limited., Ashtead Group PLC, Atlas Copco AB, Al Faris Group, and Cummins Inc.