Industry Overview
Hydrogen fuel cell is an electrochemical device that converts hydrogen and oxygen into electricity, heat, and water. It operates through a chemical reaction where hydrogen atoms are split into protons and electrons, and protons pass through a membrane, while electrons create an electric current. This process is highly efficient and emits only water vapor, making it a clean energy source. Fuel cells find application in vehicles, providing an alternative to internal combustion engines, as well as in stationary power generation, and hold great promise in reducing greenhouse gas emissions and dependence on fossil fuels, resulting in a more sustainable energy future.
Global Hydrogen fuel cell market was worth USD 4.20 billion in 2022 and is expected reach USD 30.00 billion by 2030 with a CAGR of 29.93% during the forecast period, i.e., 2023-2030. Hydrogen fuel cell demand is rising due to increasing demand for clean energy solutions to combat climate change. Governments, industries, and consumers are investing in fuel cell technology for its efficiency, zero-emission properties, and diverse applications across sectors.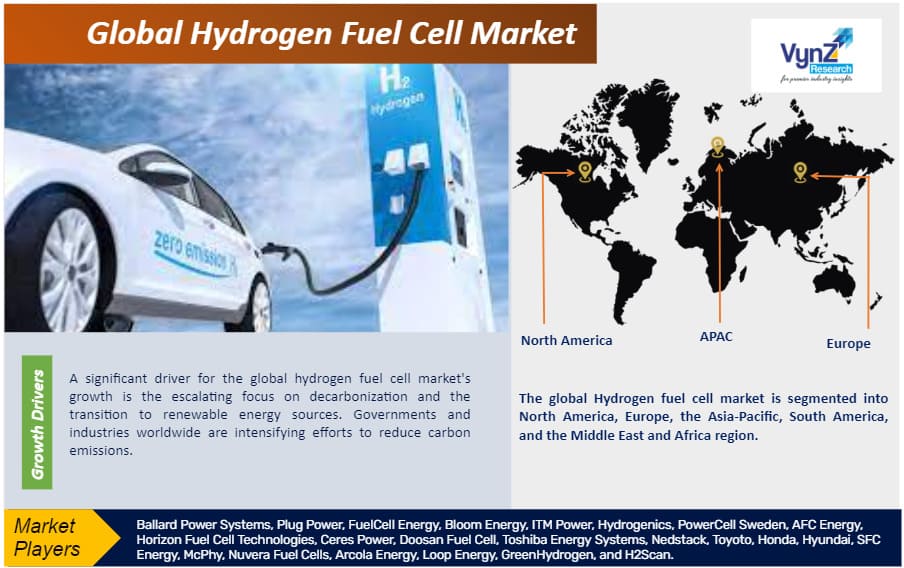 Geographically, the market is expanding rapidly in North America, Europe, and the Asia Pacific, as a result of the presence of leading companies, investment towards R&D, and government initiatives to support environment friendly technologies; however, the market confronts constraints such as infrastructure development, high production costs, limited hydrogen availability, and competition from established energy sources. Overall, the global hydrogen fuel cell market offers potential prospects for market participants to develop and fulfill the growing needs of wide range of industries including transportation, energy storage, consumer electronics, and other industries.
Market Segmentation
Insight by Type
Based on the type, the global Hydrogen fuel cell market is segmented into molten carbonate fuel cells (MCFC), solid oxide fuel cells (SOFC), alkaline fuel cells, and proton exchange membrane (PEM) fuel cells. In 2022, proton exchange membrane (PEM) dominated the global hydrogen fuel cell market due to their efficiency, compactness, and suitability for various applications, particularly in transportation. Companies like Toyota and Honda have pioneered PEM technology, with initiatives like Toyota's Mirai and Honda's Clarity Fuel Cell vehicles. Moreover, strategic partnerships, such as Ballard Power Systems collaborating with Audi, further bolster PEM's prominence. Investments in PEM fuel cell production plants, such as Johnson Matthey's announcement in July 2023 to build a CCM plant in China for PEM fuel cells and electrolyzers, reflect the industry's confidence in this technology, solidifying its dominant position in the global hydrogen fuel cell market.
Insight by End-Use Application
Based on the end-use application, the global hydrogen fuel cell market is segmented into transportation, stationary (power and energy), hydrogen generation, and other end-use applications. In 2022, stationary (power and energy) segment dominated the market because of its versatility in decentralized power generation. Companies like Bloom Energy and Plug Power have pioneered this sector with initiatives such as Bloom's Energy Servers and Plug Power's GenSure systems. Strategic collaborations, like Bloom Energy's partnership with SK Engineering and Construction, strengthen the stationary segment's position. Investments in large-scale production plants, exemplified by Plug Power's Gigafactory in New York, showcase the industry's commitment to stationary fuel cell technology, affirming its dominance in the global hydrogen fuel cell market.
Hydrogen Fuel Cell Market Report Coverage
| | |
| --- | --- |
| Report Metric | Details |
| Historical Period | 2018–2022 |
| Base Year Considered | 2023 |
| Forecast Period | 2023 - 2030 |
| Market Size in 2022 | $4.20 Billion |
| Revenue Forecast in 2030 | $30.00 Billion |
| Growth Rate | CAGR 29.93% |
| Segments Covered in the Report | By Type and By End-Use Application |
| Report Scope | Market Trends, Drivers, and Restraints; Revenue Estimation and Forecast; Segmentation Analysis; Impact of COVID-19; Companies' Strategic Developments; Market Share Analysis of Key Players; Company Profiling |
| Regions Covered in the Report | North America, Europe, Asia-Pacific, Middle East, and Rest of the World |
Industry Dynamics
Growth Drivers
Escalating focus on decarbonization
A significant driver for the global hydrogen fuel cell market's growth is the escalating focus on decarbonization and the transition to renewable energy sources. Governments and industries worldwide are intensifying efforts to reduce carbon emissions. Companies like Hyundai and Nikola Corporation are at the forefront, introducing hydrogen-powered vehicles like the Hyundai Nexo and Nikola Tre. Partnerships such as NiKola and Plug Power's partnership in December 2022 demonstrate the commitment to scaling hydrogen fuel cell technology. Initiatives such as Germany's National Innovation Program for Hydrogen and Fuel Cell Technology underscore the global push for sustainable energy, solidifying the upward trajectory of the global hydrogen fuel cell market.
Growing application in heavy-duty trucks
Increasing adoption of fuel cell technology in heavy-duty transportation is another key driver for the global hydrogen fuel cell market's growth. Companies like Nikola Corporation, Hyzon, Honda, and Ballard Power are spearheading this shift with growing investment towards development of these vehicles. In October 2023, Hyzon signed a revised agreement with TR Group, New Zealand's largest heavy-duty truck fleet owner, for up to 20 FCEVs upfit with Hyzon's single stack 200kW fuel cell system starting with a commercial trial. Additionally, Toyota's collaboration with Kenworth for the development of fuel cell electric trucks exemplifies the industry's commitment. The expansion of production facilities, like Ballard Power Systems' facility in China, signifies the sector's potential to revolutionize heavy-duty transportation, accelerating the market's expansion.
Challenge
Limited zinc reserves
A significant challenge facing the global hydrogen fuel cell market is the establishment of a comprehensive infrastructure for hydrogen production, distribution, and storage. Building an extensive network of hydrogen refueling stations requires substantial investment and coordination between governments, industries, and stakeholders. Moreover, transporting and storing hydrogen efficiently poses technical and logistical hurdles. Balancing production capacity with demand, especially in regions with limited hydrogen availability, remains a critical issue. Overcoming these infrastructure challenges is essential to unlock the full potential of hydrogen fuel cells and ensure their widespread adoption as a sustainable energy solution on a global scale.
Geographic Overview
The global Hydrogen fuel cell market is segmented into North America, Europe, the Asia-Pacific, South America, and the Middle East and Africa region. The global Hydrogen fuel cell market was dominated by the Asia-Pacific in 2022 because of its robust government initiatives, strong manufacturing capabilities, and a burgeoning demand for clean energy solutions.
Countries like Japan and South Korea have spearheaded hydrogen adoption, with Japan's "Basic Hydrogen Strategy" and South Korea's "Green New Deal" outlining ambitious targets. Companies like Toyota, headquartered in Japan, have been pioneers with their Mirai fuel cell vehicle. Hyundai, from South Korea, has made significant strides with its Nexo model. Partnerships like Toyota's collaboration with Chinese automaker BYD in 2020 and Hyundai's joint venture with Audi highlight the region's dominance in advancing hydrogen technology. Additionally, established manufacturing capabilities in countries like Japan and South Korea along with the fact that China has the largest fuel cell fleet in the world, further consolidate the Asia-Pacific's leading position in the global hydrogen fuel cell market. 
Competitive Insight
Ballard Power Systems is one of the leading companies in the global hydrogen fuel cell market and is recognized for its advanced fuel cell technology. The company's strategic partnerships and high focus on R&D of fuel cells have bolstered its standing. For instance, in August 2023, Ballard announced a strategic partnership with Ford Trucks to supply a fuel cell system as part of the development of a hydrogen fuel cell powered vehicle prototype. Furthermore, Ballard announced its global manufacturing strategy in September 2022 which included plan to invest $130 million in MEA manufacturing facility and R&D center in Shanghai, China, showing its commitment to large-scale production, reinforcing its influence in the market. With a strong foothold in both transportation and stationary applications, Ballard Power Systems plays a pivotal role in advancing the adoption of hydrogen fuel cell technology.
Toyota is a prominent force in the global hydrogen fuel cell market and is renowned for its pioneering work in fuel cell vehicles. The Toyota Mirai stands as a flagship example, showcasing the company's commitment to sustainable transportation. Toyota's partnerships further solidify its leading position in the market; in October 2023, Toyota announced that it will supply hydrogen fuel cell coaches for Parish 2024 Olympics and Paralympics games and also announced the development of a new 50kW-class fuel cell module. Additionally, Toyota has been actively involved in initiatives like the "Basic Hydrogen Strategy" in Japan, outlining ambitious goals for hydrogen adoption. With dedicated plants for fuel cell production, Toyota's investments and technological advancements underscore its leadership in advancing hydrogen fuel cell technology on a global scale.
Recent Development by Key Players
In October 2023, Hyzon Motors agreed a deal with TR Group for up to 20 fuel cell vehicles. TR Group is New Zealand's largest heavy-duty truck fleet owner and the fuel cell vehicles will use Hyzon's single stack 200kW fuel cell system. The first two trucks are scheduled to be ready for commercial trial beginning in March 2024, and will be deployed for up to three months for a commercial trial.
In October 2023, BMW, Sasol, and Anglo American Platinum Ltd. Announced a strategic partnership focused on the development of a South African hydrogen car infrastructure that will help drive the manufacture and use of the vehicles. BMW will provide its X5 H2 fuel cell sport utility vehicle, while Sasol will supply green hydrogen, and Anglo American Platinum will supply platinum-group metals used in fuel cell manufacturing.
Key Players Covered in the Report
Ballard Power Systems, Plug Power, FuelCell Energy, Bloom Energy, ITM Power, Hydrogenics, PowerCell Sweden, AFC Energy, Horizon Fuel Cell Technologies, Ceres Power, Doosan Fuel Cell, Toshiba Energy Systems, Nedstack, Toyoto, Honda, Hyundai, SFC Energy, McPhy, Nuvera Fuel Cells, Arcola Energy, Loop Energy, GreenHydrogen, and H2Scan.
The hydrogen fuel cell market report offers a comprehensive market segmentation analysis along with an estimation for the forecast period 2023–2030.
Segments Covered in the Report
Molten carbonate fuel cells (MCFC)

Solid oxide fuel cells (SOFC)

Alkaline fuel cells

Proton exchange membrane (PEM) fuel cells
Region Covered in the Report
Germany

U.K.

France

Italy

Spain

Russia

Rest of Europe
China

Japan

India

South Korea

Rest of Asia-Pacific
Saudi Arabia

U.A.E

South Africa

Rest of MEA
Argentina

Brazil

Chile

Rest of South America
Primary Research Interviews Breakdown