Industry Overview
The global solar panel recycling market size is expected to grow from USD 0.16 billion in 2021 to USD 0.54 billion by 2030. It will witness a 13.8% CAGR during the forecast period. Solar panels contain hazardous substances like silicon, silver, aluminum, copper, gallium, lead, and cadmium. Their widespread use has increased the need for recycling in order to minimize waste generation. Solar panel recycling entails activities that include decommissioning, collection and sorting. It reduces greenhouse (GHG) gas emissions from photovoltaic (PV) modules while preventing the release of hazardous substances from waste streams. Several manufacturers are currently purifying recovered materials to use in new panels or other components such as glass foam.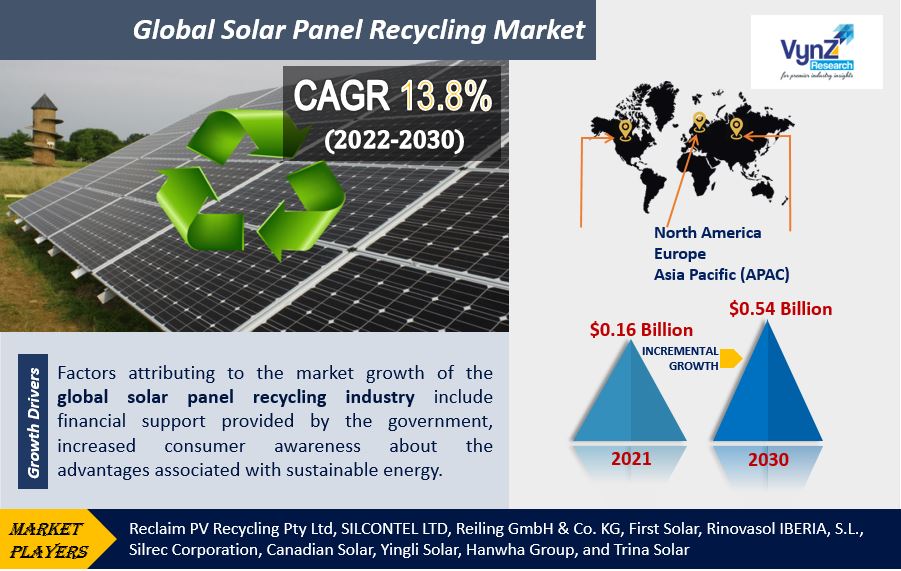 Continuous technological development with cost efficacy will encourage the use of solar panels, which will strengthen the market outlook. The environmental degradation in conjunction with the global energy crisis caused by conventional energy sources such as nuclear energy and fossil fuels is expected to drive demand for renewable energy sources over the projection period. Thus, the trend toward renewable energy resources, which have the least impact on the environment, is expected to boost the market growth. Besides that, decreasing solar panel prices are expected to increase the number of solar photovoltaic module installations, thereby supporting the market growth of the solar panel recycling industry.
Market Segmentation
Insight by Process
Based on Process, the Solar Panel Recycling Market is segmented into Thermal, Mechanical, Chemical, and Laser.  The mechanical process dominates the market as solar panel recycling is economical and environmental-friendly nature of the process.
Insight by Product
Based on Product, the Solar Panel Recycling Market is classified into Monocrystalline, Polycrystalline, Thin Film, and Others. Monocrystalline is expected to contribute the largest share in the market owing to benefits associated with it like highly efficient, superior grade material, long shelf life, superior heat resistance, and high space efficient as compared to other solar panels.
Insight by Shelf Life
Based on Shelf Life, the Process, the Solar Panel Recycling Market is bifurcated into Normal Loss and Early Loss. The early loss shelf-life segment dominates the market. The early weathering or deterioration of solar panels as a result of maintenance issues, adverse weather conditions, and a lack of product standardization is the primary factor contributing to this segment's larger market share.
Global Solar Panel Recycling Market Report Coverage
| | |
| --- | --- |
| Report Metric | Details |
| Historical Period | 2018–2021 |
| Base Year Considered | 2022 |
| Forecast Period | 2022 - 2030 |
| Market Size in 2021 | $0.16 Billion |
| Revenue Forecast in 2030 | $0.54 Billion |
| Growth Rate | CAGR 13.80% |
| Segments Covered in the Report | By Process, By Product, and By Shelf Life |
| Report Scope | Market Trends, Drivers, and Restraints; Revenue Estimation and Forecast; Segmentation Analysis; Impact of COVID-19; Companies' Strategic Developments; Market Share Analysis of Key Players; Company Profiling |
| Regions Covered in the Report | North America, Europe, Asia-Pacific, Middle East, and Rest of the World |
Industry Dynamics
Growth Drivers
Factors attributing to the market growth of the global solar panel recycling industry include financial support provided by the government, increased consumer awareness about the advantages associated with sustainable energy sources, rising solar energy waste, and surge in the number of solar photovoltaic modules installed. Moreover, increased deployment of solar panels, increasing regulations by the government, more efficient disposal of solar panels, and an upsurge in solar panel installations as a substitute to other non-eco-friendly options, thereby leading to market expansion of the global solar panel recycling industry.
The rapid pace of PV installation has resulted in an increase in the number of decommissioned PV panels. This, in turn, is expected to accelerate the market development of the solar panel recycling industry in the near future. Furthermore, numerous companies are conducting research and development to recover and recycle rare metal elements, which is expected to drive market growth.
Sustainable development is defined as the controlled and optimized utilization of resources in order to keep them accessible to the present and future generations while also reducing associated environmental hazards.  The increase in global sustainable solutions as a result of the energy crisis faced by many countries is encouraging the use of renewable solar power as a source of energy. Recycling is the best way to achieve the goal of reusing solar panels and their components while reducing their environmental impact. As a result, the growing emphasis on sustainable development is fueling the growth of the solar panel recycling market.
Challenges
A significant barrier to the market's expansion for solar panel recycling is, however, a lack of knowledge and interest in emerging economies, expensive recycling than landfilling, and recovered scraps are worth less than the original.
Opportunities
The market for recycled solar panels would also benefit from increased technological development, modernization of production techniques, increased adoption of solar panels in developing economies like India, South Korea, China, etc. and research and development initiatives in the sector, thereby creating market opportunities in the global solar panel recycling industry. Companies in the solar panel recycling market are entering untapped regions or areas in an effort to increase the market size of their operational footprints and their market share.
Geographic Overview
North America
Europe
Asia Pacific (APAC)
Rest of the World (RoW)
Europe is expected to be a highly profitable market for solar panel recycling during the forecast period owing to the increased number of solar energy installations, government support to adopt renewable energy sources, favorable legislation in controlling recycling procedures, and the presence of prominent market players in the region.
The region's demand for distributed energy systems has also increased the demand for solar panel installation in the UK, Germany, Spain, and Italy. This rise in demand is expected to fuel the growth of the solar panel recycling market in this region.
Since there are most solar farms in this region, many solar panels will reach the end of their useful lives. As a result, it is projected that demand for solar panel recycling will rise over the projected timeframe.
Competitive Insight
The global solar panel recycling market is highly competitive as there are small number of large-scale vendors that controls maximum share. Moreover, owing to the solar panel recycling market's significant growth prospects, new manufacturers and service providers are also entering into the industry.  New entrants have ample opportunities to obtain a competitive edge in the market because of ongoing R&D efforts to create more effective recycling methods and technologies. Nevertheless, partnerships and acquisitions present a large market opportunity for key players to thrive.
RECLAIM, which was founded in 2014, aims to recycle unusable and old solar panels. They understood the significance of PV recycling and the waste management issues that the industry is dealing with.  Pyrolysis, a well-known thermal deconstruction technique, is used by Reclaim's robust recycling process to break down and pull apart PV panels into their component parts by passing them through a high-temperature furnace.  After the thermal extraction process is completed, the retrieved components are sorted and put in collection bins for delivery to material companies, ensuring that all recoverable materials are available for re-use. Reclaim PV provides a wide range of services that includes PV recycling, Commercial Decommissioning, Material Supply, and PV Consulting so as to assist users, installers, and manufacturers in the management of end-of-life solar panels and associated batteries.
Silcontel is one of the leading provider of solar, semiconductor, and lithium-ion battery sourcing and project development services. Silicontel intends to provide the most cost-effective, adequate, and holistic approach to their customers globally through their extensive experience, network of partners, and around-the-clock availability.  Silcontel purchases and recycles a wide range of defective and used solar panels from revamping/repowering as well as from panel manufacturers, project developers, EPC companies, O&M companies, project owners, distributors, and installers worldwide. Silicontel's global presence enables it to conduct inspections as needed and to organize the necessary logistics for purchasing and shipping solar panels to its facilities as quickly as possible.
Recent Development by Key Players
In November 2022, First Solar, Inc. announced the location of its fourth American photovoltaic (PV) solar module manufacturing facility in Lawrence County, North Alabama. The new factory is part of a previously announced investment to increase First Solar's American manufacturing footprint to more than 10 gigatonnes (GW)DC by 2025, and it is expected to generate over 700 new direct jobs in the state.
In July 2022, Maxeon Solar Technologies, which is selling under the SunPower Maxeon brand in Australia, has announced a partnership with Reclaim PV to ensure that its panels that have reached the end of their useful lives are recycled rather than discarded into landfill.
Key Players Covered in the Report
Some of the key players operating in the Global Solar Panel recycling Industry include Reclaim PV Recycling Pty Ltd, SILCONTEL LTD, Reiling GmbH & Co. KG, First Solar, Rinovasol IBERIA, S.L., Silrec Corporation, Canadian Solar, Yingli Solar, Hanwha Group, and Trina Solar.
The Solar Panel Recycling Market report offers a comprehensive market segmentation analysis along with an estimation for the forecast period 2022–2030.
Segments Covered in the Report
By Process 

Thermal
Mechanical
Chemical
Laser

By Product 

Monocrystalline
Polycrystalline
Thin Film
Others

By Shelf Life 
Region Covered in the Report
North America
Europe

Germany
U.K.
France
Italy
Spain
Russia
Rest of Europe

Asia-Pacific (APAC)

China
Japan
India
South Korea
Rest of Asia-Pacific

Rest of the World (RoW)

Brazil
Saudi Arabia
South Africa
U.A.E.
Other Countries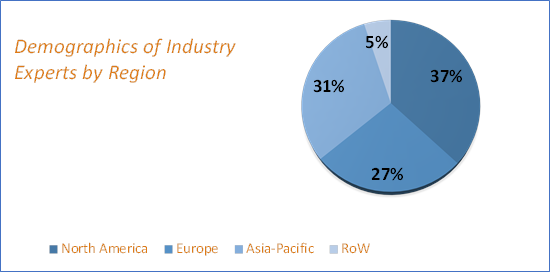 Source: VynZ Research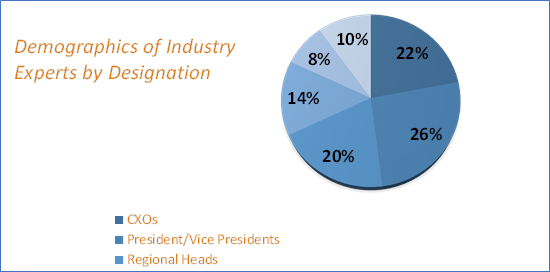 Source: VynZ Research