Industry Overview
Sustainable Aviation Fuel (SAF) is an eco-friendly alternative to traditional aviation fuels derived from fossil sources. Produced from renewable resources such as biomass, waste oils, or hydrogen, SAF aims to reduce the aviation industry's carbon footprint. It can be seamlessly integrated into existing aircraft and infrastructure, offering a cleaner-burning option with lower greenhouse gas emissions. SAF contributes to mitigating climate change by promoting sustainable practices within the aviation sector, aligning with global efforts to achieve carbon neutrality. As a crucial component of the aviation industry's commitment to environmental responsibility, SAF plays a pivotal role in fostering greener air travel and advancing the transition to a more sustainable and low-carbon future.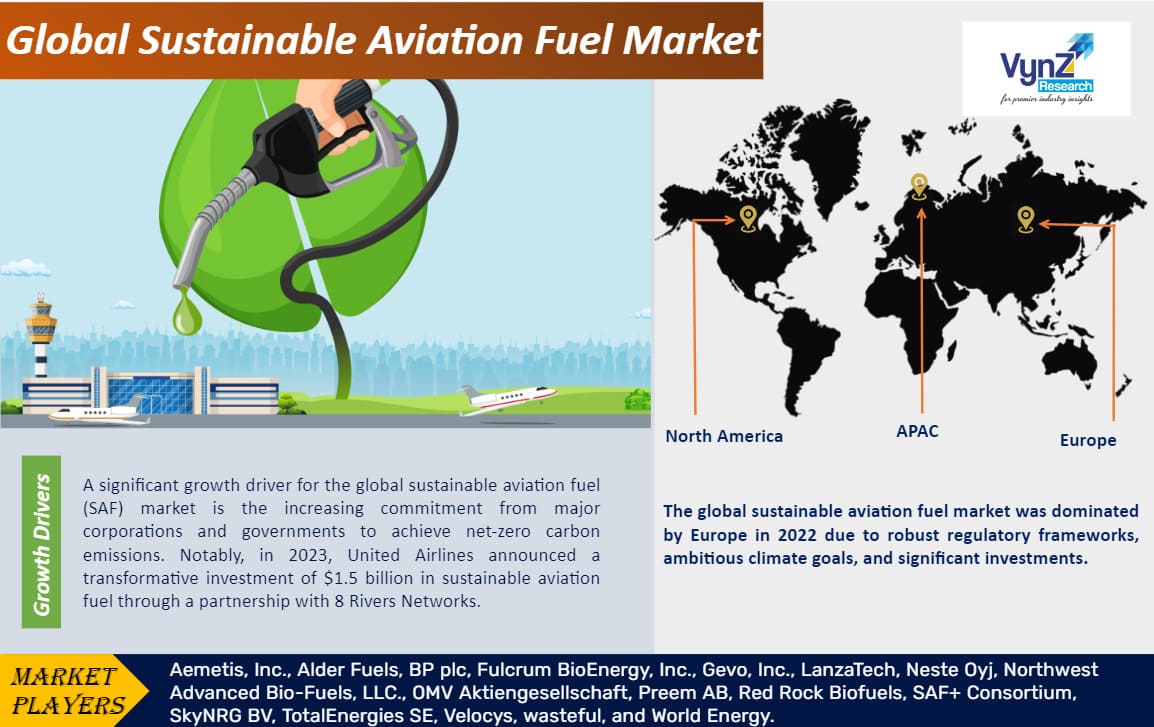 Global sustainable aviation fuel market was worth USD 0.47 billion in 2022 and is expected reach USD 15.53 billion by 2030 with a CAGR of 64.62% during the forecast period, i.e., 2023-2030. The demand for sustainable aviation fuel is propelled by the aviation industry's commitment to reducing carbon emissions, meeting environmental regulations, and addressing climate change concerns. Airlines and governments worldwide are increasingly prioritizing sustainable practices, driving the need for cleaner alternatives like SAF to achieve a more environmentally responsible aviation sector.
Geographically, the global sustainable aviation fuel market is expanding rapidly in North America, Europe, and the Asia Pacific, as a result of the stringent environmental regulations, increasing corporate sustainability goals, and government incentives; however, the market confronts constraints such as high production costs, limited production capacity, and the need for supportive regulatory frameworks. Overall, the sustainable aviation fuel market offers potential prospects for market participants to develop and fulfill the growing needs of a sustainable fuel in the aviation industry.
Market Segmentation
Insight by Platform
Based on the platform, the global sustainable aviation fuel market is segmented into commercial aviation, military aviation, business & general aviation, and unmanned aerial vehicle. In 2022, commercial aviation dominated the global sustainable aviation fuel market due to its substantial carbon footprint and a strong commitment to environmental sustainability. Airlines, driven by regulatory pressure and corporate responsibility, are investing heavily in SAF. For instance, in 2023, Delta Air Lines announced a significant strategic investment in SAF, pledging $1 billion over the next decade to advance its sustainability goals. Such partnerships and investments underscore the commercial aviation sector's pivotal role in propelling the growth of the SAF market, as airlines actively seek alternatives to traditional aviation fuels to reduce emissions and meet sustainability targets.
Insight by Fuel Type
Based on fuel type, the global sustainable aviation fuel market is segmented into bio-fuel, hydrogen fuel, power-to-liquid fuel, and gas-to-liquid fuel. In 2022, bio-fuel dominated the global sustainable aviation fuel market due to its renewable nature and compatibility with existing aircraft and infrastructure. Biofuels, derived from organic materials like plant oils, waste, or algae, offer a reliable and scalable solution. Recently, in 2023, a collaboration between Boeing and Embraer announced plans to advance the development of sustainable aviation biofuels, emphasizing the biofuel sector's significance. This partnership underscores the industry's commitment to biofuels as a viable and immediate solution for reducing aviation emissions, contributing to the biofuel segment's dominance in the evolving landscape of sustainable aviation fuel.
Insight by Biofuel Blending Capacity
Based on biofuel blending capacity, the global sustainable aviation fuel market is segmented into below 30%, between 30-50%, and above 50%. In 2022, 30-50% biofuel blending capacity segment dominated the global sustainable aviation fuel market due to its optimal balance between sustainability and compatibility with existing aircraft. This blend significantly reduces greenhouse gas emissions without requiring extensive modifications to aviation infrastructure. In a recent development, Airbus announced a collaboration with Air France-KLM and others to promote 30% SAF usage on flights departing from French airports. This initiative reflects the industry's commitment to the 30-50% biofuel blending ratio as a viable and immediate strategy, showcasing its dominance in driving sustainable practices within the global aviation sector.
Insight by Technology
Based on technology, the global sustainable aviation fuel market is segmented into HEFA-SPK, FT-SPK, HFS-SIP, and ATJ-SPK. In 2022, HEFA-SPK dominated the global sustainable aviation fuel market due to its versatility and compatibility with existing infrastructure. HEFA-SPK produces drop-in biofuels from feedstocks like vegetable oils and waste fats, offering a direct replacement for conventional jet fuel. In a recent development, a collaboration between Chevron and Delta Air Lines in September 2021 highlighted the use of HEFA-SPK in SAF production. This emphasizes the technology's dominance as a commercially viable and scalable solution, driving the global aviation industry towards more sustainable and eco-friendly practices.
Sustainable Aviation Fuel Market Report Coverage
| | |
| --- | --- |
| Report Metric | Details |
| Historical Period | 2018–2022 |
| Base Year Considered | 2023 |
| Forecast Period | 2023 - 2030 |
| Market Size in 2022 | $0.47 Billion |
| Revenue Forecast in 2030 | $15.53 Billion |
| Growth Rate | CAGR 64.62% |
| Segments Covered in the Report | By Platform, By Fuel Type, By Biofuel Blending Capacity and By Technology |
| Report Scope | Market Trends, Drivers, and Restraints; Revenue Estimation and Forecast; Segmentation Analysis; Impact of COVID-19; Companies' Strategic Developments; Market Share Analysis of Key Players; Company Profiling |
| Regions Covered in the Report | North America, Europe, Asia-Pacific, Middle East, and Rest of the World |
Industry Dynamics
Growth Drivers
Growing focus on achieving net zero targets
A significant growth driver for the global sustainable aviation fuel (SAF) market is the increasing commitment from major corporations and governments to achieve net-zero carbon emissions. Notably, in 2023, United Airlines announced a transformative investment of $1.5 billion in sustainable aviation fuel through a partnership with 8 Rivers Networks. This commitment demonstrates the growing momentum for sustainable practices in aviation, encouraging substantial investments and collaborations. As industries prioritize decarbonization, such partnerships propel the SAF market forward, underlining its pivotal role in achieving a more sustainable and environmentally conscious aviation sector globally.
Growing Focus on Sustainable Biofuels
The escalating emphasis on sustainable biofuels propels the global sustainable aviation fuel (SAF) market, with stakeholders prioritizing eco-friendly alternatives. A recent illustration is the strategic partnership between British Airways and Velocys, announced in October 2023, aiming to construct a waste-to-jet fuel plant. This collaboration exemplifies the industry's commitment to sustainable biofuels, utilizing innovative technologies to convert waste into SAF, thereby reducing carbon emissions. As aviation entities increasingly invest in such initiatives, the focus on sustainable biofuels becomes a driving force in fostering the growth and adoption of SAF, aligning with broader environmental sustainability goals in the aviation sector.
Challenge
Challenges in Scaling Up the Production 
A significant challenge for the global sustainable aviation fuel (SAF) market is the limited production capacity, hindering widespread adoption. An example is the delay in Fulcrum BioEnergy's Sierra BioFuels Plant, a major SAF production facility. Originally anticipated to be operational by 2020, its completion has been postponed, highlighting the complexities and challenges in scaling up SAF production. The industry faces obstacles in achieving the necessary infrastructure and production capabilities to meet the increasing demand, posing a hurdle to the widespread integration of SAF and impeding the sector's progress towards a more sustainable aviation future.
Geographic Overview
The global sustainable aviation fuel market is segmented into North America, Europe, the Asia-Pacific, South America, and the Middle East and Africa region. The global sustainable aviation fuel market was dominated by Europe in 2022 due to robust regulatory frameworks, ambitious climate goals, and significant investments. The EU's Renewable Energy Directive and supportive policies encourage SAF adoption. In November 2023, Air France-KLM announced a strategic investment in LanzaJet, emphasizing Europe's commitment to SAF development. Such partnerships showcase the region's proactive approach, fostering collaboration between airlines and SAF producers. As European governments and aviation stakeholders prioritize sustainability, this commitment positions the continent as a leader in advancing the SAF market, driving innovation, and accelerating the transition to more eco-friendly aviation practices.
Competitive Insight
Neste, a Finnish company, is a leading player in the global sustainable aviation fuel (SAF) market. Renowned for its advanced refining capabilities, Neste has secured a strong market position. In October 2023, Neste announced a collaboration with Shell Aviation to increase the availability of SAF at key airports, underscoring its commitment to industry partnerships. This move aligns with Neste's strategy to expand SAF production and distribution networks, solidifying its role in driving the aviation sector toward greener alternatives and meeting the increasing demand for sustainable solutions.
Gevo, a U.S.-based renewable chemicals and advanced biofuels company, holds a significant position in the global SAF market. Leveraging its innovative technology, Gevo focuses on producing low-carbon, sustainable biofuels. In a recent development in September 2023, Gevo entered into a collaboration with Delta Air Lines and Air BP to supply SAF for flights departing from Los Angeles. This partnership demonstrates Gevo's commitment to expanding its market presence by working closely with major industry players, contributing to the growth and adoption of sustainable aviation fuel in the competitive global market.
Recent Development by Key Players
In November 2023, Boeing and Zero Petroleum announced a collaboration at the Dubai Airshow to test and analyze next-gen sustainable aviation fuel (SAF) technologies. The partnership entails Boeing establishing a testing program for Zero's SAF at the University of Sheffield's Energy Innovation Centre, where Boeing is a founding member, showcasing a commitment to advancing eco-friendly aviation solutions.
In July 2023, Advanced Refining Technologies LLC, a joint venture between Chevron and specialty chemicals leader W. R. Grace & Co., introduced ENDEAVOR – a hydroprocessing catalyst solution designed to produce renewable diesel (RD) and sustainable aviation fuel (SAF) using 10% renewable sources like vegetable oils, refined oils, animal fats, and greases. The launch aligns with the surging demand for renewable transportation fuels, emphasizing the industry's commitment to innovative solutions for cleaner energy production.
Key Players Covered in the Report
Aemetis, Inc., Alder Fuels, BP plc, Fulcrum BioEnergy, Inc., Gevo, Inc., LanzaTech, Neste Oyj, Northwest Advanced Bio-Fuels, LLC., OMV Aktiengesellschaft, Preem AB, Red Rock Biofuels, SAF+ Consortium, SkyNRG BV, TotalEnergies SE, Velocys, wasteful, and World Energy.
The sustainable aviation fuel market report offers a comprehensive market segmentation analysis along with an estimation for the forecast period 2023–2030.
Segments Covered in the Report
Bio-Fuel

Hydrogen Fuel

Power-to-Liquid Fuel

Gas-to-Liquid Fuel
Below 30%

Between 30-50%

Above 50%
HEFA-SPK

FT-SPK

HFS-SIP

ATJ-SPK
Region Covered in the Report
Germany

U.K.

France

Italy

Spain

Russia

Rest of Europe
China

Japan

India

South Korea

Rest of Asia-Pacific
Saudi Arabia

U.A.E

South Africa

Rest of MEA
Argentina

Brazil

Chile

Rest of South America