Industry Overview
The global hand sanitizer market was valued at USD 2.8 billion in 2022 and is expected to reach USD 6.85 billion by 2030, growing at a CAGR of 17.0% during 2023-2030. The global hand sanitizer market is growing at a significant rate, due to escalating awareness of hand hygiene that is considered to be a crucial regime to restrict the incidence of any infection or spread of viruses. The hand sanitizer market includes a wide range of products, including gel-based sanitizers, foam sanitizers, liquid sanitizers, wipes, and spray sanitizers. It comprises various market players, including multinational corporations, local and regional manufacturers, and small-scale producers.It's important to note that market dynamics can change over time, and the COVID-19 pandemic has had a significant impact on the hand sanitizer market. Factors such as vaccination rates, the emergence of new variants, and evolving consumer behavior can influence the future growth and demand in this sector.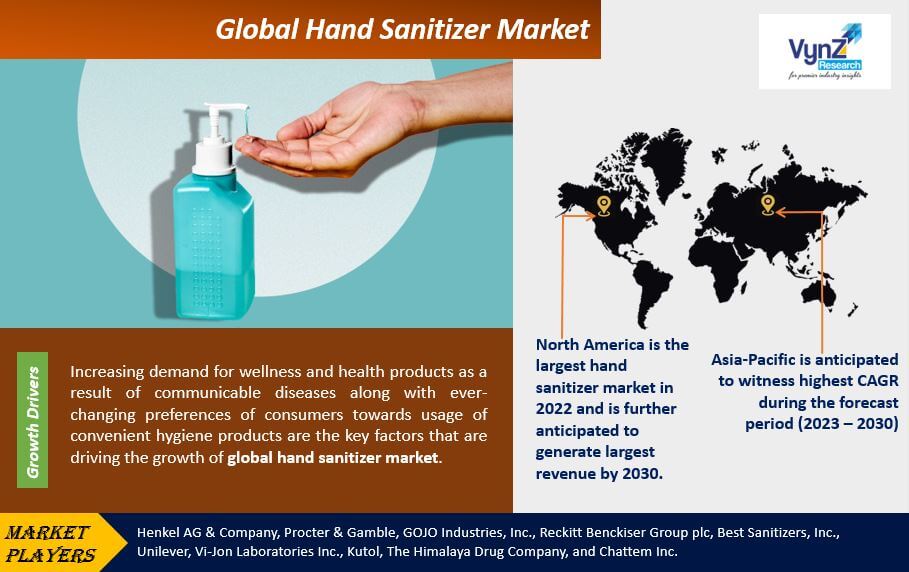 Additionally, keeping the hands hygienic is considered to be the most vital factor and government across the globe are emphasizing and promoting the utilization of hand care products in order to evade health issues amongst the consumers. Moreover, FDA and WHO are implementing rampant efforts in order to aware the consumers regarding hand hygiene and risk factors prevailing by not adhering to hygiene level of hands.
Hand sanitizer is alcohol-free or alcohol based liquid used for cleaning the hands in order to diminish the risk associated with infectious bacteria or viruses and further helps in maintaining the personal hygiene of the consumer. Hand sanitizers are capable of killing the germs that are present on the hands and is efficient in preventing the transmission of infection that is majorly being carried through hand transmission that could further lead to nosocomial food-borne illness. The use of hand sanitizers massively in schools, supermarkets, hospitals and public places are significantly contributing towards the growth of global hand sanitizers market. 
Market Segmentation
Insight by Product 
On the basis of product, the global hand sanitizer market is divided into foam, gel, liquid and others. Amongst these segments, foam is expected to witness highest CAGR during the forecast period. This segment is gaining eminence as it penetrates deep in the skin and further stays for longer time period on the skin. Furthermore, the product is not required to get rubbed off and enables easy application and saves time of the consumers. 
Insight by End User
On the basis of end user, the global hand sanitizer market is segmented into hospitals, corporates, military, restaurants, and others. Of all, hospitals category held the largest share in the global hand sanitizer market in 2022, due to the strict sanitation and hygiene practices followed in hospitals and nursing homes.
Global Hand Sanitizer Market Report Coverage
| | |
| --- | --- |
| Report Metric | Details |
| Historical Period | 2018–2022 |
| Base Year Considered | 2022 |
| Forecast Period | 2023 - 2030 |
| Market Size in 2022 | $2.8 Billion |
| Revenue Forecast in 2030 | $6.85 Billion |
| Growth Rate | CAGR 17.0% |
| Segments Covered in the Report | By Product, By End User |
| | Market Trends, Drivers, and Restraints; Revenue Estimation and Forecast; Segmentation Analysis; Impact of COVID-19; Companies' Strategic Developments; Market Share Analysis of Key Players; Company Profiling |
| Regions Covered in the Report | North America, Europe, Asia-Pacific, Middle East, and Rest of the World |
Industry Dynamics
Industry Trends
Increasing use of alternative products of soap and water for washing hands and extensive influence of social media and online advertisements to emphasize more upon personal care and hygiene are the key trends that are pertaining towards the growth of global hand sanitizer market. 
Health and Hygiene Awareness: Growing awareness among individuals about the importance of hand hygiene and the need to prevent the spread of infections has increased the demand for hand sanitizers.
Pandemic Impact: The COVID-19 pandemic has had a significant impact on the hand sanitizer market. Governments and health organizations worldwide have emphasized hand hygiene as a crucial preventive measure, leading to a surge in demand for hand sanitizers.
Convenience and Portability: Hand sanitizers offer a convenient and portable solution for hand hygiene, making them popular for use in various settings, including homes, workplaces, healthcare facilities, and public places.
Growth Drivers
Increasing demand for wellness and health products as a result of communicable diseases along with ever-changing preferences of consumers towards usage of convenient hygiene products are the key factors that are driving the growth of global hand sanitizer market. The growing effect of coronavirus epidemic globally is uplifting the demand for hand sanitizers rapidly. The eruption of global pandemic has exaggerated the need for hand sanitizers and has led significant profit enhancement for the service providers. 
Increasing Health Concerns: Rising concerns about infections and diseases, coupled with a growing focus on personal health and wellness, have contributed to the increased adoption of hand sanitizers as a preventive measure.
Technological Advancements: Manufacturers are investing in research and development to develop innovative hand sanitizing products, such as touchless dispensers and long-lasting formulations, to cater to consumer preferences.
Regulatory Support: Governments and regulatory bodies have implemented regulations and guidelines related to hand sanitizers, ensuring product safety and efficacy. This has boosted consumer confidence and market growth.
E-commerce and Online Retailing: The availability of hand sanitizers through e-commerce platforms and online retail channels has made it easier for consumers to purchase these products, further driving market growth.
Additionally, in order to combat infectious diseases many people are using hand sanitizers that is more effective in killing germs with the prevalence of infectants in it. In the present scenario, the usage and demand of hand sanitizers has multiple four times since December 2019 owing to the epidemic (COVID-19) and thus escalating the growth of hand sanitizers market massively across the globe. 
Challenges
However, the use of chemical ingredients in hand sanitizers thus lead to health hazards such as killing of good bacterial in the human body that is the crucial factor anticipated to hamper the growth of the global hand sanitizer market.
Geographic Overview
Geographically, North America is the largest hand sanitizer market in 2020 and is further anticipated to generate largest revenue by 2030. The growth of this product in this region is attributed towards wider accessibility of hand sanitizers along with rapid prevalence of online and offline distribution channels to meet the demand of the product along with massive outburst of coronavirus.
Additionally, the rapid inclination of the consumers in the U.S. towards spending significant amount towards personal care products and rampant awareness for maintaining personal hygiene are the key factors strengthening the growth of the hand sanitizer industry in the region.
Moreover, Asia-Pacific is anticipated to witness highest CAGR during the forecast period (2021 – 2027) owing to the increasing awareness amongst the consumers pertaining to the hygiene. Moreover, extensive spread of pandemic diseases such as COVID-19 in countries such as China, South Korea, Singapore, India, Japan, and Indonesia has further accentuated the demand for hand sanitizers massively thereby bolstering the growth of the hand sanitizer market in the APAC. 
Competitive Insight
Some of the major players operating in the global hand sanitizer market are Henkel AG & Company, Procter & Gamble, GOJO Industries, Inc., Reckitt Benckiser Group plc, Best Sanitizers, Inc., Unilever, Vi-Jon Laboratories Inc., Kutol, The Himalaya Drug Company, and Chattem Inc.
Primary Research
VynZ Research conducts extensive primary research to understand the market dynamics, validate market data and have key opinions from the industry experts. The key profiles approached within the industry includes, CEO, CFO, CTO, President, Vice President, Product Managers, Regional Heads and Others. Also, end user surveys comprising of consumers are also conducted to understand consumer behaviour.
The Hand Sanitizer Market report offers a comprehensive market segmentation analysis along with an estimation for the forecast period 2023–2030.
By Product
By Distribution Channel

Specialty Store
Hypermarket & Supermarket
Online
Drugs Store

By End User

Hospitals
Corporates
Military
Restaurants
Others
Hand Sanitizer Market by Region
North America

By Product
By Distribution Channel
By End User
By Country – U.S., Canada, and Mexico

Europe

By Product
By Distribution Channel
By End User
By Country – Germany, U.K., France, Italy, Spain, Russia, and Rest of Europe

Asia-Pacific (APAC)

By Product
By Distribution Channel
By End User
By Country – China, Japan, India, South Korea, Australia, Singapore, Indonesia, and Rest of Asia-Pacific

Rest of the World (RoW)

By Product
By Distribution Channel
By End User
By Country – Brazil, Saudi Arabia, South Africa, U.A.E., Iran, and Other Countries

Source: VynZ Research