Industry Overview
The global imaging CRO market is anticipated to grow from USD 4.6 billion in 2022 to USD 8.8 billion in 2030, registering a CAGR of 7.1% during the forecast period 2023-2030. There is a massive transformation in the biopharmaceutical market and their manufacturing capabilities towards the healthcare industry during the last few years. There is an increased number of regulatory reforms within the industry which offer an improved outsourcing capability. CROs, imaging CROs, and contract development and manufacturing organizations (CDMOs) are enhancing the existing pharmaceutical, biotechnology, and medical device firms' quality, cost-effectiveness, and manufacturing capacity.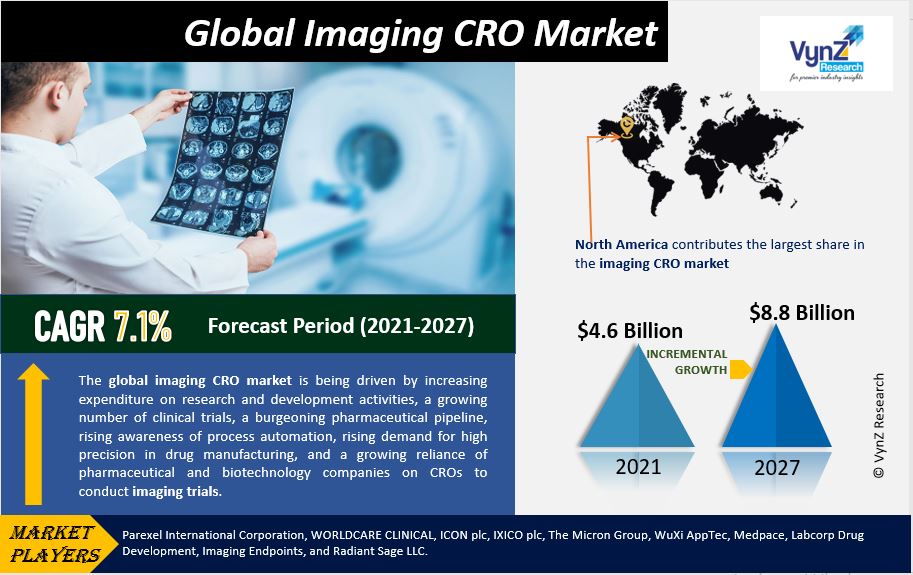 Furthermore, in order to boost their production, large pharmaceutical companies are expanding their manufacturing and purchasing capacity from smaller companies. Thus, the total market for imaging CROs is predicted to increase at a fast rate as pharmaceutical and biotechnology companies become more reliant on imaging CROs to outsource the medical imaging component of clinical trials studies.
The COVID-19 pandemic has resulted in a huge rise in biopharmaceutical companies' spending on research and development. The development of vaccines and drugs for the treatment of SARS-CoV virus infection is involving researchers, scientists, and skilled personnel from all over the world, and this scenario is expected to directly boost demand for CROs for large-scale production in a shorter time frame, boosting the overall market for imaging CRO.
Market Segmentation
Insight by Service
Based on service, the global imaging CRO market is segmented into Imaging Acquisition and Protocol Development, Application Design, Image Collection and QC, Digital Image Conversion, and Support and Maintenance. Image acquisition and protocol development are anticipated to grow at a significant pace during the forecast period.  A protocol is the main document that specifies a clinical trial's goals, design, methods, statistical considerations, and organization. The protocol begins by outlining the study's background and justification before moving on to the trial's plan. This plan must be carefully constructed to protect the individuals' health and safety while also answering specific research questions. The protocol also serves an external purpose by offering a clear and comprehensive account of the study's processes, allowing others to fully comprehend the study's findings.
Insight by Modality
Based on modality, the global imaging CRO market is segregated into Computed Tomography (CT) Scan, Magnetic Resonance Imaging (MRI), Positron Emission Tomography (PET), and Others (X-Rays, Ultrasound, Scanning Laser Ophthalmoscopy (SLO), Optical Coherence Tomography, Scanning Laser Polarimetry (SLP), and Others. Magnetic Resonance Imaging (MRI) includes Diffusion Tensor Imaging (DTI), Functional MRI (fMRI), Resting-State Functional Connectivity MRI (fcMRI), Volumetric MRI (fMRI), Arterial Spin Labeling for Quantitative Perfusion Imaging (ASL). Positron Emission Tomography (PET) is further divided into Positron Emission Tomography with 18F Isotope (FDG-PET) and Other PET. The Computed Tomography segment is anticipated to have significant growth during the forecast period owing to its several benefits like the study of drug activity and screening of injuries, tumors, and abnormalities in the body. Also, the mounting funds and investment in the field of clinical research and clinical trials will propel the growth of the segment.
Insight by Application
Based on application, the global imaging CRO market is segmented into Oncology Imaging CRO, Ophthalmology Imaging CRO, Neurology Imaging CRO, Cardiology Imaging CRO, and Others. The oncology imaging CRO is anticipated to have a larger share during the forecast period owing to the rising cases of cancer leading to increased demand for new and developed treatment options. This will lead to a surge in clinical trials and a mounting need to outsource services used in trials. The neurology imaging CRO is anticipated to have the fastest growth during the projected period owing to the rising use of imaging in neurology clinical trials.
Insight by End-User
Based on end-user, the global imaging CRO market is classified into Pharmaceutical Companies, Biotechnology Companies, Medical Device Manufacturers, Contract Research Organizations (CRO), Academic and Government Research Institutes, and Others. The Contract Research Organisation contributes to the largest share in the market owing to the increased cost of drug development, increased expenditure on R&D activities. Contract research outsourcing alliances also provide cutting-edge services. As a result, government agencies prefer to delegate project management to CROs.
Imaging CRO Market Report Coverage
| | |
| --- | --- |
| Report Metric | Details |
| Historical Period | 2018–2022 |
| Base Year Considered | 2022 |
| Forecast Period | 2023 - 2030 |
| Market Size in 2021 | $4.6 Billion |
| Revenue Forecast in 2027 | $8.8 Billion |
| Growth Rate | CAGR 7.1% |
| Segments Covered in the Report | By Service, By Modality, By Application, and By End-User |
| Report Scope | Market Trends, Drivers, and Restraints; Revenue Estimation and Forecast; Segmentation Analysis; Impact of COVID-19; Companies' Strategic Developments; Market Share Analysis of Key Players; Company Profiling |
| Regions Covered in the Report | North America, Europe, Asia-Pacific, Middle East, and Rest of the World |
Industry Dynamics
Growth Drivers
The global imaging CRO market is being driven by increasing expenditure on research and development activities, a growing number of clinical trials, a burgeoning pharmaceutical pipeline, rising awareness of process automation, rising demand for high precision in drug manufacturing, and a growing reliance of pharmaceutical and biotechnology companies on CROs to conduct imaging trials. Also, increased emphasis on life science projects to advance in the field of therapeutic and diagnostic products, advancement in cloud-based platforms to simplify the process of image sharing, integration of AI to minimize errors, and maximize efficiency will help in the growth of the imaging CRO market.
Challenges
The massive installation costs of medical imaging systems which include procuring, housing, and maintaining equipment and high implementation barriers will impede the growth of the market. Furthermore, logistical and supply chain challenges may also hamper the growth of the global imaging CRO market.
Opportunities
The rising outsourcing trend in pharmaceutical companies along with automation in the imaging CRO process will create promising opportunities for the growth of the global imaging CRO market.
Geographic Overview
North America contributes the largest share in the imaging CRO market owing to the rising number of clinical trials which has increased the demand for imaging CROs so as to have reduced workload and is cost-effective. Furthermore, the end-users in the region are using developed imaging equipment and automation so to have efficient processing.
Competitive Insight
The industry players are adopting strategies like a novel product launch, M&A, partnerships, and collaborations to sustain their share and diversify the product portfolio.
Several multinationals are working with small-medium imaging CROs to grow their service offerings to customers all over the world. In order to improve the quality of outcomes from the manufacturing process in both research and clinical domains, the global imaging CRO market is likely to see more collaboration between CROs and pharmaceutical and biotechnology businesses. The overall revenue of the market is predicted to have strong incremental potential during the forecast period owing to a progressive move toward CROs for performing imaging trials.
Paraxel, as one of the world's top global clinical research organizations (CROs), has the clinical development capabilities and integrated consulting knowledge needed to simplify development at every stage – faster and more cost-effectively. Their therapeutic, technological, and functional competence is reinforced by a patient-first culture inherent in their DNA, from decentralized clinical trials to regulatory consulting services and exploiting real-world data.
WorldCare Clinical is a global imaging CRO that specializes in imaging in clinical studies and combines scientific experience, cutting-edge technology, and operational excellence to improve the precision and accuracy of blinded independent central assessment of Phase I–IV clinical trial data. WCC's collaboration with MGH and other Harvard Hospitals has grown to include Oncology, Neurology, Cardiology, Pathology, and Dermatology.
Recent Development by Key Players
In September 2021, the world's premier ophthalmology imaging core lab, Digital Angiography Reading Center (DARC), has been acquired by WorldCare Clinical (WCC), a worldwide imaging core lab situated in New York. Age-Related Macular Degeneration, Diabetic Retinopathy, Branch and Central Vein Occlusion, Choroidal Melanoma, Uveitis, PCV, and Retinitis Pigmentosa are just a few of the problems that DARC has studied.
In July 2021, ICON has completed the previously discussed acquisition of PRA Health Sciences, a contract research company, for a total price of roughly $12 billion. In February 2021, the firms agreed to merge, with ICON paying PRA shareholders $80 in cash per share and 0.4125 shares of its stock.
Key Players Covered in the Report
Some of the major players in the global imaging CRO industry are Parexel International Corporation, WORLDCARE CLINICAL, ICON plc, IXICO plc, The Micron Group, WuXi AppTec, Medpace, Labcorp Drug Development, Imaging Endpoints, and Radiant Sage LLC.
The Imaging CRO Market report offers a comprehensive market segmentation analysis along with an estimation for the forecast period 2023–2030.
Segments Covered in the Report
By Service

Imaging Acquisition and Protocol Development
Application Design
Image Collection and QC
Digital Image Conversion
Support and Maintenance

By Modality

Computed Tomography Scan
Magnetic Resonance Imaging
Diffusion Tensor Imaging
Functional MRI
Resting-State Functional Connectivity MRI
Volumetric MRI
Arterial Spin Labeling for Quantitative Perfusion Imaging
Positron Emission Tomography
Positron Emission Tomography with 18F Isotope
Other PET
Others

By Application 

Oncology Imaging CRO
Ophthalmology Imaging CRO
Neurology Imaging CRO
Cardiology Imaging CRO
Others

By End User

Pharmaceutical Companies
Biotechnology Companies
Medical Device Manufacturers
Contract Research Organizations
Academic and Government Research Institutes
Others
Region Covered in the Report
North America
Europe

Germany
U.K.
France
Italy
Spain
Russia
Rest of Europe

Asia-Pacific (APAC)

China
Japan
India
South Korea
Rest of Asia-Pacific

Rest of the World (RoW)

Brazil
Saudi Arabia
South Africa
U.A.E.
Other Countries

To explore more about this report - Request a free sample copy