Industry Overview
The global sleep tech devices market was valued at USD 12.8 billion in 2022 and is anticipated to reach USD 47.5 billion by 2030, growing at a CAGR of 17.9% during the forecast period 2023-2030. Products and gadgets meant to monitor and regulate a person's sleep are known as sleep tech devices. Advanced sensor technologies are built into these gadgets, which can track a person's activity, sleep pattern, heart rate, and even blood oxygen levels to assess sleep phases. The increased adoption of sleep tech devices at hospitals, sleep labs, and clinics is rapidly growing as there is a surge in the number of patients who are diagnosed with sleep disorders. Moreover, the rising cases of insomnia, narcolepsy, sleep apnea, parasomnias, and restless leg syndrome help led to increased use of sleep diagnosis, monitoring, and treatment devices at home, resulting in the growth of the sleep tech devices market. The sleep tech devices market refers to the industry that focuses on developing and selling technological devices and solutions to monitor, improve, and enhance sleep quality. These devices typically utilize sensors, algorithms, and other advanced technologies to track various aspects of sleep, such as duration, quality, patterns, and disruptions. They aim to provide insights into sleep habits, diagnose sleep disorders, and help individuals optimize their sleep for better overall health and well-being.The market for sleep tech devices has been rapidly growing in recent years as sleep-related issues and disorders, such as insomnia, sleep apnea, and restless leg syndrome, have become more prevalent. Additionally, there is a growing awareness among people about the importance of quality sleep for maintaining good physical and mental health.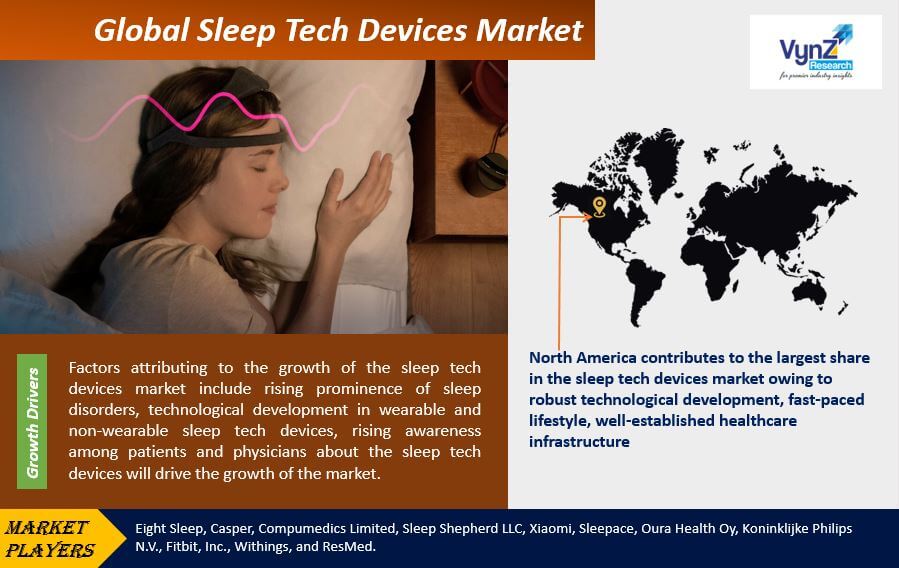 Although the COVID-19 pandemic had a detrimental effect on the sleep tech devices industry in the first two quarters of 2020, it has seen a recovery once the lockdowns were lifted. People have had many sleepless nights as a result of social and physical isolation, as well as financial stress, which has increased the use of tools that can diagnose, monitor, and assist in the management of sleep problems.
Market Segmentation
Insight by Product
Based on the product, the global sleep tech devices market is bifurcated into wearable devices and non-wearable devices. The wearable devices are further divided into smartwatches and bands and others. The non-wearable devices are further divided into sleep monitors, beds, and others. Wearable devices contribute to the largest share in the sleep tech devices market owing to the presence of embedded microsensors in the devices which track people's physiological behavior continuously. People who suffer from insomnia or sleep apnea are more likely to use wearable sleep-tracking equipment. These devices are simple to use, less expensive in comparison to non-wearable devices, and provide accurate information about sleeping patterns. This data can be used by healthcare professionals to analyze and recommend treatment to patients, resulting in increased business growth.
Insight by Gender
Based on gender, the global sleep tech devices market is segmented into males and females. The male segment is further divided into <18, 18-36, 37-55, >55. The female segment is further divided into <18, 18-36, 37-55, >55. The female segment will have significant growth as they have problems in sleeping and can develop a sleep disorder faster as compared to men. Hormonal changes during menstruation, pregnancy and menopause, stress, illness, changes in lifestyle, and sleep environment are some of the factors that may disrupt women's sleep. Thus, driving the growth of the sleep tech devices market among the female population.
Insight by Application
Based on application, the global sleep tech devices market is divided into insomnia, obstructive sleep apnea, environmental sleep disorders, and others. Insomnia is expected to grow at a high CAGR during the projection period. Anxiety & depression, stress, poor sleeping habits, and hectic travel or work schedules are all known causes of insomnia. The adoption of developed sleep tech devices will be advantageous to patients suffering from insomnia.
Environmental sleep disorders are anticipated to have a substantial growth owing to the increasing environmental noise caused by vehicles and other industrial activities, nocturnal environmental noises in metropolitan cities cause sleeping disorders, resulting in the growth of the global sleep tech devices market.
Insight by Distribution Channel
Based on distribution channels, the global sleep tech devices market is segmented into specialty clinics, direct-to-consumers, hospitals, and others. The hospital's segment is anticipated to have a high CAGR during the forecast period owing to the rising volumes of patients suffering from chronic diseases that might suffer the loss of sleep, insomnia during the course of treatment. Furthermore, Hospitals have specialists practitioners. With new sleep tech gadgets and monitoring, these specialists can assist patients in better managing their sleep issues.
Sleep Tech Devices Market Report Coverage
| | |
| --- | --- |
| Report Metric | Details |
| Historical Period | 2018–2022 |
| Base Year Considered | 2022 |
| Forecast Period | By 2030 |
| Market Size in 2022 | $12.8 Billion |
| Revenue Forecast in 2030 | $47.5 Billion |
| Growth Rate | CAGR 17.9% |
| Segments Covered in the Report | By Product, By Gender, By Application, and By Distribution Channel |
| Report Scope | Market Trends, Drivers, and Restraints; Revenue Estimation and Forecast; Segmentation Analysis; Impact of COVID-19; Companies' Strategic Developments; Market Share Analysis of Key Players; Company Profiling |
| Regions Covered in the Report | North America, Europe, Asia-Pacific, Middle East, and Rest of the World |
Industry Dynamics
Industry Trends
The home care settings will propel the fastest growth in the market as these devices when used at homes are portable and can measure biological parameters easily that lead to sleep syndromes. Due to the device's portable structure, which conveniently measures the biological characteristics responsible for sleep disorders, there has been a movement toward the use of home sleep test devices as sleep study tools. The continuous trend to develop wearable along with the rising elderly population that is prone to chronic diseases such as cardiovascular diseases, high blood pressure are the drivers prevalent in the sleep tech devices market.
Growth Drivers
Factors attributing to the growth of the sleep tech devices market include rising prominence of sleep disorders, technological development in wearable and non-wearable sleep tech devices, rising awareness among patients and physicians about the sleep tech devices will drive the growth of the market. Also, the rising elderly population, intake of unhealthy dietary supplements which has led to increased anxiety and depression among youth, and surging adoption of oral application will bolster the growth of the market. Consistent sleep is essential for overall health and has a number of advantages, including higher productivity, enhanced concentration, and a lower risk of cardiovascular disease. Many people nowadays have poor sleep quality, which can lead to a variety of health issues such as increased body weight, diabetes, heart diseases, etc. Companies are working on cutting-edge sleeping aid technologies in order to improve sleep quality and better manage sleep problems. The sleep tech devices market has attracted significant investment and innovation from both established companies and startups. Major players include consumer electronics manufacturers, healthcare companies, and technology companies. The market is expected to continue growing as sleep health becomes a more prominent concern, and people seek effective solutions to address their sleep-related problems.
Challenges
The high cost of sleep technology devices and strict regulatory requirements may stifle market growth to some extent.
Opportunities
The mounting number of technological development in emerging economies, the rising number of diagnostic procedures for sleep disorders, and the presence of cost-effective and portable devices for sleep disorders will propel lucrative opportunities in the sleep tech devices market during the forecast period.
Geographic Overview
North America contributes to the largest share in the sleep tech devices market owing to robust technological development, fast-paced lifestyle, well-established healthcare infrastructure, rising geriatric population, increased awareness of medical devices, and increased prevalence of obesity and sleep disorders, resulting in the growth of the sleep tech devices market in the region.
Competitive Insight
The major industry players are entering into collaborations with established entities and individuals in order to stay competitive in the market.  Also, the industry players are launching novel and innovative products, initiating approaches like targeted marketing, CSR programs, etc., emphasizing joint ventures, acquisitions, etc. to expand their customer base in the sleep tech devices market.
Casper believes that everyone should have a better night's sleep. The Sleep Company's award-winning R&D team at Casper Labs has created a whole portfolio of rigorously engineered sleep items, including mattresses, pillows, bedding, and furniture. Casper owns and operates Sleep Shops across North America in addition to its e-commerce company, and its products are sold at an increasing number of shops.
Eight Sleep is the world's first sleep fitness brand, with a mission to help people achieve their full potential by getting enough sleep. By leveraging scientific data to provide cutting-edge creative products that optimize sleep to improve customers' lives. Within the health and wellness business, Eight Sleep was the first to introduce sleep performance technology. Varied people have different needs when it comes to improving their sleep health, and SleepOS caters to these needs by providing the most relevant data, educational content, and tools that are tailored to each sleeping profile.
In June 2021, Eight Sleep has launched SleepOS, the world's first data-driven digital eco-system focused on sleep optimization, which includes two new features: Smart Temp Autopilot and Sleep and Health Insights. SleepOS serves as the brains of Eight Sleep, combining many data points to develop a unique AI model for each user based on personal sleep patterns, prior temperature preferences, environmental variables, and customer feedback. SleepOS changes the Pod's sleeping environment in real-time until it achieves ideal sleep. The launch of SleepOS is another step forward in the company's mission to transform a regular bed into a cutting-edge health platform.
In April 2021, Casper Sleep Inc. had announced the Casper Cooling CollectionTM, a new range of unique cooling items developed with the brand's most technologically advanced solutions to reduce nocturnal overheating. According to Casper Labs research, the temperature is the most critical factor in getting a good night's sleep, with 64% of those polled citing overheating or perspiration as their most prevalent temperature issue while sleeping. The Casper Cooling CollectionTM was created in-house using unique technology to address this widespread issue and offer practical solutions to help millions of people sleep cooler, more comfortably, and restfully.
Some of the major players in the sleep tech device market include Eight Sleep, Casper, Compumedics Limited, Sleep Shepherd LLC, Xiaomi, Sleepace, Oura Health Oy, Koninklijke Philips N.V., Fitbit, Inc., Withings, and ResMed.
The Sleep Tech Devices Market report offers a comprehensive market segmentation analysis along with an estimation for the forecast period 2023–2030.
Segments Covered in the Report
By Product

Wearable Devices

Smartwatches and Bands
Others

Non-Wearable Devices

Sleep Monitors
Beds
Others

By Gender
By Application 

Insomnia
Obstructive Sleep Apnea
Environmental Sleep Disorders
Others

By Distribution Channel 

Specialty Clinics
Direct-to-Consumers
Hospitals
Others
Region Covered in the Report
North America
Europe

Germany
U.K.
France
Italy
Spain
Russia
Rest of Europe

Asia-Pacific (APAC)

China
Japan
India
South Korea
Rest of Asia-Pacific

Rest of the World (RoW)

Brazil
Saudi Arabia
South Africa
U.A.E.
Other Countries

To explore more about this report - Request a free sample copy