Industry Overview
The Global Blockchain in Telecom Market is projected to reach USD 2.4 billion by 2030, registering a CAGR of 32.9% during the forecast period. Increasing security concerns among telecom companies, and increasing support for operation support system/business support system (OSS/BSS) processes, propelling the growth of the market.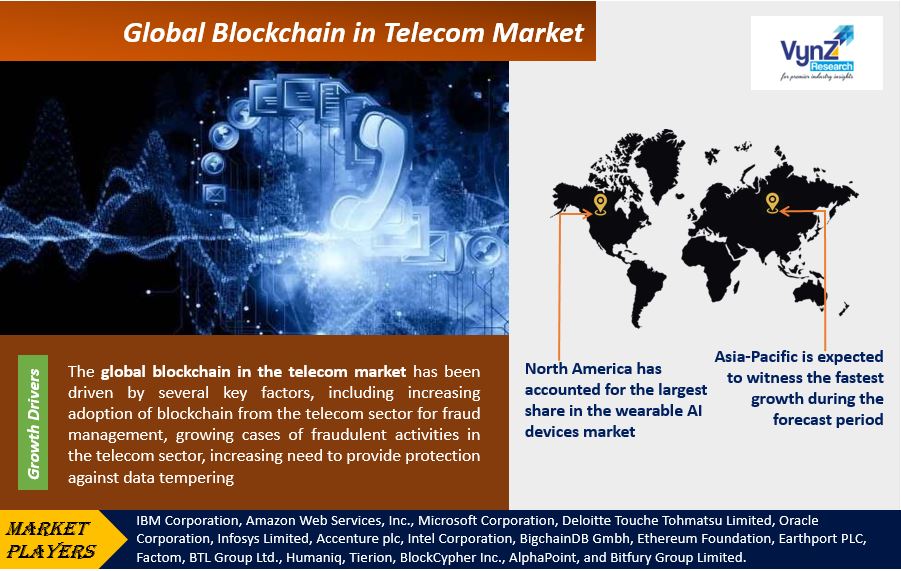 Market Segmentation
Insight by Provider
On the basis of provider, the global blockchain in the telecom market is categorized into middleware provider, application provider, and infrastructure provider, wherein the application provider category is expected to witness the fastest growth during the forecast period. The growth of this segment is attributed to the increasing adoption of technologically advanced blockchain solutions in retail companies.
Insight by Application
Based on application, the blockchain in the telecom market is segmented into operation support system/business support system (OSS/BSS) process, identity management, payments, smart contracts, connectivity provisioning, and others (roaming and digital asset management). Among all these segments, the connectivity provisioning category is expected to witness the fastest growth during the forecast period. It covers 5G enablement, IoT connectivity, and M2M connectivity. With the assistance of blockchain technology, administrators can provide device connection to multiple local hotspots and Wi-Fi based on permission.
Blockchain in Telecom Market Report Coverage
| | |
| --- | --- |
| Report Metric | Details |
| Historical Period | 2018–2022 |
| Base Year Considered | 2022 |
| Forecast Period | By 2030 |
| Market Size in 2022 | $xxxx.x Billion |
| Revenue Forecast in 2030 | $2.4 Billion |
| Growth Rate | CAGR 32.9% |
| Segments Covered in the Report | By Provider, and By Application |
| Report Scope | Market Trends, Drivers, and Restraints; Revenue Estimation and Forecast; Segmentation Analysis; Impact of COVID-19; Companies' Strategic Developments; Market Share Analysis of Key Players; Company Profiling |
| Regions Covered in the Report | North America, Europe, Asia-Pacific, Middle East, and Rest of the World |
Industry Dynamics
Trends
Extensive use of blockchain solutions in IoT space across the globe is the key trend observed in the blockchain in the telecom market, globally. Blockchain can enhance the security of telecom networks by providing decentralized and tamper-proof storage of call records, customer identities, and transaction details. It can help prevent fraud, identity theft, and unauthorized access to sensitive information.
Growth Drivers
The global blockchain in the telecom market has been driven by several key factors, including increasing adoption of blockchain from the telecom sector for fraud management, growing cases of fraudulent activities in the telecom sector, increasing need to provide protection against data tempering, and increasing support for operation support system/business support system (OSS/BSS) processes.
Smart Contracts and Billing: Smart contracts, powered by blockchain, can automate and streamline various processes in telecom, including billing and settlement. These self-executing contracts can eliminate intermediaries, reduce disputes, and ensure accurate and transparent billing for services.
Roaming and Identity Management: Blockchain can simplify the management of roaming services by providing a decentralized ledger to securely authenticate and authorize users across different networks. It can enable seamless and secure identity management, reducing administrative overhead and improving the user experience.
Internet of Things (IoT) Connectivity: With the proliferation of IoT devices, blockchain can play a crucial role in enabling secure and scalable connectivity. It can facilitate peer-to-peer device interactions, data sharing, and device identity management, ensuring the integrity and privacy of IoT communications.
Supply Chain Management: Blockchain technology can be leveraged in telecom supply chain management to improve transparency, traceability, and accountability. It can enable real-time tracking of devices, reduce counterfeit products, and streamline the procurement and distribution processes.
Data Monetization and Privacy: Blockchain can empower individuals to have greater control over their personal data and decide how it is shared and monetized. Users can securely share their data with telecom operators, advertisers, or other entities while maintaining privacy and receiving fair compensation.
Restraints
Lack of awareness regarding the blockchain technique is hindering the growth of the blockchain in the telecom market, globally.
Geography Insight
Geographically, North America has accounted for the largest share of blockchain in the telecom market, globally and is predicted to grow significantly during the forecast period. The growth of this market is attributed to the existence of a large number of players in blockchain technology in the region and also it is considered the most advanced region in terms of advanced technology adoption The wide presence of major industry players in blockchain technology solutions in this region is the key driving factor for the growth of the market. Moreover, Asia-Pacific is expected to witness the fastest growth during the forecast period due to the rise in venture capital funding, the growing number of startups venturing into this market space, and governments focusing on regulating blockchain technology.
Competitive Insight
Some of the key players operating in the global blockchain in telecom market are IBM Corporation, Amazon Web Services, Inc., Microsoft Corporation, Deloitte Touche Tohmatsu Limited, Oracle Corporation, Infosys Limited, Accenture plc, Intel Corporation, BigchainDB Gmbh, Ethereum Foundation, Earthport PLC, Factom, BTL Group Ltd., Humaniq, Tierion, BlockCypher Inc., AlphaPoint, and Bitfury Group Limited.
Forecast Parameters
- Identifying variables and establishing market impact.
- Establishing market trends regionally.
- Analyzing opportunities and market penetration rates by understanding product commercialization, and regional expansion.
- Analyzing demand and supply trends and changes in industry dynamics to establish future growth.
- Analyzing sustainability strategies adhered to by market participants in an attempt to determine the future course of the market.
- Analyzing historical market trends and super-imposing them on the current and future variables to determine the year-on-year trend.
- Understanding adoption, production, export, import, and regulatory framework.
Data Validation
- Estimated and forecasted data was validated through industry experts.
- Apart from industry experts, data triangulation methods were used for validation.
- Bottom-up and top-down approach has been used for the estimation and forecast of market data, whereas the top-down approach was used for validation.
- Demand, as well as supply-side surveys, were conducted in order to understand the industry dynamics and data validation.
Primary Research
VynZ Research conducts extensive primary research to understand the market dynamics, validate market data and have key opinions from industry experts. The key profiles approached within the industry include CEO, CFO, CTO, President, Vice President, Product Managers, Regional Heads, and Others. Also, end-user surveys comprising consumers are also conducted to understand consumer behaviour.
The Blockchain in Telecom Market report offers a comprehensive market segmentation analysis along with an estimation for the forecast period 2023–2030.
Segments Covered in the Report
By Provider

Middleware Provider
Application Provider
Infrastructure Provider

By Application

Operation Support System/Business Support System (OSS/BSS) Process
Identity Management
Payments
Smart Contracts
Connectivity Provisioning
Others

By Organization Size

Small and Medium Enterprises
Large Enterprises
Region Covered in the Report
North America
Europe

Germany
U.K.
France
Italy
Spain
Russia
Rest of Europe

Asia-Pacific (APAC)

China
Japan
India
South Korea
Rest of Asia-Pacific

Rest of the World (RoW)

Brazil
Saudi Arabia
South Africa
U.A.E.
Other Countries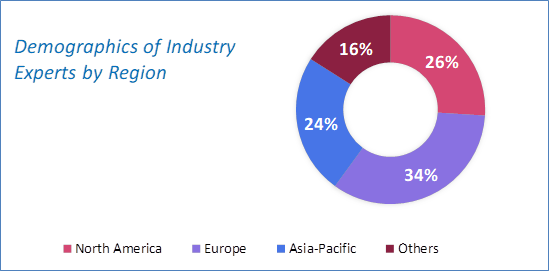 Source: VynZ Research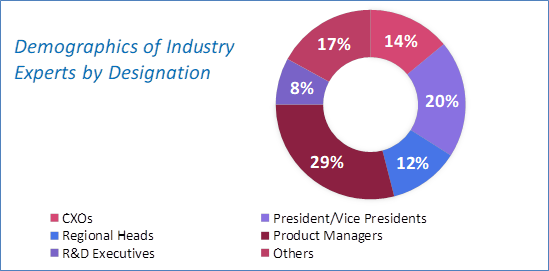 Source: VynZ Research