Industry Overview
The global facial recognition market size will grow from USD 5.2 billion in 2022 to USD 18.5 billion by 2030, registering a CAGR of 18.5% during the forecast period. Facial recognition is a type of biometric software that can uniquely identify, recognize, and authenticate an individual by comparing and analyzing patterns based on the subject's facial contours without making physical contact. Market expansion is being fueled by the growing use of facial recognition technology across numerous applications and has been a common trend in the digital era. Especially in airports, border officials are deploying technology to check the identity of the traveler. Law enforcement organizations also utilise face recognition software to search through CCTV footage and identify the desired individual. Smartphones are another use where the technology has seen significant uptake.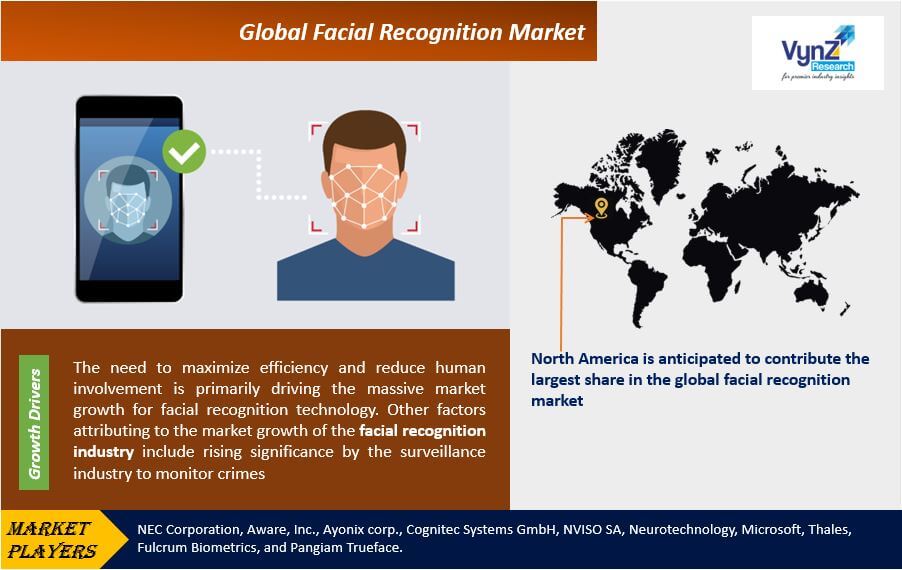 A smartphone's software can be used to verify payments, sign into mobile apps, and unlock the device. Thus, Facial tracking technologies in smartphones and financial institutions enable the delivery of a better user experience with the help of a digital identity verification system. Current market trends that affect the worldwide facial recognition market include the adoption of multi-sensor cameras, growing cybersecurity concerns, IoT video analytics & artificial intelligence, and cloud computing.
Market Segmentation
Insight by Component
Based on component, the global facial recognition market is segmented into Software Tools and Services. Software Tools include 2D Facial Recognition, 3D Facial Recognition, and Facial Analytics. Services include Training and Consulting and Support & Maintenance. Services segment is anticipated to have a high CAGR during the forecast period. Providers of facial recognition software offer services that assist in implementing the solution without necessitating the purchase.

The 3D facial recognition segment dominates the market owing to advent of developed technologies like cloud-based solutions and facial analytics. Due to facial analytics capabilities, users of facial recognition software may identify a face's appearance in a video or image as well as attributes of the face. Facial analytics offer highly effective and precise detection. As a result, it is increasingly being used in industries including education and research, retail, healthcare, and law enforcement to identify changed characteristics like gender, age, height, and other facial features. Furthermore, the 3D facial recognition systems' accuracy makes it possible to deploy them for public safety tasks like monitoring and border control. 3D recognition systems are preferred over 2D ones in places like airports that need a high level of security.
Insight by Application
Based on Application, the global Facial Recognition Market is segregated into Law Enforcement, Access Control, Emotional Recognition, Attendance Tracking and Monitoring, and Others. Law enforcement has contributed the highest share in the global facial recognition market. Law enforcement agencies have introduced facial recognition solutions to curtail the spread of coronavirus. Further, these systems are using thermal camera checks, which are being implemented by healthcare institutions all around the world. New use cases for facial recognition technology are also anticipated to be widely adopted, including biometric sign-in, public security, travel security, authorised healthcare services, eLearning platforms, and numerous other applications. Thus, there is a surge in market demand for facial recognition solutions post-COVID-19 crisis. 
Insight by Industry Vertical
Based on Industry Vertical, the global Facial Recognition market is segmented into Government and Transportation, Military and Defense, BFSI, Retail & E-Commerce, Hospitality, Healthcare, Education, Automotive, and Others. The government and defense sector contributes the largest market share owing to increased investment of facial recognition technologies in several activities like border control and criminal identification. Since facial recognition makes identification and verification easier, it is being widely used for immigration at airports as well as attendance tracking and monitoring. Businesses are using facial recognition technologies and services to streamline manual processing and save time as a result of the increased technology breakthroughs occurring across all industries. Instead of having a person on-site, some governments are depending on ubiquitous sensors and robust analytics algorithms. Several governments have incorporated these new monitoring technologies in applications for healthcare, public safety, and surveillance in the fight against COVID-19. Facial recognition has some significant applications in the surveillance and authentication of individuals to combat COVID-19. The governments of all the countries impacted by COVID-19 have set aside particular funds to combat the disease.
Facial Recognition Market Report Coverage
| | |
| --- | --- |
| Report Metric | Details |
| Historical Period | 2018–2022 |
| Base Year Considered | 2022 |
| Forecast Period | By 2030 |
| Market Size in 2022 | $5.2 Billion |
| Revenue Forecast in 2030 | $18.5 Billion |
| Growth Rate | CAGR 18.5% |
| Segments Covered in the Report | By Component, By Application and By Industry Vertical |
| Report Scope | Market Trends, Drivers, and Restraints; Revenue Estimation and Forecast; Segmentation Analysis; Impact of COVID-19; Companies' Strategic Developments; Market Share Analysis of Key Players; Company Profiling |
| Regions Covered in the Report | North America, Europe, Asia-Pacific, Middle East, and Rest of the World |
Industry Dynamics
Growth Drivers
The need to maximize efficiency and reduce human involvement is primarily driving the massive market growth for facial recognition technology. Other factors attributing to the market growth of the facial recognition industry include rising significance by the surveillance industry to monitor crimes, frauds, and terrorist activities, mounting investment in facial recognition technologies by the government and defense sector including homeland security, federal and regional law enforcement agencies, and other security departments, technological developments like the advancement of 3D algorithms, which help identify the emotions of a person and increased adoption in several industry verticals like BFSI, healthcare, retail, and education, thereby propelling the market development of facial recognition industry.
Since no physical contact is necessary, unlike with fingerprint or other security measures, facial recognition enables an automated, fast, and smooth verification experience. Additionally, it has nothing to do with keys or ID cards that might be stolen or misplaced. Other benefits of facial recognition include the ability to access wallets without taking out cash or credit cards owing to the verification offered by facial recognition.
Challenges
There is a lack of knowledge and awareness along with facial occlusion and face detection error that may pose a challenge in the market development of the facial recognition industry. The possibility of false matches may pose a challenge for the implementation of facial recognition technologies by the federal and police departments. Thus, lack of accuracy and huge implementation cost of facial recognition technology may impede the market development.
Opportunities
Increased Adoption of Cloud-Based Facial recognition system.
During the projected period, the development of drone and mobile security applications is anticipated to present lucrative prospects for the face recognition market size to increase.
Geographic Overview
North America
Europe
Asia Pacific (APAC)
Rest of the World (RoW)
North America is anticipated to contribute the largest share in the global facial recognition market owing to increased adoption of developed and connected technologies by the industry players, surge in infrastructural growth of the surveillance industry. Moreover, it is widely deployed in security and law enforcement applications so as to monitor employee screenings, border management, defense, healthcare, security, etc., and prosperous technologies, like smart infrastructures, smart city initiatives, the use of ePassports, and eVisa will drive the growth in the region.
Competitive Insight
The facial recognition market is extremely competitive on a global scale. Through the development of their product portfolios and mergers and acquisitions, vendors are attempting to grasp growth potential and bolster their position in the market. In order to improve consumer experiences, several financial institutions and retailers are working on implementing facial recognition technology. Moreover, in the facial recognition sector, strategic partnerships are a major trend. Companies are collaborating with facial recognition firms in order to enter new markets and make the most of one another's resources.

Ayonix Corporation is a Japan-based Global Face technology company. Face recognition products from Ayonix can be used in access control systems, surveillance systems, computer security, banking, entertainment, law enforcement applications, customer management systems, and a variety of other applications. There is an incremental demand for Face recognition during the COVID-19 outbreak, but all face recognition engines have not been sufficient for the customers. Ayonix identified this gap and created products to meet the needs of its customers. Ayonix is now primarily a computer vision software solution. It is an intelligent software that integrates with existing camera systems and then identifies mask faces with 99% accuracy. They have four key intellectual property (IP) assets: a 3D AI engine, embedded FR technology, an ultra-fast face detection algorithm, and Thermal& Night vision Face technology. Face detection algorithms detect human faces despite masks, ages, gender, ethnicity, and environmental factors such as light, face angle, noisy environments, night time, weather conditions, and so on.

Cognitec creates market-leading face recognition technologies for enterprise and government clients worldwide. Several independent evaluation tests have demonstrated FaceVACS® software's superior performance. Products in Cognitec's portfolio include facial image database search, recorded video investigation, real-time video screening and people analytics, border control, ICAO compliant photo capturing, and facial image quality assessment.
Recent Development by Key Players
In June 2022, the leading provider of Human Behavioural Analytics AI, nViso SA (NVISO), is happy to announce that a commercial pilot using its Human Behavioural Analytics AI software solution has begun to assist Siemens Healthineers in creating new intelligent applications. The collaboration will include real-time deep learning-based AI Apps for face identification, head pose recognition, facial recognition, and emotion recognition in an initial trial setting. These AI Apps are specially made for hardware with limited resources, necessitating low-power, low-memory footprints distributed at the periphery without a network connection.

In April 2022, With Cognitec Systems joining the SALTO Group, the face recognition firm will increase its market reach, research, and product development capabilities while collaborating with SALTO on cutting-edge solutions for growing biometric markets. In order to satisfy market demands for face recognition and artificial intelligence technologies to be added to the company's famous electronic access control and ticketing solutions, SALTO strategically chose Cognitec.
Key Players Covered in the Report
Some of the prominent players in the global facial recognition industry include NEC Corporation, Aware, Inc., Ayonix Corp., Cognitec Systems GmbH, NVISO SA, Neurotechnology, Microsoft, Thales, Fulcrum Biometrics, and Pangiam Trueface.
The Facial Recognition Market research includes a comprehensive market segmentation analysis as well as projections for the analysis period 2023-2030.
Segments Covered in the Report
By Component 
By Industry Vertical 

    Government and Transportation
    Military and Defense
    BFSI
    Retail & E-Commerce
    Hospitality
    Healthcare
    Education 
    Automotive
    Others

By Application

    Law Enforcement
    Access Control
    Emotional Recognition
    Attendance Tracking 
    Monitoring
    Others
Region Covered in the Report
North America
Europe

Germany
U.K.
France
Italy
Spain
Russia
Rest of Europe

Asia-Pacific (APAC)

China
Japan
India
South Korea
Rest of Asia-Pacific

Rest of the World (RoW)

Brazil
Saudi Arabia
South Africa
U.A.E.
Other Countries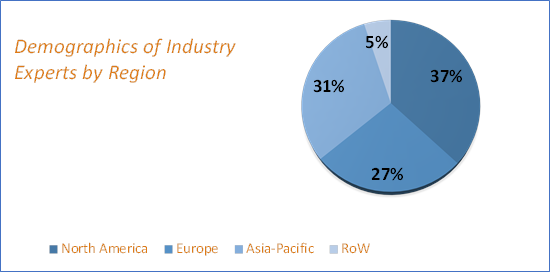 Source: VynZ Research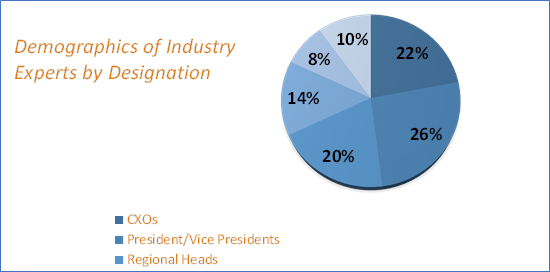 Source: VynZ Research