Industry Overview
The Europe's autonomous vehicles are anticipated to grow at a CAGR of 38.5% during the forecast period. A new trend in the transportation industry is automation. Autonomous vehicles are outfitted with systems that enable them to perceive their surroundings and formulate responses without human input. Thus, autonomous vehicles are not only a technology for the future; they are now on the streets with tests being carried out in cities such as Singapore, Pittsburgh, and Paris. Smart businesses and forward-thinking authorities are already embracing this trend and winning over consumers.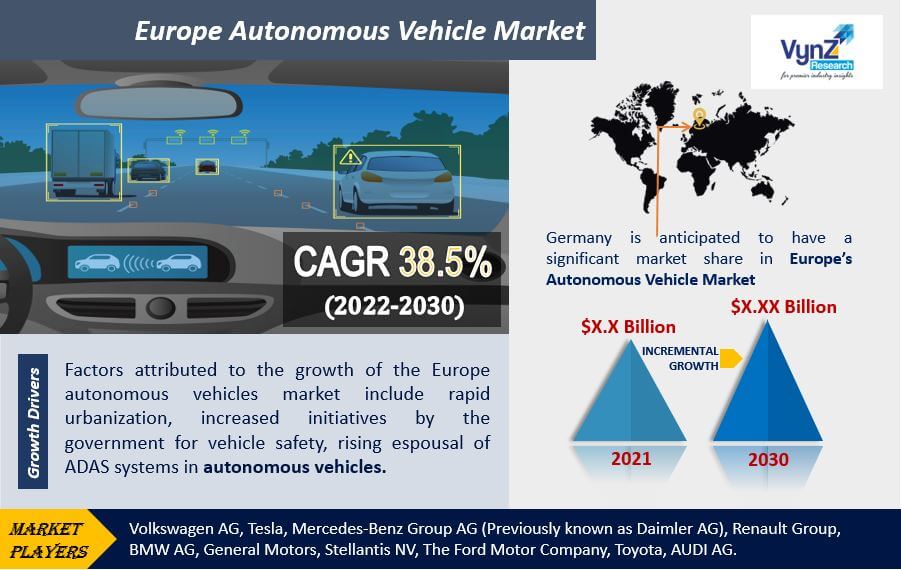 Market Segmentation
Insight by Vehicle Autonomy
Based on Vehicle Autonomy, Europe's Autonomous Vehicle Market is bifurcated into Semi-Autonomous Vehicle and Fully Autonomous Vehicle. Semi-Autonomous is subdivided into Level 1, Level 2, and Level 3. Fully Autonomous Car is subdivided into Level 4 and Level 5. The fully autonomous vehicle is anticipated to have the fastest growth during the forecast period. With its first completely self-driving bus, Europe is preparing to introduce autonomous vehicles into public transportation.  Driverless automobiles are now ready to transform mobility. As Europe fight against climate change, autonomous vehicles are becoming increasingly important in lowering carbon emissions and paving the path for a more sustainable future. Thus, autonomous vehicles will change the way people commute and travel long distances, remove individuals from dangerous jobs, and streamline businesses.  Many countries have created legal frameworks to govern autonomous buses and cars; for example, Europe will deploy its first completely driverless bus in October 2022.
Insight by Vehicle Type
Based on Vehicle Type, Europe's Autonomous Vehicle Market is segmented into Internal Combustion Engine (ICE), Hybrid Electric Vehicle (HEV), and Battery Electric Vehicle (BEV). The fastest growth is anticipated for BEVs during the projection period. This is so that fully autonomous technology may be implemented more quickly in BEVs than in conventional fuel-type vehicles. Several cameras, sensors, radars, and other devices are employed to make an autonomous vehicle. Compared to conventional fuel-based or hybrid electric vehicles, battery electric vehicles may create smoother connectivity between their electrical parts.
Insight by Application
Based on Application, Europe's Autonomous Vehicle Market is bifurcated into Personal and Commercial. The commercial category is anticipated to contribute the largest share in the Europe Autonomous Vehicle Market owing to the increased deployment of fully autonomous vehicles in shared services. Moreover, the increased use of robot taxis for ride-hailing purposes will accelerate market development.
Europe Autonomous Vehicle Market Report Coverage
| | |
| --- | --- |
| Report Metric | Details |
| Historical Period | 2018–2021 |
| Base Year Considered | 2022 |
| Forecast Period | 2022 - 2030 |
| Market Size in 2021 | $XX.XX Billion |
| Revenue Forecast in 2030 | $ XX.XX Billion |
| Growth Rate | CAGR 38.5% |
| Segments Covered in the Report | By Vehicle Autonomy, By Vehicle Type, and By Application |
| Report Scope | Market Trends, Drivers, and Restraints; Revenue Estimation and Forecast; Segmentation Analysis; Impact of COVID-19; Companies' Strategic Developments; Market Share Analysis of Key Players; Company Profiling |
| Regions Covered in the Report | Germany, the U.K., France, Italy, Spain, Russia, Poland, and Rest of Europe |
Industry Dynamics
Growth Drivers
Factors attributed to the growth of the Europe autonomous vehicles market include rapid urbanization, increased initiatives by the government for vehicle safety, rising espousal of ADAS systems in autonomous vehicles, the evolution of connected car technology, the need for an efficient and safe driving option, and mounting investment in digital infrastructure. The increased purchasing power among consumers, rapid urbanization, and technological development will accelerate the market development for Europe's autonomous vehicle market. The laws governing corporate/M&A transactions, product liability, intellectual property, and cybersecurity are extremely conducive to the advancement of autonomous vehicles.
The European Union (EU) has acknowledged the advantages that autonomous vehicles may offer and is taking the initiative to promote regional cooperation among all stakeholders, fostering an environment that is conducive to AV development. For instance, the EU recently approved a scheme that will allow driverless vehicles to travel between cities within 2 years. The advantages offered by autonomous vehicles include shorter transit times and lower fuel costs.
Furthermore, the Vienna Convention on Road Traffic has been signed by most of European countries so as to establish uniform traffic regulations across borders. Also, a favorable environment for AV testing is created by the constant design of the intercity routes. The Convention was revised in 2016 to specifically permit autonomous technologies on European highways, which helped Europe become even more attractive for AV development.
Additionally, autonomous vehicles contribute to fewer accidents and fewer crashes on the roads, which increases market demand for self-driving cars in the region.
Challenges
The additional costs related to connectivity solution charges, telecommunications services, hardware systems, and high purchase prices, could severely hinder the market's expansion of the Europe autonomous vehicles market. Moreover, vulnerability to hacks, cyber-attacks, and people's apprehensions towards autonomous vehicles may stymie market expansion.
Opportunities
The landscape of the automobile business is steadily changing, thereby fueling technological advancement. The safe and sustainable commercialization of automated and autonomous vehicles is a major responsibility of legislators. Nevertheless, this is an opportunity as well. Previously, regulators have only regulated the vehicle, they must now construct a legal framework for the driver in the form of an automated driving system (ADS).
Additionally, autonomous vehicles will offer robotic assistance for delivery purposes and act as a means for public mobility service, thereby creating significant market opportunities for the market development of Europe's Autonomous Vehicle Market.
Geographic Overview
Germany is anticipated to have a significant market share in Europe's Autonomous Vehicle Market as it is one of the first countries that has legalized AVs on its roads. In recent times, the Netherlands has gone a step further and now permits the testing of AVs without the actual presence of human drivers. Moreover, the Netherlands is regarded as the nation that is best prepared for the widespread introduction of autonomous vehicles. Further, Sweden has just started an extensive test program for self-driving minibuses as part of its plans for the future of its public transportation system.
Thus, Europe is developing a safer and more effective road network by developing a national AV integration strategy with the cooperation of all these nations.
Competitive Insight
The market dynamics for autonomous vehicles (AV) in Europe are best demonstrated by the market participants who are outpacing new technology developments in terms of price and their demanding product portfolio. Additionally, the government's policies are luring major companies to establish their new businesses in accordance with its directives, which would have a significant effect on the market.
One of the most prosperous vehicle manufacturers in the world is Mercedes-Benz Group AG (formerly Daimler AG). the re global supplier of premium and luxurious vehicles and vans. Financing, leasing, automobile subscriptions and rentals, fleet management, digital charging and payment services, insurance brokerage, and cutting-edge mobility services are all provided by Mercedes-Benz Mobility AG. The function of the automobile is being redefined by autonomous driving. In addition to improving safety and comfort, it will also give consumers more free time because they won't need to drive as much. Mercedes-Benz's key priorities in conditionally autonomous driving (SAE Level 3) are safety and reliability. Therefore, DRIVE PILOT is built on a system architecture that permits safe control in all circumstances.
One of the most active manufacturers of autonomous vehicles is Renault. The EZ-GO for daily carsharing, the EZ-ULTIMO - a more elegant, luxurious carsharing option - and the EZ-PRO, an autonomous delivery vehicle designed for last mile logistics, are just a few examples of the brand's highly advanced concept cars that imagine a future in which shared autonomous vehicles have become the norm. Renault has also tested autonomous on-demand car services in Rouen and on the Paris-Saclay urban campus in real driving situations in France.
Recent Development by Key Players
In November 2022, Renault Group has chosen KPIT Technologies as a strategic software scaling partner for next-generation SDV programs. KPIT Technologies is one of the major software integration partners for the automotive and mobility industries. For the purpose of creating an SDV platform, Renault Group is making huge investments and forming strategic alliances. By providing end users with an unrivaled experience and enabling monetization over the course of vehicle ownership, this platform will propel Renault Group's global growth. Renault customers will be thrilled by the electrification, autonomous driving, and connected car experiences made possible by the KPIT software.
In July 2022, The BMW Group provides a first look at a development site in Sokolov. An important step has been taken in the building of the BMW Group's first development site in Central Europe with the early deployment of two test areas. At the brand-new BMW Group Future Mobility Centre in Sokolov, the Group is introducing the first two track sections for testing autonomous vehicles and assistance systems to visitors from politicians and the media. The BMW Group will continue to promote cutting-edge technologies like electrification, digitalization, and automatic driving at the new test centre.
Key Players Covered in the Report
Some of the prominent players in Europe's Autonomous Vehicle Market include Volkswagen AG, Tesla, Mercedes-Benz Group AG (Previously known as Daimler AG), Renault Group, BMW AG, General Motors, Stellantis NV, The Ford Motor Company, Toyota, AUDI AG.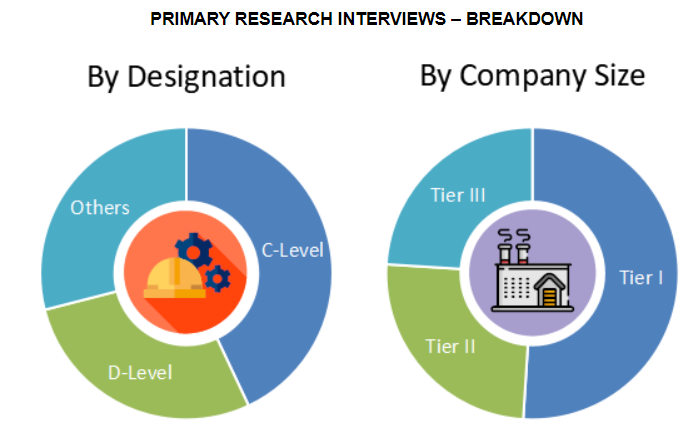 To explore more about this report - Request a free sample copy