Industry Overview
The European electric bus market is projected to reach 12,866 units by 2030, registering a CAGR of 33.9% during the forecast period. Government support for electric vehicles, the increasing need to reduce greenhouse gas emissions, and advancement in technology, propelling the growth of the market.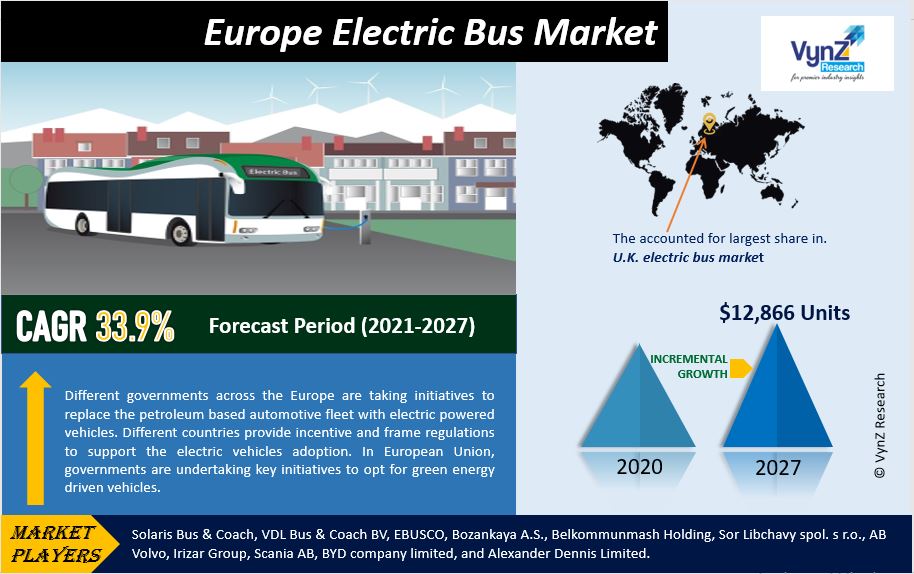 Market Segmentation
Insight by Vehicle Type
On the basis of vehicle type, the European electric bus market is categorized into battery electric bus (BEB), hybrid electric bus (HEB), and plug-in hybrid electric bus (PHEB), wherein BEB category accounted for the largest share in 2020. The category is expected to lead throughout the forecast period, owing to the low or zero emission of greenhouse gases, declining battery prices, and improving battery efficiency. The demand for hybrid electric buses is declining as the demand has majorly shifted towards battery electric buses.
Insight by Battery
On the basis of batteries, the European electric bus market is divided into lithium iron phosphate batteries (LFP), lithium nickel manganese cobalt oxide (NMC), and others. Among these categories, the LFP category accounted for the largest share in 2020. This is primarily due to the increasing traction for the lithium nickel manganese cobalt oxide batteries. The NMC batteries are anticipated to observe an increase of almost 5 times in its share by 2024 when compared to its share in 2018 in the European electric bus market.
Industry Dynamics
Growth Drivers
European electric bus market has been driven by several key factors, predominantly government support for electric vehicles, and the increasing need to reduce greenhouse gas emissions.
Different governments across Europe are taking initiatives to replace the petroleum-based automotive fleet with electric-powered vehicles. Different countries provide incentives and frame regulations to support electric vehicle adoption. In European Union, governments are undertaking key initiatives to opt for green energy-driven vehicles. The policies related to electric buses in EU are mainly focused on technological optimization and market development.
For instance, the European Commission supported a Europe-wide electromobility initiative, Green eMotion, worth €41.8 million (USD 46.9 million), in partnership with forty-two partners from industry, utilities, electric vehicle manufacturers, municipalities, universities, and technology and research institutions. The project developed prototypes to connect the islands of electromobility existing at the time of the project start. An overarching ICT architecture was defined and standards, especially for ICT interfaces, were set. New business models for public charging infrastructure were analyzed and ways shown for its optimized integration into the grid.
Challenges
Key factors hindering the growth of the European electric bus market are the high price of electric buses and the growing popularity of natural gas-fueled buses.
Geographic Overview
Geographically, the U.K. electric bus market accounted for the largest share. This is attributed to the increasing adoption rate of electric vehicles, government support schemes for the adoption of electric vehicles, and for developing of infrastructure related to electric vehicles including charging stations.
Competitive Insight
Some of the key players operating in the European electric bus market are Solaris Bus & Coach, VDL Bus & Coach BV, EBUSCO, Bozankaya A.S., Belkommunmash Holding, and Sor Libchavy spoil. s r.o., AB Volvo, Irizar Group, Scania AB, BYD company limited, and Alexander Dennis Limited.
Forecast Parameters
- Identifying variables and establishing market impact.
- Establishing market trends regionally.
- Analyzing opportunities and market penetration rates by understanding product commercialization, regional expansion.
- Analyzing demand and supply trends and changes in industry dynamics to establish future growth.
- Analyzing sustainability strategies adhered to by market participants in an attempt to determine the future course of the market.
- Analyzing historical market trends and super-imposing them on the current and future variables to determine the year-on-year trends.
- Understanding adoption, production, export, import, and regulatory framework.
Data Validation
- Estimated and forecasted data was validated through industry experts.
- Apart from industry experts, data triangulation methods were used for validation.
- The bottom-up and top-down approach has been used for the estimation and forecast of market data, whereas the top-down approach was used for validation.
- Demand, as well as supply-side surveys, were conducted in order to understand the industry dynamics and data validation.
Primary Research
VynZ Research conducts extensive primary research to understand the market dynamics, validate market data and have key opinions from industry experts. The key profiles approached within the industry include CEO, CFO, CTO, President, Vice President, Product Managers, Regional Heads, and Others. Also, end-user surveys comprising consumers are also conducted to understand consumer behavior.