Industry Overview
The global semi-trailer market is expected to rise at a CAGR of 6.0 percent from USD 30.5 billion in 2020 to USD 54.5 billion in 2027. Because of the strong inland accessibility in many regions and the cost advantages, it provides over other modes of transportation, road transportation is a commonly used form of goods transportation. Growing manufacturing activities, urbanisation, the need for efficient transportation, and the expansion of rural area road networks are all driving the semi-trailer industry forward.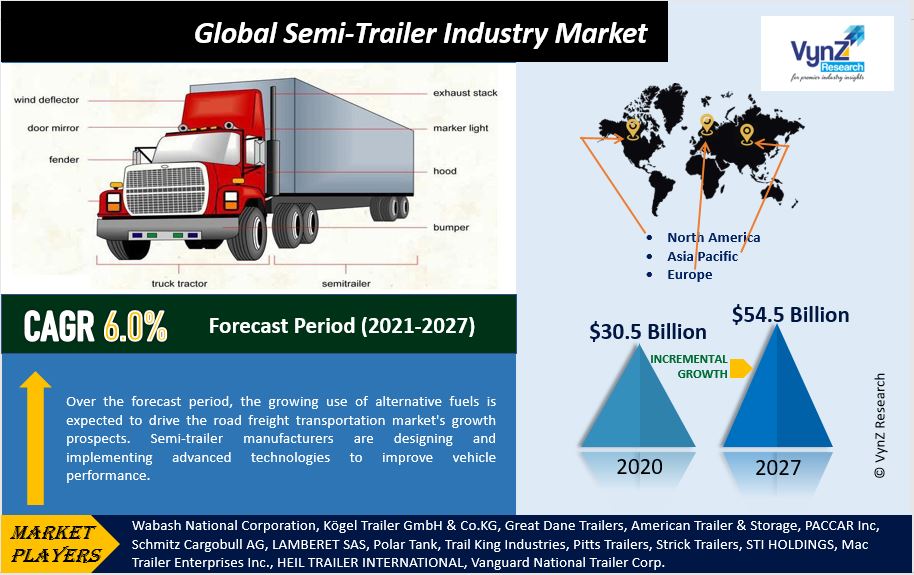 Market Segmentation
By Type
•    Flatbed
•    Lowboy
•    Dry Van
•    Refrigerated
•    Tankers
•    Others
Dry van semi-trailers are mostly used in the logistics of products that need only minimal protection from weather and road conditions. Because of their flexibility and cost-effectiveness, LTL and FTL fleet operators use these trailers for their operations. Following its diverse applications in a variety of industries, the dry van segment is expected to account for the largest share of the semi-trailer industry.
By Number of Axles
•    <3 axles
•    3-4 axles
•    4 axles
In terms of growth rate, the segment with fewer than three axles is expected to dominate. These trailers are widely used in Europe and the Asia Pacific, and they are favoured over other semi-trailers. The maximum load that can be legally transported on a semi-trailer is determined by the axle count of the semi-trailer. As a result, it can be inferred that government weight-limit regulations are driving the less-than-3-axle market.
By Region
•    North America
•    Asia Pacific
•    Europe
•    RoW
The global semi-trailer market is projected to be dominated by North America. This is due to factors such as improved road infrastructure, a growing supply chain industry, and government regulations governing semi-trailer weight carrying capacity and dimensions.
Market Trends
Construction, retail, automobile, and food & beverage industries are all increasing their demand for bulk material transportation, which is driving up demand for semi-trailers. Semi-trailer manufacturers are attempting to minimise weight in semi-trailers based on existing trends and expected future needs. Leading industry players may take advantage of this to maintain their dominance in the semi-trailer market.
Furthermore, the future growth of the semi-trailer industry is expected to be aided by expanding manufacturing activities in both developing and developed regions. The semi-trailer industry is expected to be restrained by pressure on manufacturers to sustain competitive pricing, as well as a lack of proper infrastructure in emerging regions.
Market Drivers
Over the forecast period, the growing use of alternative fuels is expected to drive the road freight transportation market's growth prospects. Semi-trailer manufacturers are designing and implementing advanced technologies to improve vehicle performance. For example, Ekeri, a Finnish company, built a semi-trailer with a side opening design that is expected to save 30 minutes on each regular run. Similarly, Kässbohrer, a German company, recently introduced 18 new semi-trailer models across four product groups in response to evolving market trends and to meet the exact needs of customers.
Market Opportunities
Semi-trailers are being renovated and transformed by technologies such as telematics, electrification, digitalization, and autonomous driving. New opportunities, such as advanced trailer telematics and AI-based optimization, will emerge as emerging technologies advance, reducing congestion, usage, and costs. For example, in 2016, approximately 20% of semi-trailers in the United States were equipped with telematics, which allows for the collection of data on the temperature and fuel management of the semi-trailer.
Challenges
The empty weight of a vehicle contributes significantly to fuel consumption and CO2 emissions in road haulage. Reduced weight, interchangeable bodies, and cost competitiveness are now the top consumer demands for modern urban articulated trailers. OEMs and fleet operators face a challenge in lowering the total weight of the trailer with strong materials in order to save money and reduce emissions.
COVID-19 Impact on the Semi-Trailer Market
COVID-19 has resulted in lockdowns, which has resulted in a reduction in industrial production. As a result, demand for semi-trailers has been poor. Semi-trailer production and sales also decreased as the global supply chain ecosystem was disrupted. For example, Schmitz, a well-known European semi-trailer manufacturer, saw 28 percent drop-in units produced in 2019-2020. The company's overall production rate was impacted by the reduced hours of production, resulting in losses in that quarter.
Key Players
Some of the key players in the semi-trailer market
•    Wabash National Corporation 
•    Kögel Trailer GmbH & Co.KG 
•    Great Dane Trailers 
•    American Trailer & Storage 
•    PACCAR Inc
•    China International Marine Containers (Group) Co. Ltd. 
•    Utility Trailer Manufacturing Company 
•    Schmitz Cargobull AG 
•    Great Dane Limited Partnership 
•    Fahrzeugwerk Bernard Krone 
•    KRONE GMBH & CO. KG
•    HYUNDAI TRANSLEAD
•    LAMBERET SAS
•    Wilhelm Schwarzmüller GmbH
•    Doepker Industries Limited
•    Fontaine Commercial Trailer
•    Polar Tank
•    Trail King Industries
•    Pitts Trailers
•    East Manufacturing Corporation
•    Mac Trailer Enterprises Inc.
•    Strick Trailers
•    STI HOLDINGS
•    HEIL TRAILER INTERNATIONAL
•    Vanguard National Trailer Corp.
Recent Developments
•    Guangzhou Baiyun Jiangji Carriage Factory and Shenzhen CIMC Special Vehicle Co. Ltd signed a deal in April 2020. Shenzhen CIMC will supply Jianji Carriage with 15 chassis frames under the terms of the agreement. Jianji Carriage will be provided with the "Voyage Series," which features a modular design with high power.
•    Wabash National, eNow, and Carrier Transicold all-electric refrigeration technologies signed a collaboration in July 2020 to provide thermally efficient, environmentally friendly refrigerated hauling. Because of the significant improvement in thermal efficiencies, the customer will reduce the number of batteries required to haul cargo while still increasing the battery setup's run time.
•    Schmitz Cargobull and Krone announced a partnership in October 2020 to develop telematics for trailers. Regardless of the telematics hardware installed or the telematics portal used, this partnership would result in simple and easy solutions for accessing the data provided for all vehicles through individual access with just one click.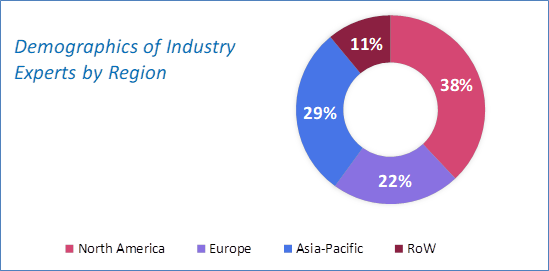 Source: VynZ Research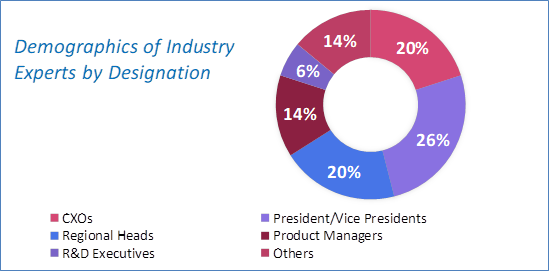 Source: VynZ Research