Industry Overview
The global battery storage power station market share is anticipated to grow at a 29.5% CAGR during the forecast period. It will reach USD 20.1 billion by 2030 from USD 4.1 billion in 2022. The battery-based energy storage systems market is expanding because of the rising demand for renewable energy sources, replacement of diesel generators with highly efficient batteries, and increased use of distributed power storage devices. Moreover, the market for battery energy storage devices is being driven by reasons such as rising grid-connected solutions, strong demand for lithium-ion technology in the renewable energy sector, and falling lithium-ion battery prices. Furthermore, manufacturers of battery energy storage systems and telecommunications companies are collaborating to provide reliable power delivery.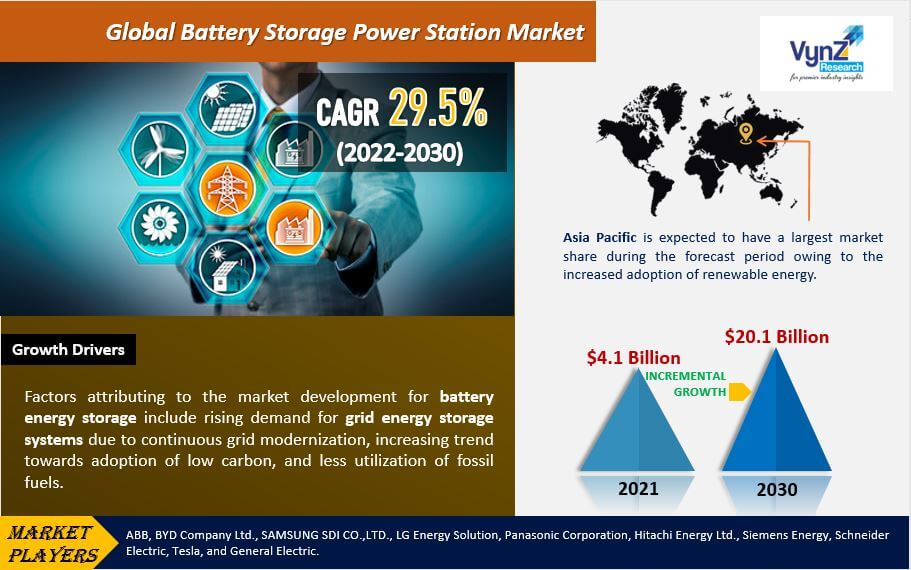 Market Segmentation
Insight by Element
Based on Element, the battery storage power station market is divided into Batteries and Others. The battery segment dominates the industry as it is the main element of the battery energy storage system and represents the majority of the system's overall cost. The battery in solar energy storage systems helps to manage renewable energy sources and boosts power density. Furthermore, batteries may be employed as stabilizers because of the energy swings, which have increased the use of batteries in energy storage systems.
Insight by Ownership
Based on Ownership, the battery storage power station market is divided into Customer-Owned, Third Party Owned, and Utility-Owned. The customer-owned segment is predicted to have a high CAGR during the forecast period as it decreases the electricity cost and also electricity is priced according to a time-of-use (TOU) tariff.
Insight by Capacity
Based on Capacity, the battery storage power station market is segmented into small scale i.e., less than 1 MW and Large Scale i.e., more than 1 MW. The large-scale segment dominates the market due to the substantial adoption of developed technologies which will simulate the market demand as per the mandatory regulatory policies regarding the operational capabilities of grid networks.
Insight by Battery Type
Based on Battery Type, the battery storage power station market is segmented into Lithium-Ion Batteries, Advanced Lead-Acid Batteries, Flow Batteries, and Others. Lithium-ion batteries contribute the largest share in the market as they offer features like highly reliable, high charge and discharge efficiency, low maintenance cost, and high energy and power density in terms of volume. Additionally, these batteries weigh less than batteries made of nickel-cadmium and nickel metal hydride, thereby driving the market growth of the lithium-ion batteries segment in the battery energy storage industry.
Insight by Connectivity Type
Based on Connectivity Type, the battery storage power station market is bifurcated into On-Grid and Off-Grid. The on-grid segment contributes the largest share of the battery energy storage market. The main uses of any on-grid connected battery energy storage system installed with electrical grids are load leveling, peak shaving, and power demand management. Nevertheless, the on-grid connection supplies electricity to consumers and helps in reducing energy bills. These considerations have contributed to the expansion of the market for on-grid battery energy storage systems.
Insight by Application
Based on the Application, the market for battery storage power stations is segregated into Residential, Commercial, and Utility. The utility category dominates the global battery storage power station market as it controls voltage and frequency deviations when installed with electric grids, thereby helping reduce equipment damage and power outages.
Battery Storage Power Station Market Report Coverage
| | |
| --- | --- |
| Report Metric | Details |
| Historical Period | 2018–2022 |
| Base Year Considered | 2022 |
| Forecast Period | 2023 - 2030 |
| Market Size in 2021 | $4.1 Billion |
| Revenue Forecast in 2030 | $ 20.1 Billion |
| Growth Rate | CAGR 29.5% |
| Segments Covered in the Report | By Element, By Ownership, By Capacity, By Battery Type, By Connectivity Type, By Application. |
| Report Scope | Market Trends, Drivers, and Restraints; Revenue Estimation and Forecast; Segmentation Analysis; Impact of COVID-19; Companies' Strategic Developments; Market Share Analysis of Key Players; Company Profiling |
| Regions Covered in the Report | North America, Europe, Asia-Pacific, Middle East, and Rest of the World |
Industry Dynamics
Growth Drivers
Factors attributing to the market development for battery energy storage include rising demand for grid energy storage systems due to continuous grid modernization, increasing trend towards adoption of low carbon, and less utilization of fossil fuels.  Moreover, the growing prominence of lithium-ion batteries in the renewable energy sector, expansion of infrastructure projects, and growth in the transportation sector will propel industry players to drive the market share for battery energy storage. The most popular renewable energy sources that are stored in grids are solar and wind energy. There is a need for grid systems to maintain power and these systems are growing as a result of various variables, including weather changes and wind fluctuations.
When there is a power outage, the grid can utilize the electricity that was generated in excess by storing it in a power storage system. These technologies are quickly turning into a crucial element of grid modernization. Increased electricity generation, transmission, and flexibility are all benefits of implementing these storage systems. The adoption of these systems is made easier by all of the aforementioned considerations, which stimulates market expansion of the battery energy storage industry.
Challenges
The increased capital expenditure to install battery energy storage systems, the complex process to install battery energy storage systems in remote areas or islands, aging and overheating of lithium-ion batteries will hamper the market growth. 
Opportunities
Industry participants have a plethora of potential in the global battery energy storage system market as a result of the following factors:
Increased projects towards rural electrification
Increased penetration of continuous power supply owing to the rising number of data centers
Reduced prices of lithium-ion batteries
Development of molten salt battery technology
Geographic Overview
Asia Pacific is expected to have the largest market share during the forecast period owing to the increased adoption of renewable energy, robust development of the energy sector, and supportive government policies. Investments in portable energy storage will increase significantly in APAC as developing economies implement new rules to increase the quality and reliability of power distribution to residential users. Further, many countries in the APAC region are planning for electrification in remote areas, majorly off-grid areas, thereby fuelling the market expansion of the battery storage power station industry. 
Competitive Insight
The key players are engaging in organic and inorganic growth strategies to strengthen their position in the market through product diversification. Both established and new players are likely to invest more money in collaborations, product launches, technological developments, and mergers and acquisitions. To gain a competitive advantage, key companies could invest more money in research and development.
BYD is dedicated to offering effective and clean new energy solutions and specializes in the research and development, manufacturing, sales, and service of battery storage. BYD wants to advance the transformation of the world to renewable energy by using cutting-edge lithium battery technology. Residential and C&I energy storage areas frequently use BYD energy storage solutions. Any application can use the battery storage line that BYD has created. The commercial battery is appropriate for large deployments, but the modular LV and HV systems match any residential application.
Recent Development by Key Players
In May 2022, ABB and Ecotricity unveiled a new 10 MW grid-scale battery project. An unprecedented partnership between one of the UK's greenest energy providers and the world's leading technology inventor ABB Electrification will assist the National Grid to reach Net Zero by 2050.
To keep up with its quickly expanding NEV sales, BYD aims to construct a power battery and energy storage system manufacturing facility in Nanning, the capital of the Guangxi Zhuang Autonomous Region in Southern China, in April 2022.
Key Players Covered in the Report
Hitachi Energy provides battery energy storage solutions to help improve electrical network performance. These solutions, with their modular design and simple interface, are suitable for a wide range of applications, from commercial and industrial networks to renewable energy integration and grid services. Their offering includes PQstorl, Battery Energy Storage System PQplusTM, and Battery Energy Storage System e-mesh TM PowerStoreTM.
Some of the prominent industry players operating in the battery storage power station market include ABB, BYD Company Ltd., SAMSUNG SDI CO., LTD., LG Energy Solution, Panasonic Corporation, Hitachi Energy Ltd., Siemens Energy, Schneider Electric, Tesla, and General Electric.
The Global  Battery Storage Power Station market report offers a comprehensive market segmentation analysis along with an estimation for the forecast period 2023–2030.
Segments Covered in the Report
By Element
By Ownership

Customer-Owned
Third Party Owned
Utility-Owned

By Capacity

Small Scale i.e.
Less Than 1 MW
Large Scale i.e.
More Than 1 MW

By Battery Type

Lithium-Ion Batteries
Advanced Lead-Acid Batteries
Flow Batterie
Others

By Connectivity Type  
By Application

Residential
Commercial
Utility.

North America
Europe

Germany
U.K.
France
Italy
Spain
Russia
Rest of Europe

Asia-Pacific (APAC)

China
Japan
India
South Korea
Rest of Asia-Pacific

Rest of the World (RoW)

Brazil
Saudi Arabia
South Africa
U.A.E.
Other Countries

Source: VynZ Research