Industry Overview
A water electrolyzer is a device that separates water (H2O) into its component parts, hydrogen (H2) and oxygen (O2), using electrical energy. It is composed of two electrodes, usually made of conductive materials like graphite or platinum, that are submerged in water. A chemical reaction is started when an electric current flows between the electrodes. Water molecules lose electrons at the cathode, creating hydrogen ions (H+). Water molecules receive electrons at the anode, where they combine to generate oxygen and release electrons. Hydrogen and oxygen gases are produced by this process, which is called electrolysis. These gases can be collected and used as clean, renewable energy sources.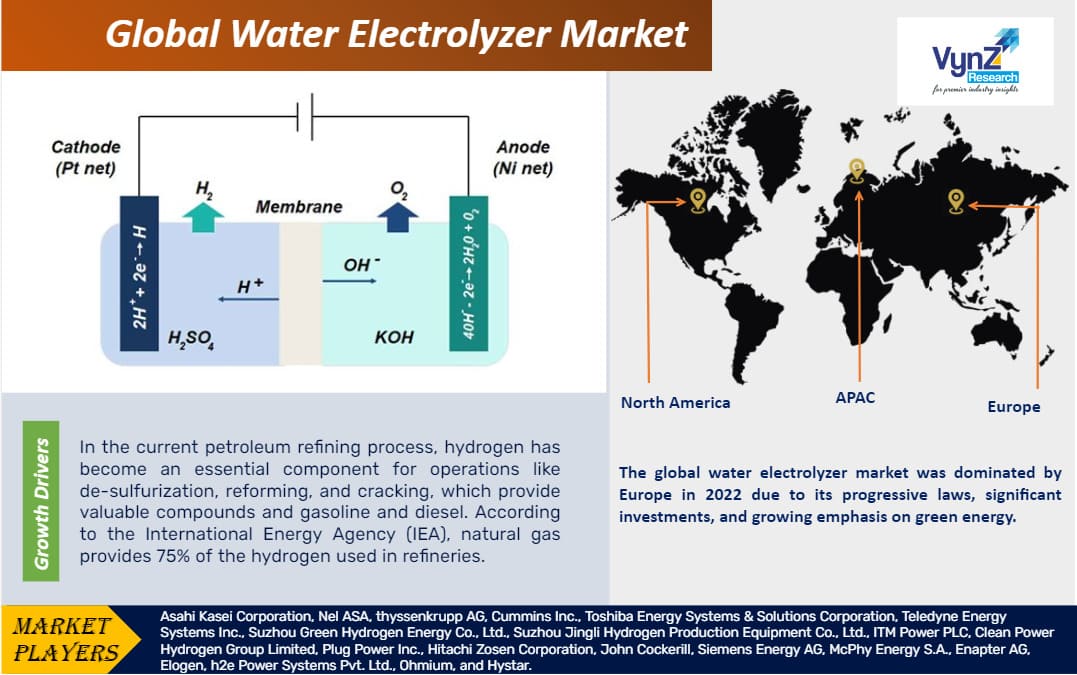 Global water electrolyzer market was worth USD 0.50 billion in 2022 and is expected reach USD 23.5 billion by 2030 with a CAGR of 72.84% during the forecast period, i.e., 2023-2030. The growing demand for water electrolyzer is driven by the increasing demand for green hydrogen, government incentives for clean energy, advancements in electrolyzer technology, and rising awareness of decarbonization efforts in industries like transportation and energy production.
Geographically, the market is expanding rapidly in North America, Europe, and the Asia Pacific, as a result of the presence of large companies, huge investment in the R&D, and high awareness among end-users; however, the market confronts constraints such as high upfront costs, limited infrastructure for hydrogen storage and transportation, intermittent renewable energy supply, and the need for further technological advancements to improve efficiency and reduce environmental impact. Overall, the water electrolyzer market offers potential prospects for market participants to develop and fulfill the growing needs of wide range of industries including packaging, food and beverages, healthcare/pharmaceutical, and other industries.
Market Segmentation
Insight by Electrolyzer Type
Based on the water electrolyzer type, the global water electrolyzer market is segmented into alkaline electrolysis, proton exchange membrane (PEM) electrolysis, solid oxide electrolysis, and anion exchange membrane electrolysis. Alkaline electrolyzer type dominated the market in 2022 because of their established technology, affordability, and ability to produce hydrogen efficiently. Alkaline electrolyzers use an easily obtained, reasonably priced alkaline electrolyte solution, usually potassium hydroxide. The Hydrogenics plant in Ontario, Canada, and the Fukushima Hydrogen Energy Research Field in Japan are two well-known instances of alkaline electrolyzer facilities. These installations serve as evidence of the scalability and dependability of alkaline electrolyzers for large-scale hydrogen production, which has led to their popularity in the water electrolyzer industry and made them preferred options in sectors including energy storage, transportation, and renewable energy integration.
Insight by End-use Application
Based on end-use application, the global water electrolyzer market is segmented into transportation/mobility industry, refining industry, power and energy storage, ammonia production, methanol production, and other end-use industry. Ammonia production dominated the global water electrolyzer market in 2022 owing to ammonia's crucial part in the developing green energy industry and in fertilizer industry. An essential step in the production of green ammonia, a powerful carbon-free fuel and feedstock, is the electrolysis of hydrogen. For example, Yara's green ammonia project in Norway uses water electrolyzers driven by renewable energy to manufacture ammonia with the goal of lowering emissions from the fertilizer sector. Furthermore, the Japanese company ENEOS Corporation is investigating green ammonia as a sustainable energy source, highlighting its potential to transform several industries and reaffirming its leadership in the water electrolyzer market.
Water Electrolyzer Market Report Coverage
| | |
| --- | --- |
| Report Metric | Details |
| Historical Period | 2018–2022 |
| Base Year Considered | 2023 |
| Forecast Period | 2023 - 2030 |
| Market Size in 2022 | $0.50 Billion |
| Revenue Forecast in 2030 | $23.5 Billion |
| Growth Rate | CAGR 72.84% |
| Segments Covered in the Report | By Electrolyzer and By End-use Application |
| Report Scope | Market Trends, Drivers, and Restraints; Revenue Estimation and Forecast; Segmentation Analysis; Impact of COVID-19; Companies' Strategic Developments; Market Share Analysis of Key Players; Company Profiling |
| Regions Covered in the Report | North America, Europe, Asia-Pacific, Middle East, and Rest of the World |
Industry Dynamics
Growth Drivers
Growing demand from refining industry
In the current petroleum refining process, hydrogen has become an essential component for operations like de-sulfurization, reforming, and cracking, which provide valuable compounds and gasoline and diesel. According to the International Energy Agency (IEA), natural gas provides 75% of the hydrogen used in refineries. However, the high cost of hydrogen makes this a big hurdle, which is why businesses are looking for new ways to produce it.
The creation of hydrogen is essential to refinery operations, and demand for it is growing continuously. The two main production processes are water electrolysis and steam-methane reforming (SMR), both driven by renewable energy sources. Refineries are now able to produce green hydrogen on a large scale thanks to large-scale electrolyzers, which helps with increased demand and carbon emissions. Environmental restrictions requiring refineries to reduce emissions will soon put them in the forefront of the water electrolysis technology adoption.
Showcasing the industry's shift towards sustainable hydrogen solutions, the Phillips 66 Humber Refinery in the UK teamed with ITM Power to install a 30MW electrolyzer for green hydrogen production. This is in line with a larger trend in the refining industry, which is realizing more and more how water electrolysis may improve operational effectiveness and environmental sustainability.
Growing demand for green fertilizers
Utilizing hydrogen from natural gas or water, fertilizer plants create ammonia, a crucial component in fertilizer production, by combining air nitrogen with hydrogen. However, according to the Institute for Agriculture and Trade Policy, Greenpeace, and GRAIN, the traditional technique of producing hydrogen from natural gas causes significant greenhouse gas emissions and environmental impact. It accounts for about 2.5% of world greenhouse gas emissions. This has caused the fertilizer sector to change its ways and increase demand for environmentally friendly products like green ammonia and green hydrogen.
Plans for the largest green hydrogen plant in Europe were unveiled in 2020 by the Spanish companies Fertiberia and Iberdrola, with completion expected by 2027. The Puertollano project in Spain, which will require a $175 million investment, will have the capacity to produce 720 metric tons of green hydrogen annually in addition to a 100 MW photovoltaic solar plant for electrolysis electricity. By producing ammonia with the green hydrogen, Fertiberia will cut its natural gas usage by about 10%. Showcasing the industry's dedication to low-emission, sustainable methods, Ørsted and Yara Fertilizer have also announced plans for a 100 MW water electrolyzer facility in the Netherlands that will supply green hydrogen to power a Yara fertilizer factory.
Challenge
High Energy Loss during Electrolysis Process
The global water electrolyzers market is severely challenged by high energy loss during the electrolysis process. Conversion losses, electrical resistance, and heat dissipation are some of the causes of efficiency losses. The overall cost of producing hydrogen rises as a result of these inefficiencies, which result in a reduced yield of hydrogen for a given quantity of electrical input. This makes water electrolysis less competitive when compared to other techniques of producing hydrogen. Reducing this energy loss is essential to the widespread use of water electrolyzers since higher efficiency would increase hydrogen's sustainability and economic viability as a clean energy source.
Geographic Overview
The global water electrolyzer market is segmented into North America, Europe, the Asia-Pacific, Latin America, and the Middle East and Africa region. The global water electrolyzer market was dominated by Europe in 2022 due to its progressive laws, significant investments, and growing emphasis on green energy. The ambitious Green Deal and hydrogen agendas of the European Union allocated significant funds for electrolyzer projects. Prominent examples comprise the Hybrit project in Sweden, a collaborative effort by SSAB, LKAB, and Vattenfall, with the objective of substituting green hydrogen for coking coal in the steel industry. Furthermore, Europe is leading the world in water electrolyzer improvements and promoting a sustainable energy landscape, as evidenced by the 'National Hydrogen Strategy' of Germany and the 'Hydrogen Plan' of France.
Competitive Insight
NEL ASA is a market leader for water electrolyzers worldwide and being a top player in the market, they have built a strong reputation for providing electrolysis systems of the highest caliber. Because of their efficiency and versatility, their Proton Exchange Membrane (PEM) electrolyzers are well-suited for a wide range of applications, including as industrial operations and the storage of renewable energy. Projects like the "Green Hydrogen for Scotland" initiative, which aims to use NEL ASA's electrolyzer technology for large-scale hydrogen production, are prime examples of the company's crucial role in expanding the green hydrogen sector. Furthermore, partnerships with significant industry participants highlight NEL ASA's impact on the global landscape of sustainable hydrogen production going forward.
Thyssenkrupp has made a significant impact on the global water electrolyzers market with their manufacturing and technical expertise including electrolysis equipment, which allows them to provide state-of-the-art green hydrogen production solutions. Their cutting-edge alkaline electrolyzers stand out in particular for their effectiveness and robustness. Thyssenkrupp's critical role is demonstrated by their participation in the "Haru Oni" project in Chile, which attempts to use renewable energy sources to produce green hydrogen. Furthermore, collaborations with companies such as Ørsted in Denmark and E.ON in Germany highlight Thyssenkrupp's significant contribution to advancing the global uptake of sustainable hydrogen technologies.
Recent Development by Key Players
In October 2023, thyssenkrupp nucera and Neste sign agreement to reserve production capacities for 120 MW water electrolyzer at Neste's refinery in Finland. The new electrolyzers will allow Neste to start producing green hydrogen at its refinery in Porvoo, Finland. There is a growing demand for thyssenkrupp nucera's water electrolysis technology with their third reservation agreement for production capacities within the last few months.
In September 2023, Veradagy, an industry pioneer specializing in advanced water electrolysis electrolyzer technologies for large-scale industrial applications, opened a new cutting-edge manufacturing facility in Newark, California, marking a significant milestone in the United States' green hydrogen industry. Operations in the new facility are expected to start in Q1 2024 with company aiming to double its employee count by next summer to accommodate the facility's operation and expansion.
Key Players Covered in the Report
Asahi Kasei Corporation, Nel ASA, thyssenkrupp AG, Cummins Inc., Toshiba Energy Systems & Solutions Corporation, Teledyne Energy Systems Inc., Suzhou Green Hydrogen Energy Co., Ltd., Suzhou Jingli Hydrogen Production Equipment Co., Ltd., ITM Power PLC, Clean Power Hydrogen Group Limited, Plug Power Inc., Hitachi Zosen Corporation, John Cockerill, Siemens Energy AG, McPhy Energy S.A., Enapter AG, Elogen, h2e Power Systems Pvt. Ltd., Ohmium, and Hystar.
The water electrolyzer market report offers a comprehensive market segmentation analysis along with an estimation for the forecast period 2023–2030.
Segments Covered in the Report
Alkaline Electrolyzer

Proton Exchange Membrane (PEM) Electrolyzer

Solid Oxide Electrolyzer Cell (SOEC)

Anion Exchange Membrane (AEM) Electrolyzers
Transportation/Mobility Industry

Refining Industry

Power and Energy Storage

Ammonia Production

Methanol Production

Other End-Use Applications
Region Covered in the Report
Germany

U.K.

France

Italy

Spain

Russia

Rest of Europe
China

Japan

India

South Korea

Rest of Asia-Pacific
Saudi Arabia

U.A.E

South Africa

Rest of MEA
Argentina

Brazil

Chile

Rest of Latin America
Primary Research Interviews Breakdown