Industry Overview
The global contrast media market size was valued at USD 4.75 billion in 2021 and is expected to reach USD 8.5 billion by 2030. During the forecast period, it is expected to grow at a CAGR of 4.2%. Contrast media or contrast agent alters the way medical imaging equipment interacts with the body and allows certain parts of the body to be distinguished from surrounding tissue. It aids in the visibility of blood arteries, specific tissues, and organs. Contrast media/contrast agents improve internal body images obtained during ultrasound, X-ray, MRI, and CT scans. It assists radiologists in distinguishing between abnormal and normal tissues.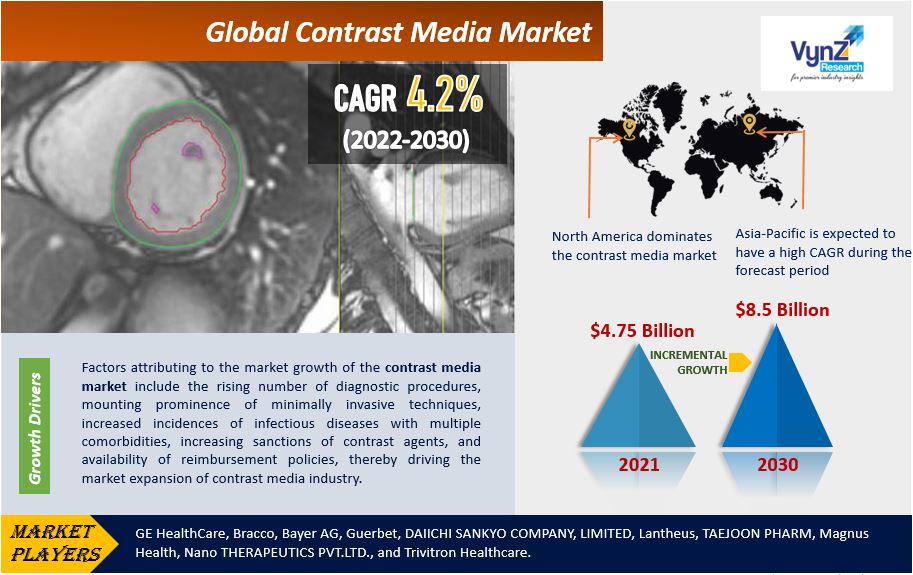 Following the pandemic, the market for Contrast Media/Contrast Agent in healthcare is expected to skyrocket. The advent of digital solutions for accurate and efficient management of contrast agent injection and increasing incidences of heart attack and strokes have bolstered the market development of the contrast media market during the Post Covid-19 outbreak.
Market Segmentation
Insight by Media Type
Based on Media Type, the Global Contrast Media Market is segmented into Iodinated Contrast Media, Gadolinium-Based Contrast Media, Microbubble Contrast Media, Barium-Based Contrast Media, and Others. The Iodinated Contrast Media segment is poised to have the largest market share due to the widespread use of X-ray and CT procedures and the availability of non-ionically stable iodinated agents for advanced diagnosis. A form of intravenous radio contrast (radiographic dye) called iodinated contrast medium contains iodine and aids in improving the visibility of vascular systems and organs during radiographic procedures. The visibility of disorders like cancer diagnosis has improved because of the iodinated contrast. Moreover, the expansion is a result of the increased radio-opacity and lower toxicity of iodine-based contrast media compared to other agents. Almost all radiological tests that use injectable contrast media use iodinated contrast media.
Insight by Indication
Based on Indication, the Global Contrast Media Market is divided into Cardiovascular Disorders, Cancer, Gastrointestinal Disorders, Musculoskeletal Disorders, Neurological Disorders, and Nephrological Disorders. Cardiovascular Disorders are expected to dominate the market owing to the mounting geriatric population suffering from CVD globally. Additionally, the market is expanding as a result of an increase in the need for image-guided procedures and diagnostics, an increase in the prevalence and mortality of cardiac ailments, and technical advancements in the medical imaging sector.
Insight by Modality
Based on Modality, the Global Contrast Media Market is segregated into X-Ray, Computed Tomography (CT), Magnetic Resonance Imaging (MRI), Catheterization Laboratory, Ultrasound, and Others. Among these, X-ray/CT contrast agents aid in the generation of high-resolution 3D images of structures. In X-ray and CT techniques, barium-based and iodinated contrast agents are used. When barium and iodine contrast agents are injected into the body, they block X-rays and prevent them from passing through. As a result, organs, blood vessels, and other body tissues containing barium-based or iodinated contrast media temporarily change appearance. X-ray and CT scans are widely used in a variety of diseases and are expected to drive market growth.
Insight on Route of Administration
Based on the Route of Administration, the Global Contrast Media Market is fragmented into Intravascular Route, Oral Route, Rectal Route, and Others. The oral route contributes the largest share in the market owing to ease of use and is mostly deployed in abdominal and pelvic CT scans.
Insight by Application            
Based on Application, the Global Contrast Media Market is segmented into Radiology, Interventional Radiology, and Interventional Cardiology. Interventional Cardiology is expected to contribute the largest share of the market owing to a mounting number of people suffering from heart disorders and an increased geriatric population globally.
Global Contrast Media Market Report Coverage
| | |
| --- | --- |
| Report Metric | Details |
| Historical Period | 2018–2021 |
| Base Year Considered | 2022 |
| Forecast Period | 2022 - 2030 |
| Market Size in 2021 | $4.75 Billion |
| Revenue Forecast in 2030 | $8.5 Billion |
| Growth Rate | CAGR 4.2% |
| Segments Covered in the Report | By Media Type, By Indication, By Modality, By Route of Administration, and By Application |
| Report Scope | Market Trends, Drivers, and Restraints; Revenue Estimation and Forecast; Segmentation Analysis; Impact of COVID-19; Companies' Strategic Developments; Market Share Analysis of Key Players; Company Profiling |
| Regions Covered in the Report | North America, Europe, Asia-Pacific, Middle East, and Rest of the World |
Industry Dynamics
Growth Drivers
Factors attributing to the market growth of the contrast media market include the rising number of diagnostic procedures, mounting prominence of minimally invasive techniques, increased incidences of infectious diseases with multiple comorbidities, increasing sanctions of contrast agents, and availability of reimbursement policies, thereby driving the market expansion of contrast media industry. The growing use of medical imaging is driving up demand for contrast media and boosting revenue growth in the Contrast Media market. Thus, contrast media improves the quality of scan images by diagnosing chronic diseases through scans like X-rays, MRI, and CT scans. This in turn will help doctors to determine the precise treatment and cure or diminish the disorder.
Challenges
The global contrast media market growth is projected to be hampered by the high price of contrast media injectors, the mild and adverse side effects of contrast media like vomiting, bluish skin color, stomach cramps, etc., and a lack of qualified professionals to operate the newest imaging technology. Also, it is anticipated that the need for contrast media will be constrained in the future due to the dearth of sophisticated diagnostic techniques in many developing countries.
Opportunities
The increased research and development on contrast agents, development of novel applications, rising governmental and private sector investments as well as increased focus on developing affordable contrast media are creating promising opportunities for growth in the global contrast media industry.
Due to the patent expiration of branded contrast media products, competition in the contrast media market is expected to increase significantly in the coming years. This will open up opportunities for generic counterparts to enter the market, which are less expensive than commercially available branded agents.
Geographic Overview
North America
Europe
Asia Pacific (APAC)
Rest of the World (RoW)
North America dominates the contrast media market owing to a surge in demand for early diagnosis, upsurging technological development in diagnostic imaging systems, increasing volume of CT and MRI examinations, mounting geriatric population suffering from chronic diseases, and increased initiatives by the government in the field of medical imaging.
Asia-Pacific is expected to have a high CAGR during the forecast period owing to an increased number of MRI and CT scan procedures, the presence of developed cath labs, and the mounting prominence of cardiac disorders.
Competitive Insight
The industry players use strategies such as M&A, product launch, contractual agreements, collaborations, and indication expansion. Acquisitions help businesses expand their geographic reach and strengthen their portfolios. Disease indication extension is popular in this market because it allows firms to gain the trust of specific population subsets. Companies target niche patient cohorts and increase product adoption with approvals for specific indications. Also, the key players should adopt cost-effective techniques to diversify and survive in the competitive market environment.
GE Healthcare is committed to offer a broad and comprehensive portfolio of Contrast Media products that assist in meeting patient and procedural needs across a wide range of modalities. GE Healthcare has a long history of developing contrast media. Their diverse portfolio includes X-ray/CT, MRI, and Ultrasound modalities. GE Healthcare already has the world's largest X-ray API manufacturing facility, supplying one-third of the global market supply for contrast media. They collaborate with multiple suppliers to help ensure the security of iodine supply, allowing them to confidently schedule procedures. Working with GE Healthcare as a contrast media supplier across multiple modalities may enable simplification and the potential for time savings in administration.
Bayer offers an exhaustive portfolio of contrast media for CT scan, X-Ray, and magnetic resonance imaging (MRI) devices, as well as informatics solutions and a medical imaging platform that provides access to applications, including those powered by AI. Bayer's radiology portfolio includes everything from contrast media to devices that help radiologists in their mission to help patients suffering from cardiovascular disease with early diagnosis and targeted treatment.
Recent Development by Key Players
GE Healthcare has pledged to boost the production of iodinated contrast media, which is frequently used in computed tomography and X-Ray Imaging, by 30 million yearly by 2025. To this end, the company entered into a multi-year partnership in October 2022, with Sociedad Quimica y Minera de Chile S.A. (SQM), a mining company in Chile, thereby increasing the supply of raw iodine.
Bracco Diagnostics Inc., a U.S. subsidiary of Bracco Imaging S.p.A., announced on July 27, 2022 from its headquarters in Milan, Italy, that the U.S. Food and Drug Administration (FDA) has granted import discretion of Iomeron (iomeprol injection) into the U.S. to resolve the continuing iodinated contrast media shortage.
Key Players Covered in the Report
Some of the major players operating in the contrast media market include GE HealthCare, Bracco, Bayer AG, Guerbet, DAIICHI SANKYO COMPANY, LIMITED, Lantheus, TAEJOON PHARM, Magnus Health, Nano THERAPEUTICS PVT.LTD., and Trivitron Healthcare.
The Contrast Media Market report offers a comprehensive market segmentation analysis along with an estimation for the forecast period 2022–2030.
Segments Covered in the Report
By Media Type

Iodinated Contrast Media
Gadolinium-Based Contrast Media
Microbubble Contrast Media
Barium-Based Contrast Media
Others

By Indication

Cardiovascular Disorders
Cancer
Gastrointestinal Disorders
Musculoskeletal Disorders
Neurological Disorders
Nephrological Disorders

By Modality

X-Ray
Computed Tomography (CT)
Magnetic Resonance Imaging (MRI)
Catheterization Laboratory
Ultrasound
Others

By Route of Administration

Intravascular Route
Oral Route
Rectal Route
Others

By Application

Radiology
Interventional Radiology
Interventional Cardiology
Region Covered in the Report
North America
Europe

Germany
U.K.
France
Italy
Spain
Russia
Rest of Europe

Asia-Pacific (APAC)

China
Japan
India
South Korea
Rest of Asia-Pacific

Rest of the World (RoW)

Brazil
Saudi Arabia
South Africa
U.A.E.
Other Countries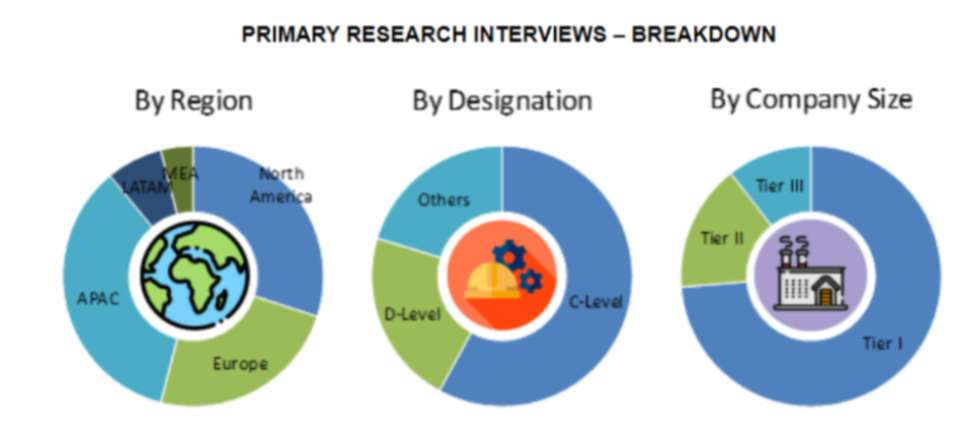 To explore more about this report - Request a free sample copy