Industry Overview
The global radiation-hardened electronics market is projected to experience substantial growth, reaching USD 3.8 billion by 2030 with a CAGR of 3.6% during the forecast period from 2023 to 2030. Starting at USD 2.1 billion in 2022, this market caters to the specific needs of electronic components, packages, and devices designed for high-altitude environments.
These radiation-hardened electronics are created using materials like silicon, silicon carbide, gallium nitride, and hydrogenated amorphous silicon. They are engineered to withstand high-energy radiation, as well as ionizing, gamma, and neutron radiation that can be generated by nuclear reactors. Rigorous tests, including total ionizing dose (TID), enhanced low dose rate effects (ELDRS), neutron and proton displacement damage, and single event effects (SET, SEL, SEE, and SEB), are conducted to ensure the reliability of these radiation-hardened products.
Switching regulators, microprocessors, and power supply devices are commonly employed in satellites, aircraft, and nuclear power plants, making radiation-hardened electronics crucial for these industries. Their applications extend across various sectors, including aviation, space exploration, military operations, and defense systems. With their ability to withstand harsh radiation environments, these components play a vital role in ensuring the functionality and safety of critical systems.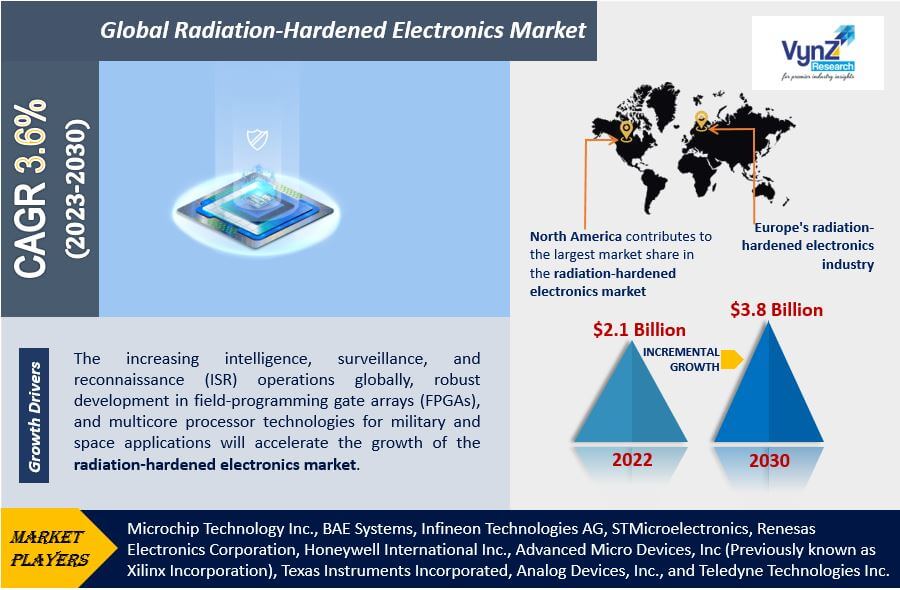 The COVID-19 outbreak has led to risks and uncertainties globally and the radiation-hardened electronics market has also been impacted by it.  High import taxes resulting from trade tensions between China and the United States had a significant impact on radiation-hardened component imports in the United States. Additionally, supply chain disruptions harmed US-based market leaders and produced supply-demand mismatches. and also an unplanned halt in production plants had a significant impact on overall market growth.
Market Segmentation
Insight by Product Type
Based on product type, the global radiation-hardened electronics market is bifurcated into custom-made and commercial-off-the-shelf (COTS). The commercial off-the-shelf is anticipated to have a faster growth due to the high bandwidth that is required in satellite applications and enhanced performance.
Insight by Material Type
Based on material type, the global radiation-hardened electronics market is segmented into silicon, hydrogenated amorphous silicon, silicon carbide, gallium nitride, gallium arsenide, and others. Silicon is anticipated to have significant growth during 2023-2030. Electronic components composed of silicon are selected for innovative solutions and assist both strategic and space missions, resulting in significant market growth. Manufacturers' increased interest in developing crucial microelectronic equipment, such as microprocessors, that are more reliable in hostile environments, such as space and military field deployments, resulting in the growth of the segment.
Insight by Component
Based on component, the global radiation-hardened electronics market is segmented into Memory, Logic, Power Management, Field-Programmable Gate Array, Application Specific Integrated Circuit, Analog & Digital Mix Signals, and Controllers & Processors. Power management is anticipated to have a constant growth during 2023-2030 owing to increased demand for metal-oxide-semiconductor field-effect transistor (MOSFETs) also called metal-oxide-silicon transistor (MOSTs) and diodes for various high-end applications in space, aerospace, and defense industries, resulting in the growth of the segment in the radiation-hardened electronics market. Furthermore, the power MOSFETs are employed in high-reliability requirements and developed for outer space requirements because they have good durability against high-energy charged particles and ionizing radiation.
Insight by Manufacturing Techniques
Based on manufacturing techniques, the global radiation-hardened electronics market is classified into Radiation-Hardening-By-Design (RHBD), Radiation-Hardening-By-Process (RHBP), and Radiation-Hardening-By-Software (RHBS). The RHBD is anticipated to grow significantly owing to ease in modification, reduction in cost per ship, and large-scale production. RHBD memory, microcontrollers, and ASICs are largely employed in nuclear power facilities, as well as the defense and space industries. Because RHBD enables easy adjustments by various government programs based on the intended applications, the market for RHBD designs is boosted during COVID-19.
Insight by Application
Based on application, the global radiation-hardened electronics market is classified into space, aerospace & defense, nuclear power plants, commercial satellites, medical, and others. Space is anticipated to grow at a higher pace during 2022-2030 owing to the increased adoption of radiation-hardened components in telephone satellites, TV broadcasting, several types of satellites, and rising demand for earth observation satellites for weather updates and research. Additionally, the increasing number of space missions worldwide will drive the development of the radiation-hardened electronics market.
Radiation-Hardened Electronics Market Report Coverage
| | |
| --- | --- |
| Report Metric | Details |
| Historical Period | 2018–2022 |
| Base Year Considered | 2022 |
| Forecast Period | 2023-2030 |
| Market Size in 2022 | $2.1 Billion |
| Revenue Forecast in 2030 | $3.8 Billion |
| Growth Rate | CAGR 3.6% |
| Segments Covered in the Report | By Product Type, By Material Type, By Component, By Manufacturing Techniques, and By Application |
| Report Scope | Market Trends, Drivers, and Restraints; Revenue Estimation and Forecast; Segmentation Analysis; Impact of COVID-19; Companies' Strategic Developments; Market Share Analysis of Key Players; Company Profiling |
| Regions Covered in the Report | North America, Europe, Asia-Pacific, Middle East, and Rest of the World |
Industry Dynamics
Industry Trends
With the mounting growth in internet accessibility globally, technological development like 5G, blockchain, cloud services, IoT, and AI has led to economic growth. Furthermore, development in the ICT sector led to growth in GDP, labor productivity, and increased R&D expenditure globally. These are the trends prevalent in the market that will lead to the growth of the global radiation-hardened electronics market.
Growth Drivers
The global growth of the radiation-hardened electronics market will be driven by various factors. Firstly, the increasing intelligence, surveillance, and reconnaissance (ISR) operations worldwide create a demand for advanced technologies. Additionally, the development of field-programming gate arrays (FPGAs) and multicore processor technologies, particularly for military and space applications, contributes to the market's expansion.
The demand for radiation-hardened electronics is further amplified by specific industries. Communication satellites require reliable and durable electronic systems, fueling the market growth. Similarly, the nuclear power industry necessitates electronic systems capable of withstanding radiation exposure, driving the demand for radiation-hardened electronics. Furthermore, the rising number of space missions and continuous technological advancements contribute to the market's upward trajectory.
The radiation-hardened electronics market benefits from several key factors. The increasing number of space missions and exploratory activities, along with the widespread adoption of power management devices in manufacturing, contribute to its expansion. Moreover, the establishment of autonomous military operations in hostile environments and the growing demand for radiation-hardened electronics in nuclear and healthcare sectors play a significant role.
Furthermore, the market growth is propelled by the rising demand for diodes, transistors, and MOSFETs in defense and space applications. Technological advancements, such as the development of highly reliable integrated circuits and improvements in field-programmable gate array (FPGA) technology, further drive the expansion of the radiation-hardened electronics market.
Challenges
Radiation hardened electronics growth may be hampered by problems in constructing actual testing conditions, personalized requirements of high-end consumers, as well as costly research and design expenditures. Furthermore, the development of small satellites having smaller life cycles may hinder the growth of the market.
Opportunities
The increasing R&D activities, the surge in need for reconfigurable radiation-hardened components, and increased adoption of commercial-off-the-shelf products in satellites and other space applications will create novel opportunities for the development of the radiation-hardened electronics market.
Geographic Overview
North America contributes to the largest market share in the radiation-hardened electronics market owing to the presence of major industry players and prominent space and defense institutes in the region that will propel the growth of the radiation-hardened components.
Because of the use of technologically improved target products for various space-related equipment, Europe's radiation-hardened electronics industry contributes the second-largest share in the global market.
Competitive Insight
The electronics manufacturing sector is very competitive, and as the global environment changes and applications diversify, companies must adapt their product portfolios to meet the changing needs of end consumers. There in a need to upgrade contracts so as to improve the capabilities of the current fleet of operational military assets, resulting in the growth of the market. Players are heavily spending in R&D of complex product offerings in order to secure long-term contracts and increase market share. Furthermore, the active participants in the radiation-hardened electronics market have been promoting technological innovations in platforms, associated products, and solutions through constant R&D.
For more than 50 years, BAE Systems' sophisticated, radiation-hardened electronic components, cards, processors, and modules have enabled civil, commercial, and national security space operations. Rad-hard, space-qualified electronics products include radiation-hardened Single Board Computers (SBCs) (RAD5545® SpaceVPX Multi-Core Single Board Computer and RAD750® SBC), Rad-hard Standard Components (SRAM, C-RAM, PROM, and FPGAs), Rad-hard Application-Specific Integrated Circuits (ASICs).
To avoid radiation damage in space and aerospace applications, radiation-hardened microchips in electronic devices are required. Infineon HIRel offers an extensive range of radiation-hardened semiconductors.  The Infineon rad-hard MOSFET power transistors are the global benchmark in radiation hardness and electrical performance, thanks to the unique CoolMOSTM superjunction technology.  Infineon supplies best-in-class radiation-hard powerMOS transistors for all kinds of space applications, with extremely low specific RDS(ON) and a comfortable Safe Operating Area (SOA) regarding SEE.
In January 2022, BAE Systems has been awarded a $60 million contract by Army Contracting Command-Rock Island to create next-generation, radiation-hardened by design microelectronics. The contract's efforts could lead to better access to more advanced process nodes for the US defense and aerospace communities in the future. The program's principal purpose is to provide the US government and aerospace sector with onshore access to cutting-edge microelectronics technology.
In June 2021, Microchip Technology Inc. has certified its M6 MRH25N12U3 radiation-hardened 250V, 0.21 Ohm Rds(on) metal–oxide–semiconductor field-effect transistor (MOSFET) for commercial and defense space applications. In power conversion circuits such as point-of-load converters, DC-DC converters, motor drives, and controllers, and general-purpose switching, Microchip's radiation-hardened M6 MRH25N12U3 MOSFET serves as the principal switching element. The MOSFET can endure the harsh environments of space, improve power circuitry dependability, and meet all MIL-PRF19500/746 criteria with improved performance.
Some of the major players operating in the radiation-hardened electronics market include Microchip Technology Inc., BAE Systems, Infineon Technologies AG, STMicroelectronics, Renesas Electronics Corporation, Honeywell International Inc., Advanced Micro Devices, Inc (Previously known as Xilinx Incorporation), Texas Instruments Incorporated, Analog Devices, Inc., and Teledyne Technologies Inc.
The Radiation-Hardened Electronics Market report offers a comprehensive market segmentation analysis along with an estimation for the forecast period 2023–2030.
Segments Covered in the Report
By Product Type

Custom-Made
Commercial-off-the-Shelf

By Material Type

Silicon
Hydrogenated Amorphous Silicon
Silicon Carbide
Gallium Nitride
allium Arsenide
Others

By Component

Memory
Logic
Power Management
Field-Programmable Gate Array
Application-Specific Integrated Circuit
Analog & Digital Mix Signals
Controllers & Processors

By Manufacturing Techniques

Radiation-Hardening-By-Design (RHBD)
Radiation-Hardening-By-Process (RHBP)
Radiation-Hardening-By-Software (RHBS)

By Application

Space
Aerospace & Defense
Nuclear Power Plants
Commercial Satellites
Medical
Others
Region Covered in the Report
North America
Europe

Germany
U.K.
France
Italy
Spain
Russia
Rest of Europe

Asia-Pacific (APAC)

China
Japan
India
South Korea
Rest of Asia-Pacific

Rest of the World (RoW)

Brazil
Saudi Arabia
South Africa
U.A.E.
Other Countries