Industry Overview
An increase in revenue from the Global Floating Farms Market is being estimated. During the projected period of 2023-30, the Global Floating farms market size is attributed to reach the value of USD 6.5 billion with a CAGR of 13.6%. The floating farm market, which is divided into the cattle, vegetable, and food markets, is an agriculture concept based on sophisticated technology that is less dependent on the climate, effective at producing a good volume, and requires less work. As a result, business players all over the world are enthralled by the idea of floating farms.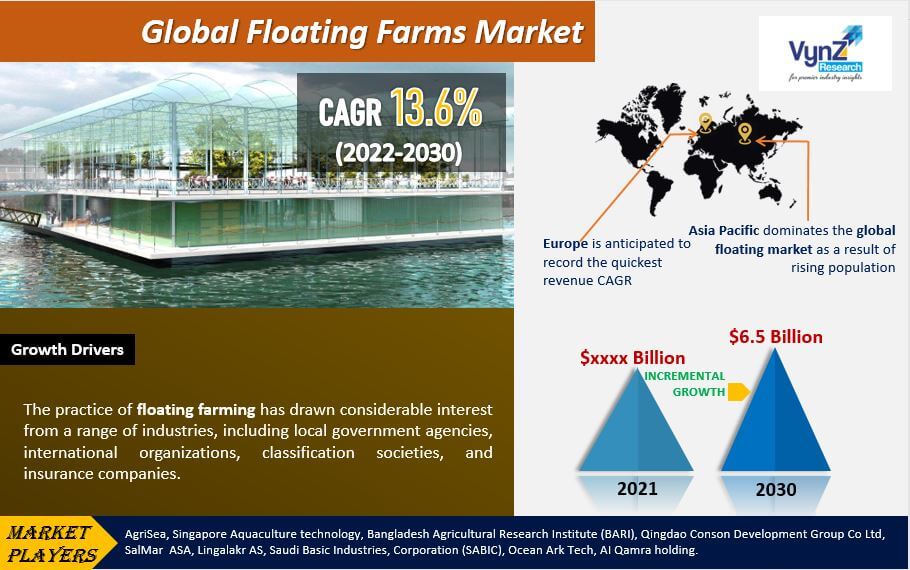 The key growth factor for the floating farm market is that it is a sustainable farming technique that does not have any impact on climate change.  Additionally, floating farming is adjustable with temperature, moisture, and the need for agricultural fertilizers. The sustainable and flexible nature of the market supports farmers to earn well by producing nutritional organic food items. Based on the clean and hygienic floating zones produce a high yield of dairy products and meet the market demand. The high yield of organic food and dairy products than conventional fuels the growth of the floating farm market. The rapid increase in global food demand due to increased population density across the globe is estimated to be the significant key growth driver for the market.
Covid-19 Impact
The pandemic of  Covid-19 impacted adversely every business. Due to the worldwide lockdown and shutdown supply chain was disturbed all across the globe but the epidemic created an opportunity for agriculture sector as the huge dense population had moved towards organic, health, and hygienic consumable products. The concept of a Floating farm firstly introduced in 2019 by Peter and Minke Wingerden in the Netherlands received a great response and is now widespread worldwide.
Market Segment
Insight by Livestock
On the basis of livestock Global Floating Farm Market is segmented into cow shelters, poultry farms fishing markets, and others. In 2021, due to the rise in demand for poultry products, the livestock market shared the largest revenue with the global floating farm.  Due to raised demand and technological advancement in the production of chicken and eggs the poultry farm is attributed to contributing the highest to the global floating farm growth plan 2023-30. Additionally, it is estimated that during the projected period approximately 3000 metric tons of fish will be produced to meet the regional and global demand for protein-rich food.
Insight by Consumable Product
Based on the consumable items the global floating farm market is bifurcated into dairy products, vegetable market fruit market grain market, and others. During the forecast period vegetable and fruit market is anticipated to generate the highest and fastest revenue and is predicted to lead the market. However the reason behind this growth and contribution is the market nature. Floating farms are untouched by weather unpredictability and rapid changes in climate hence quality vegetables and grains are expected and meanwhile demanded by the dense population. .
Insight by Technology
The Internet of Things (IoT) and remote control devices are integrated into the floating farm concept to ensure product quality. The farming sector gravitated toward modern farming practices since these structures are linked by sensors that let farmers monitor and control parameters from remote areas, providing ideal conditions for increasing production. In addition to this, farmers are using intensification techniques to boost production. They apply intensification techniques to boost the output of commercial species like salmon, trout, and crap along with aquatic animal monitoring, and maintaining nutritional balance. According to estimates, these strategies will give the market's top players the chance to drive market expansion.     
Insight by Building Structure
On the basis of building structure, the floating farm market is of two types. One is building based and the second is shipping based. The second shipping-based floating farm market is anticipated to grow fastest and register a remarkable market share during the projected year. The shipping containers are free from heavy rainfall and extremely high temperature along with this less groundwater requirement and easy transportation support the shipping-based floating market size to grow.
Floating Farms Market Report Coverage
| | |
| --- | --- |
| Report Metric | Details |
| Historical Period | 2018–2022 |
| Base Year Considered | 2022 |
| Forecast Period | 2023 - 2030 |
| Market Size in 2021 | $xxxxx Billion |
| Revenue Forecast in 2030 | $6.5 Billion |
| Growth Rate | CAGR 13.6% |
| Segments Covered in the Report | By Type, By Technology, By Grid Type, By Installation, and By Application |
| Report Scope | Market Trends, Drivers, and Restraints; Revenue Estimation and Forecast; Segmentation Analysis; Impact of COVID-19; Companies' Strategic Developments; Market Share Analysis of Key Players; Company Profiling |
| Regions Covered in the Report | North America, Europe, Asia-Pacific, Middle East, and Rest of the World |
Industry Dynamics
Growth Drivers
The practice of floating farming has drawn considerable interest from a range of industries, including local government agencies, international organizations, classification societies, and insurance companies. Nevertheless, when compared to other forms of traditional floating structures, the coordination between numerous bodies is dispersed, specialized, and project-specific rather than streamlined. This procedure is anticipated to develop over the ensuing years into the crucially important comprehensive framework for offshore floating farming. On the other hand, floating farming is a concept of sustainable agriculture at sea which is neutral to weather uncertainty and requires less water consumption are key growth drivers for the market.  
Challenges
The floating farm has the initial high infrastructural cost to build to floating farm on the sea.  The cost gets increased according to area and livestock management. Additionally,  Industrial offshore floating farming puts additional strain on the marine environment due to factors like the pollution from waste discharged/wasted water, disease control, dissolved oxygen in the water, an imbalance in the amount of nutrients in the sea, exhaust air and gases, noises, and vibrations. UN FAO has created the National Aquaculture Legislation Overview (NALO)  to address these challenges. It is made up of a set of comparative national summaries of aquaculture laws and regulations from the top 40 aquaculture-producing nations.
Industry Ecosystem
Small and large scale producers and manufacturers who want to sell materials for food processing must adhere to stringent regulatory standards. As a result, the agricultural framing industry is expanding thanks to difficulties and the introduction of cutting-edge cultivating methods. To increase the scale of the floating farm market, technologies like IoT, robots, and intensification are being used. Government investments to encourage market expansion are another important component of the worldwide ecosystem of the floating farm business.
Geographical Overview
Asia Pacific dominates the global floating market as a result of rising population, decreased reliance on climate for food cultivation, greater need for high-yield crops, and increased attention on wholesome, nutritious, and chemical-free products. Many nations, including Vietnam, Cambodia, and others, have adopted these agricultural methods. In addition, a number of measures, including partnerships and collaborations, have been chosen to advance and boost production in these areas.
Additionally, during the forecast period, Europe is anticipated to record the quickest revenue CAGR. The increased demand for fish as a wholesome meal is the primary driver of aquaculture's expansion in Europe. Fish and other seafood are better providers of protein. It is anticipated that the European floating farm sector would expand due to young people's increased preference for high-protein diets. As fitness and health fads gain in popularity, young people's desire for protein is rising. Protein supports tissue healing as well. Consequently, seafood is a fantastic approach to meet the body's protein requirements. The Netherlands, France, and Spain are among the nations that the floating farm spans. In the Netherlands, farmers operate floating farms, which are climate-controlled buildings where they cultivate dairy, crops, and plants. The industry's growth in Europe has been facilitated by the quick advancement of floating farming technologies.
Recent Development by Key Players
•    Buckminster Fuller Institute found in a survey that food demand will increase by 50% by the end of 2030 and around 70% by 2050.
•    On March 10, 2021, Lingalaks, a salmon farming company based out in Norway entered into a partnership with pump manufacturer Framo and launched a new project named Stadion Basion 39 meters wide and 117 meters long. The project is floating, closed, flow-through salmon production and is expected to be operational by 2023.
•    On May 23, 2022, China has introduced a shipping-based floating farm named 'Guoxin 1'. It is a fishing market to cultivate the fish. It is estimated that Guoxin 1 will produce 3700 tons fishes every year.
•    Siemens AG, a worldwide conglomerate company headquartered in Germany, invested USD 94 billion in Singapore Aquaculture Technologies (SAT) on August 6 in order to provide technical assistance and commercialize the newly established floating fishing farm.
•    AgriSea created a floating rice farm in the ocean on January 3rd, 2020, using salt water to cultivate the grain. A salt-tolerant strain of rice that can be grown in ocean salt water has been produced by the organization's scientists.
Competitive Insight
The market for floating farms is fairly fragmented globally, with a few large and medium-sized businesses accounting for most of the market's revenue. Major players are using a variety of tactics, engaging in mergers and acquisitions, strategic agreements, and contracts, as well as creating, experimenting with, and launching more efficient products. Major businesses profiled in the report on the global market for floating farms include AgriSea, Singapore Aquaculture technology, Bangladesh Agricultural Research Institute (BARI), Qingdao Conson Development Group Co Ltd, SalMar  ASA, Lingalakr AS, Saudi Basic Industries, Corporation (SABIC), Ocean Ark Tech, AI Qamra holding.
The Global Floating Farms Market report offers a comprehensive market segmentation analysis along with an estimation for the forecast period 2023–2030.
Segments Covered in the Report
By  Livestock

Cow shelters
Poultry farms 
Fishing market 
Others

By Consumable product

Dairy products
Vegetable market 
Fruit market 
Grain market
Others

By Technology

Farmers to monitor 
Control parameters 
Remote areas

By Building structure

Building based 
Shipping based

North America
Europe

Germany
U.K.
France
Italy
Spain
Russia
Rest of Europe

Asia-Pacific (APAC)

China
Japan
India
South Korea
Rest of Asia-Pacific

Rest of the World (RoW)

Brazil
Saudi Arabia
South Africa
U.A.E.
Other Countries

Source: VynZ Research